A Snapshot of Prostate Cancer
Incidence and Mortality
Prostate cancer is the most common nonskin cancer and the second leading cause of cancer-related death in men in the United States. It is estimated that, in 2014, 233,000 men will be diagnosed with prostate cancer in the United States, and nearly 29,500 men will die of the disease. African American men have a higher incidence rate than, and at least twice the mortality rate of, men of other racial/ethnic groups.
Prostate cancer incidence rates in the United States began to increase dramatically in the late 1980s with the widespread use of the prostate-specific antigen (PSA) test to detect prostate cancer.  Since the early 1990s, prostate cancer incidence has been declining. Mortality rates for prostate cancer also have declined since the mid-1990s.
Risk factors for prostate cancer include increasing age, African ancestry, and a family history of prostate cancer. Although PSA testing has been used widely for prostate cancer screening, most advisory groups now recommend against routine screening as more has been learned about the benefits and harms of PSA testing.  Standard treatments for prostate cancer include watchful waiting or active surveillance, surgery, radiation therapy, hormone therapy, chemotherapy, biological therapy, and bisphosphonate therapy.
Assuming that incidence and survival rates follow recent trends, it is estimated that $13.0 billion1 will be spent on prostate cancer care in the United States in 2014.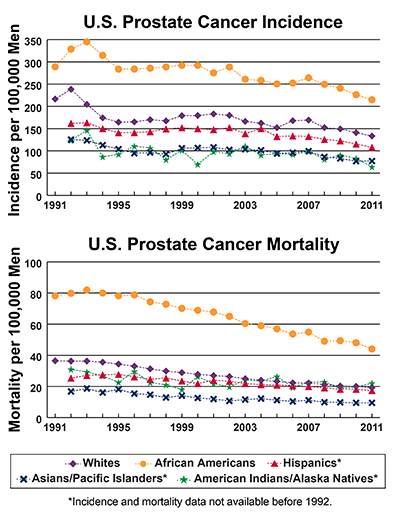 Examples of NCI Activities Relevant to Prostate Cancer
Selected Advances in Prostate Cancer Research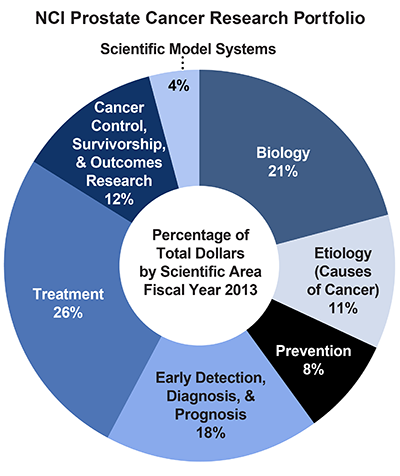 Trends in NCI Funding for Prostate Cancer Research
NCI's investment2 in prostate cancer research was $255.6 million in fiscal year (FY) 2013. In addition to the funding described in the graph, NCI supported $68.4 million in prostate cancer research in FYs 2009 and 2010 using funding from the American Recovery and Reinvestment Act.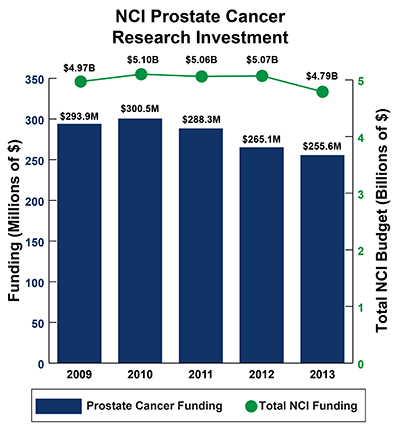 Additional Resources for Prostate Cancer
---
1 Cancer Prevalence and Cost of Care Projections, in 2010 dollars.
2 The estimated NCI investment is based on funding associated with a broad range of peer-reviewed scientific activities. For additional information on research planning and budgeting at the National Institutes of Health (NIH), see About NIH.