Events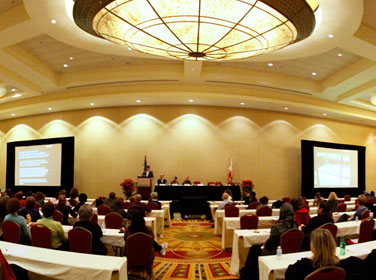 In an effort to fulfill our mission to advance global cancer research, we sponsor a number of global health events for both domestic and international audiences. Although events vary by region and topic, they all focus on the open exchange of scientific knowledge.
Upcoming Events
The International Conference on Betel Quid and Areca Nut
April 27-28, 2016
Location: Kuala Lumpur, Malaysia
We are delighted to announce that the US National Cancer Institute, Center for Global Health, in partnership with the MD Anderson Cancer Center at The University of Texas MD Anderson Cancer Center, the National Institute of Dental and Craniofacial Research, and the Oral Cancer Research and Coordinating Center at The University of Malaya, will host The International Conference on Betel Quid and Areca Nut in Kuala Lumpur, Malaysia on April 27-28, 2016.
The International Conference on Betel Quid and Areca Nut will identify research priorities and priority research questions regarding the understanding the impact of use of areca nut and betel quid, both with and without tobacco, and all its variants, addiction issues, and the associated cancers and other oral health issues, specifically cancers of the lip, mouth, tongue, pharynx, and esophagus. Additionally , the conference will identify evidence-based strategies for prevention and control; share research findings; highlight particular examples of the translation of evidence to policy; build a network of researchers and stimulate new research in the field; stimulate capacity to do research among researchers in low- and middle-income countries (LMICs); and explore intervention strategies, such as e –health/m-health; explore dissemination and implementation of various policy interventions, and scope of public health programs.
The topics relevant for abstract submission include 1) Basic Biology, Patterns of Use and Epidemiology of Betel Quid/Areca Nut related cancers; 2) Biology of Addiction and Use of Betel Quid and Areca Nut; 3) Behavioral Factors in Addiction and Dependence of Betel Quid and Areca Nut; 4) Prevention and Control of Areca Nut and Betel Quid Use (including Cessation); 5) Screening and Early Detection for Areca Nut and Betel Quid- Related Cancers; and 6) Policy and Economic Impacts of Betel Quid and Areca Nut Use.
Registration is now open. The abstract submission deadline is February 15, 2016. For more information, please visit the Conference website. For questions related to abstract submission, please contact Paul Pearlman (paul.pearlman@nih.gov). For questions regarding program content, please contact Hedieh Mehrtash (hedieh.mehrtash@nih.gov), or Kalina Duncan (kalina.duncan@nih.gov).
4th Annual Symposium on Global Cancer Research
April 8, 2016
Location: San Francisco, California
Registration and abstract submission are now open for the 4th Annual Symposium on Global Cancer Research. The 2016 Symposium is co-sponsored by the Center for Global Health (CGH), Stanford University, University of California – San Francisco, Global Oncology, Inc. (GO), and the Consortium of Universities for Global Health (CUGH). The Symposium is an annual event, since 2013, that aims to promote the exchange of scientific findings, best practices, and innovations in global cancer research. In addition, Symposium participants work to identify potential geographic and scientific areas for collaboration and to develop strategic priorities related to cancer research focused on low- and middle-income countries (LMICs). Highly interactive discussions will cover a range of topics, foster network building, and be geared toward developing action items for advancing global cancer research priorities. The focus of the 2016 meeting will be innovative and low-cost cancer-related technologies. Although registration will remain open until February 29, 2016, seats are limited. Those interested in submitting an abstract to present a poster or demonstrate a technology should submit by January 18, 2016.
Register here: http://www.eventbrite.com/e/4th-annual-symposium-on-global-cancer-research-tickets-19192248532
If you have any questions, please email us at <gosymposium2016@gmail.com>
Past Events
CGH celebrates World Cancer Day 2016 this February 4th, and joins in on the global effort to raise awareness that 'We can. I can.' take action to help prevent and reduce the global burden of cancer. Read more about how CGH is working to support this effort.
CISNET Program Webinar – International Activities
February 1, 2016
10:00 a.m. - 12:00 p.m. EST
Please join us for a special presentation webinar highlighting the international work of the CISNET program. CISNET is a consortium of NCI-sponsored investigators who use statistical modeling to improve our understanding of cancer control interventions in prevention, screening, and treatment and their effects on population trends in incidence and mortality. The presentation will include an overview of the program, followed by presentations on CISNET's international modeling activities.
AORTIC 2015 – 10th International Conference on Cancer in Africa
November 18-22, 2015
Location: Marrakech, Morocco
The Center for Global Health (CGH) and Global Oncology, Inc. (GO) will be presenting the Global Cancer Project Map (GCPM) at AORTIC 2015 - 10th International Conference on Cancer in Africa. The GCPM was developed through a partnership between CGH and GO, and is an online resource that displays global cancer research and cancer control projects on an interactive world map. Launching an Interactive Cancer Projects Map: A Collaborative Approach to Global Cancer Research and Program Development will be featured during the poster session, and a series of live demonstrations of GCPM will be held throughout the conference at booths #23 & 24. The poster session and demos offer an opportunity to introduce the GCPM to an international audience of oncologists and cancer control partners.
Other CGH programs will be highlighted during sponsored sessions, including Implementation Research; Pediatric Oncology Partnerships; and BIG CAT. Joining Forces to Overcome Cancer: The Kenya Cancer Research and Control Stakeholder Meeting Experience will be presented during the conference poster session.