Events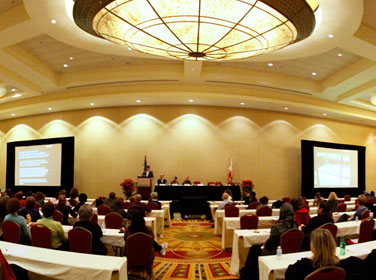 In an effort to fulfill our mission to advance global cancer research, we sponsor a number of global health events for both domestic and international audiences. Although events vary by region and topic, they all focus on the open exchange of scientific knowledge.
The Global Cancer Project Map (GCPM) Launch
March 25, 2015
Location: Symposium on Global Cancer Research, sponsored by NCI, the Consortium of Universities for Global Health (CUGH), and the Dana-Farber Cancer Institute
CGH and Global Oncology, Inc. have developed a web-based tool that will aid in knowledge-sharing and networking between key stakeholders in international cancer research and control - the Global Cancer Project Map (GCPM). The GCPM supports a cancer research and control project database, made visible to users through a world map display where projects are mapped by their GPS coordinates. 
---
Symposium on Global Cancer Research
March 25, 2015
Location: Boston, Massachusetts, in coordination with the Consortium of Universities for Global Health (CUGH) and the Dana-Farber Cancer Institute
The Symposium on Global Cancer Research facilitates information exchange between global health and cancer research professionals about programs in global cancer research, potential geographic and scientific areas for collaboration, and strategic priorities related to cancer research in low- and middle-income countries.
---
World Cancer Day 2015
February 4, 2015
Join the Center for Global Health in recognizing World Cancer Day! To learn more about our activities, visit: CGH Celebrates World Cancer Day 2015.
---
World Cancer Congress 2014
December 4-6, 2014
Location: Melbourne, Australia
For more information about CGH's participation, visit CGH Staff Present at World Cancer Congress 2014.
---
All Ireland Cancer Consortium (AICC) Conference 2015 - 'New Horizons for Cancer: Removing Boundaries'
Early Bird Registration offer for the AICC conference has been extended to February 8, 2015
May 10-15, 2015
Location: Belfast, Northern Ireland, UK
Details
The Centre for Cancer Research and Cell Biology at Queen's University Belfast, in conjunction with the Ireland-Northern Ireland-National Cancer Institute Consortium, will host the All-Ireland Cancer Consortium (AICC) Conference 2015 at the Riddel Hall, Queen's University Belfast, on May 10-13, 2015.
This multidisciplinary conference will bring together the cancer research and care communities on the island of Ireland with those from the UK, Europe and US including keynote speakers from the National Cancer Institute, USA. The conference will cover the main work streams of the AICC and will encompass a patient/charities forum as well as simultaneous sessions on quantitative biology, cancer health economics and policy and planning. The themes and topics of AICC 2015 should make the conference attractive to everybody involved across the spectrum of cancer disciplines.
The call for abstracts is now open.
For more information, visit AICC Conference 2015 or email questions to Elisabeth Dupont
---
Caribbean Grant Writing & Scientific Peer Review Workshop
September 17-19, 2014
Location: Grenada, West Indies, Caribbean
Details
CGH is organizing the third Trans-NIH grant writing and peer review workshop in the Caribbean region to address public health issues through research. The objectives for the workshop are:
Increase the participation of Caribbean Scientists in the grant writing and review process
Develop strategies for sustainable research support and collaborations
Use competitive grants writing skills as a tool to fund research that address global health problems
Application and Selection
The workshop will be a practical hands-on experience, starting with the application, which must include a concept paper. Selected applicants will discuss their paper/proposal during the workshop. Eligible applicants are:
Caribbean health researchers who lives and conducts research in the Caribbean and plan to apply to grants from NIH and other participating agencies and organization
Administrators managing grants at their institutions
Travel awards and mentoring opportunities will be available to top qualified candidates. 
Registration is open now through Friday, July 11, 2014 at 11:59 PM U.S., Eastern Standard Time. Apply to the Caribbean Grant Writing and Peer Review Workshop.
Email questions to NCIGlobalHealth@mail.nih.gov.
---
African Cancer Forum: Sponsored by AORTIC, ASCO & NCI (USA)
May 30, 2014, 6:00 p.m. - 9:30 p.m.
Location: Hilton Chicago/ Chicago, IL
Details
The forum was held as an ancillary meeting during the 2014 ASCO conference. The objectives of the meeting were:
Promote African cancer scientists, especially the new investigators
Highlight the projects of the AORTIC-NCI Beginning Investigator Grant for Catalytic (BIG CAT) awardees
Feature active North- American Africa cancer research collaborations
Provide a networking forum to connect African investigators with cancer scientists in North America
All African delegates were recognized to foster collaboration with cancer scientists in North America.
Find more information at www.aortic-africa.org.
---
We-CAN Kenya Summit
September 19-21, 2014
Location: Nairobi, Kenya
Details
This is a meeting of patient advocates from East African countries with the following goals:
Develop goals and priorities for advocacy work
Develop a regional East Africa network to promote collaboration
Disseminate lessons learned from this workshop
Develop an advocacy action plan
Email NCIGlobalHealth@mail.nih.gov for more information.
---
East Africa Cancer Control Leadership Forum
Tentative: June 19 - June 21, 2014
Venue: Lusaka, Zambia
Details
The goal of this forum is to increase the capacity of participating countries to initiate or enhance cancer control efforts in order to decrease the burden of cancer in their respective countries. The Forum is a structured, outcomes-focused workshop in which countries learn about important aspects of cancer control planning and work on developing their respective national cancer control plans
Email Brenda Kostelecky kosteleckybd@od.nih.gov for more information.