A Snapshot of Breast Cancer
Incidence and Mortality
In the United States, breast cancer is the most common non-skin cancer and the second leading cause of cancer-related death in women. Each year, a small number of men are diagnosed with and die from breast cancer. Although the overall rate of diagnosis of breast cancer increased in the 1990s, it began decreasing in 2000 and has remained steady in recent years. The overall breast cancer death rate has dropped steadily over the past 20 years.
The incidence of breast cancer is highest in white women for most age groups, but African American women have higher incidence rates before 40 years of age and higher breast cancer mortality rates than women of any other racial/ethnic group in the United States at every age. The gap in mortality between African American and white women is wider now than it was in the early 1990s.
Studies have identified numerous risk factors for breast cancer in women, including increasing age, personal history of certain benign breast diseases or breast cancer, early menstruation, late menopause, never having been pregnant or having a first pregnancy after age 30, use of oral contraceptives, family history of breast cancer, presence of certain inherited genetic changes, history of radiation therapy to the chest, long-term use of combined hormone therapy, use of diethylstilbestrol (DES), increased breast density, alcohol use, and obesity after menopause. For women at high genetic risk due to a harmful mutation in BRCA1 or BRCA2, bilateral prophylactic mastectomy can reduce the risk of breast cancer by at least 95 percent. Risk factors for male breast cancer include obesity, a rare genetic condition called Klinefelter syndrome, and the presence of excess breast tissue.  Mammograms and clinical breast exams are commonly used to screen for breast cancer. Standard treatment options for breast cancer include surgery, radiation therapy, chemotherapy, hormone therapy, and targeted therapy.         
Assuming that incidence and survival rates follow recent trends, it is estimated that $17.2 billion1 will be spent on breast cancer care in the United States in 2014.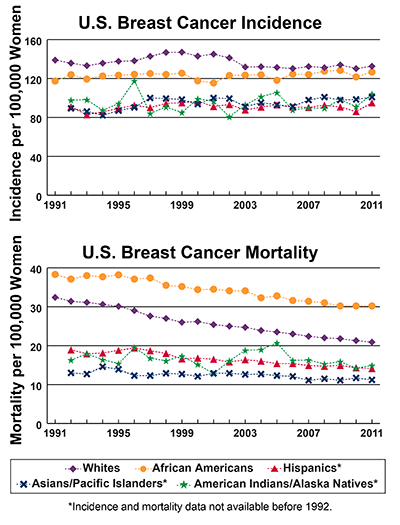 Examples of NCI Activities Relevant to Breast Cancer
Selected Advances in Breast Cancer Research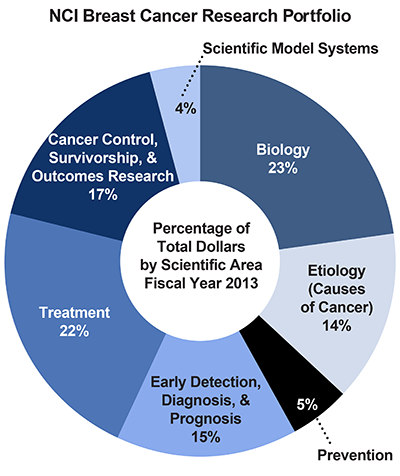 Trends in NCI Funding for Breast Cancer Research
NCI's investment2 in breast cancer research was $559.2 million in fiscal year (FY) 2013. In addition to the funding described in the graph, NCI supported $112.4 million in breast cancer research in FYs 2009 and 2010 using funding from the American Recovery and Reinvestment Act.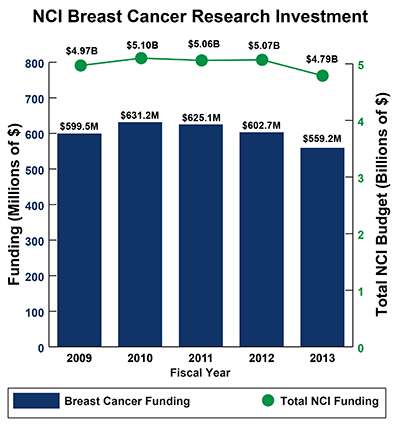 Additional Resources for Breast Cancer
---
1 Cancer Prevalence and Cost of Care Projections, in 2010 dollars.
2 The estimated NCI investment is based on funding associated with a broad range of peer-reviewed scientific activities. For additional information on research planning and budgeting at the National Institutes of Health (NIH), see About NIH.