A Snapshot of Pediatric Cancers
Incidence and Mortality
Cancer is the leading cause of death by disease past infancy among U.S. children. An estimated 10,380 new cases of cancer are expected to be diagnosed in children ages 0 to 14 years in 2015. The major types of cancers in children ages 0 to14 years are acute lymphocytic leukemia (ALL), brain and other central nervous system (CNS) tumors, and neuroblastoma, which are expected to account for more than half of new cases in 2015. White and Hispanic children have higher incidence rates of childhood cancer than children from other racial/ethnic groups.
Although the overall incidence rate of cancer in children has increased 0.6% annually over the past 35 years, mortality rates for some types of childhood cancer have declined by more than 50 percent.1 The 5-year survival rate for all childhood cancers combined has increased from 60 percent in the mid-1970s to 86 percent in recent years. The improvement in survival is largely attributable to better treatments and to the high proportion of pediatric patients participating in clinical trials. Although outcomes have improved for many childhood cancers, progress in others has been limited. Brain and central nervous system tumors remain the leading cause of cancer-related death in children.
The causes of most childhood cancers are unknown, and for the most part, these cancers cannot be prevented. Depending on the type of cancer, children with cancer may receive different standard treatments, including surgery, chemotherapy, cerebrospinal fluid diversion, radiation therapy, watchful waiting, chemotherapy with stem cell transplant, biological therapy, or targeted therapy.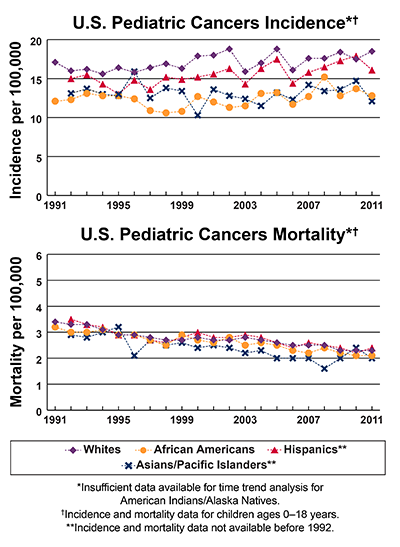 Examples of NCI Activities Relevant to Pediatric Cancers
Selected Advances in Pediatric Cancers Research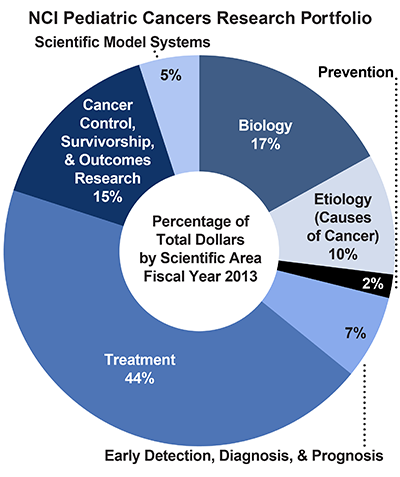 Trends in NCI Funding for Pediatric Cancers Research
NCI's investment2 in pediatric cancers research was $185.1 million in fiscal year (FY) 2013. In addition to the funding described in the graph, NCI supported $60.4 million in pediatric cancers research in FYs 2009 and 2010 using funding from the American Recovery and Reinvestment Act.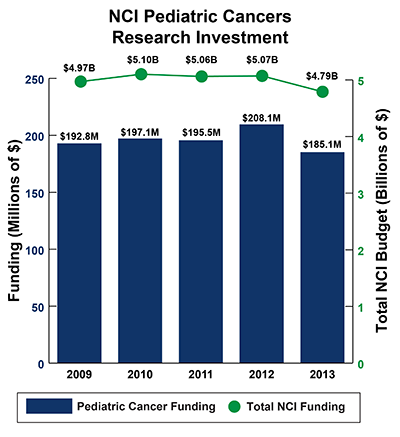 Additional Resources for Pediatric Cancers
---
1 Includes cancers in children 0-18 years of age.
2 The estimated NCI investment is based on funding associated with a broad range of peer-reviewed scientific activities. For additional information on research planning and budgeting at the National Institutes of Health (NIH), see About NIH.