Contributing to Cancer Research
The NCI Office of Budget and Finance (OBF) manages the donations that NCI receives from the public, including funds received through the Breast Cancer Research Stamp. Other donations from the public are deposited into the NCI Gift Fund. These are donations are authorized by laws enacted by the U.S. Congress.  
NCI does not solicit funds or participate in fundraising activities.  
OBF applies the donations it receives to advance the NCI mission, which is to conduct and support research, training, health information dissemination and other programs related to the cause, diagnosis, prevention, and treatment of cancer, rehabilitation from cancer, and the continuing care of cancer patients and their families.
 
The NCI Gift Fund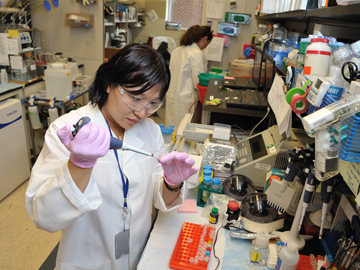 OBF deposits donations into the NCI Gift Fund, which is separate from the appropriation that NCI receives from Congress. NCI's annual appropriation from Congress supports NCI operations and administrative costs. NCI uses amounts deposited in the Gift Fund for other special purposes that advance the NCI cancer research mission.
Projects Supported
Projects supported through the Gift Fund may vary from year to year depending on NCI research priorities. The following are some of the activities that have received NCI Gift Fund assistance: 
Supporting special fellowships to train young scientists in cancer research
Acquiring clinical laboratory equipment to support cancer research
Assisting patients experiencing financial need through the NIH Clinical Center's Patient Emergency Fund  
Supporting workshops and conferences on subjects of special importance to cancer research
Printing materials to educate the public about cancer
How to Donate
NCI accepts unsolicited donations to help support cancer research.  If you wish to donate, you may send a check or money order payable to "The National Cancer Institute" along with a letter indicating that the donation is to be used for NCI research to:
The Director
The National Cancer Institute
Building 31 Room 11A-16
9000 Rockville Pike
Bethesda, MD 20892
Donation Letters
There are many reasons to support cancer research; from experiencing cancer first hand to supporting a friend or loved one. We welcome your donations to be memorial or honorary of those in your life that have been touched by cancer. Your donation can also be in support a specific type of research.
Please be sure to include the following in your letter:
Name (contact person)
Company Name (if applicable)
Street Address
City, State and Zip Code
Phone Number (optional)
Memorial Donations (optional): Please include the name of your loved one in your letter, as well as the name(s) and address(es) of the person(s) whom you would like NCI to acknowledge for the memorial donation (a spouse, sibling, parent, etc.).
Honorary Donations (optional): Please write the name of the person your donation is in honor of in your letter, as well as the name(s) and address(es) of the person(s) whom you would like NCI to acknowledge for the honorary donation (the honoree, a spouse, a sibling, a parent, etc.).
Research Designation (optional): All donations are applied to projects that support NCI's mission of cancer research, as determined by the NCI Director. However, you may state in your letter if you would like your donation to support a specific type of cancer research.
Questions
We are happy to answer any questions you may have about donating to the NCI Gift Fund. Please feel free to contact us at:
Office of Budget & Finance
National Cancer Institute 
Building 31 Room 11A-16
9000 Rockville Pike
Bethesda, MD 20892
Phone: (301)-496-5803
Email: nciobfInquiries@mail.nih.gov
The Breast Cancer Research Stamp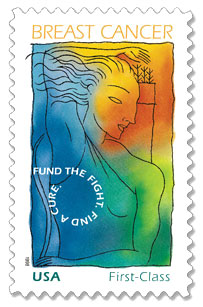 Congress enacted The Stamp Out Breast Cancer Act of 1997, which required the U.S. Postal Service to issue a special stamp related to breast cancer, priced at a higher rate than the standard first-class postage for mailing a letter.  Seventy percent of the net proceeds from the Breast Cancer Research Stamp surcharge go to the National Institutes of Health for breast cancer research and 30 percent to the Department of Defense for the same purpose.
You can contribute to cancer research by purchasing the Breast Cancer Research Stamp at USPS.com or your local post office.
Quick Facts
The Breast Cancer Research Stamp is the country's first fund-raising stamp and was first issued on July 29, 1998.
Ethel Kessler of Bethesda, Maryland designed the stamp; it features the phrases, "Fund the Fight" and "Find a Cure" and an illustration of a mythical "goddess of the hunt" by Whitney Sherman of Baltimore, Maryland.
United States Senators Dianne Feinstein (D-CA), Alfonse D'Amato (R-NY), and Lauch Faircloth (R-NC), and United States Representatives Susan Molinari (R-NY), Vic Fazio (D-CA), and Charles W. Norwood (R-GA) were the original sponsors of the legislation.
The stamp was the idea of three passionate people who lobbied for Congress' approval of the stamp and who eventually partnered with  Senator Feinstein and her colleagues to advance the creation and issuance the stamp:

Ernie Bodai, MD, a Kaiser Permanente breast surgeon who performs lumpectomies and mastectomies on women with breast cancer and the founder of the nonprofit organization Cure Breast Cancer, Inc.
Betsy Mullen, a breast cancer survivor and advocate as well as the founder of WIN Against Breast Cancer and the Breast Buddy Breast Care Program
David Goodman, who lost his first wife to breast cancer
Reports to Congress - How Breast Cancer Research Stamp Funds Are Used
A provision of the 2007 reauthorization of the Stamp-Out Breast Cancer Act (P.L. 110-150) requires NIH to submit an annual report on the use of funds received from stamp sales to Congress and the Government Accountability Office. The NCI prepares these reports on behalf of NIH.
Read the Breast Cancer research Stamp Fiscal Year 2013 Report
Private Organizations & Cancer Research Fundraising
There are many private organizations in the United States that raise money for cancer research and treatment and provide other support activities. Some of these private organizations may refer to NCI and include the toll-free telephone number for NCI's Cancer Information Service in their fundraising literature. However, NCI is not affiliated with any of these organizations and does not participate in or endorse their fundraising activities.
The following questions can help you evaluate the operations of a fundraising organization and make an informed decision about contributing to the organization:
Does the organization make its budget and a complete annual report, including an audit by an independent certified public accountant, public?
Are the group's fundraising and administrative costs reasonable?
Does the organization use ethical and economical fundraising methods?
Is the organization transparent about how it is managed?
Is the information it distributes misleading, deceptive, or inaccurate?
Resources
BBB Wise Giving Alliance: BBB Wise Giving Alliance is an affiliate of the Council of Better Business Bureaus and they use specific standards for charitable accountability to evaluate the fundraising activities of private, nonprofit organizations. These standards address the practices of public disclosure, financial accountability, fundraising activities and materials, and the governing body of the organization.
Better Business Bureaus (BBBs): BBBs reports on local fundraising organizations.
The Office of the Attorney General: Most state offices have a consumer protection division that investigates complaints from the public lodged against companies and other organizations. Contact information is located in the blue Government pages of your local telephone directory or on state government websites.
State or Local Consumer Protection Offices: Your local consumer protection agency page on USA.gov includes contact information for local consumer protection offices that respond to consumer complaints. A complete list of state, county, and city government consumer protection offices is also available.
The Federal Trade Commission (FTC): FTC's Charity Scams page includes tips on how to make your donations count by learning about charities and the warning signs of a scam. FTC also offers a publication called Charitable Donations: Give or Take?, which has information about making donations to organizations and whom to contact if you have questions or complaints. Although FTC does not investigate individual consumer complaints, complaints reported to the agency can help it detect patterns of wrongdoing and lead to investigations and prosecutions. Complaints can be filed on the FTC Complaint Assistant page.