Referrals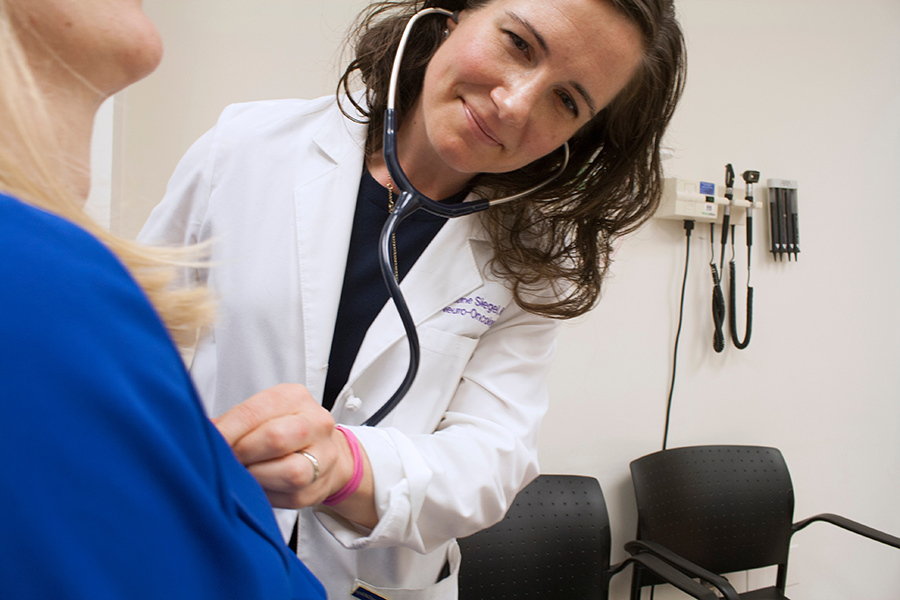 The diagnosis of a rare brain or spinal cord tumor can be overwhelming and patients may feel it is urgent to get started with their care. Patients are encouraged to seek a second opinion for care and treatment options from a doctor who has experience treating their brain or spine tumor.
The NCI Neuro-Oncology Branch at the NIH in Bethesda, Maryland, has doctors and nurses with extensive experience treating rare brain and spinal cord tumors. Patients can visit our Neuro-Oncology Branch Brain Tumor Clinic at the NIH for an evaluation or consultation with our healthcare providers. Consultations for patients with rare brain and spine tumors are free-of-charge.
Our Neuro-Oncology Branch healthcare team provides patients with a comprehensive care plan that, together with their physician at home, will ensure they get the best treatment possible.
NCI-CONNECT Clinic
The NCI-CONNECT Clinic brings together adult patients with the same rare brain or spine tumor and their caregivers to receive special services. First visit services include:
A review of your diagnosis. Our team will evaluate your tumor tissue prior to your first visit to confirm your tumor type. We will also look for gene changes that could cause cancer and help us treat it.
Consultations with our expert healthcare team. These include:
View or download the NCI-CONNECT Clinic flyer.
Referral Information
To make an appointment or refer a patient, contact us at:
NCINOBReferrals@mail.nih.gov or call 1-866-251-9686 or 240-760-6010
(Monday to Friday, 9:00 a.m.–5:00 p.m. ET)
We request that the patient or family member contact us directly to facilitate the consent process for the visit.
Candidates with one of these rare CNS tumors should participate if:
they are newly diagnosed or have a recurrence and need to make a treatment decision
they are interested in a second opinion on follow-up care
they are interested in improving their care and the care of future patients
Learn more about the referral process, the costs involved, and what items are needed for a consultation.
Patients referred to the NIH will have the option to participate in a clinical trial at the NCI or at a Brain Tumor Trials Collaborative (BTTC) center. The BTTC is a network of renowned medical centers throughout the United States that works with NCI-CONNECT to provide clinical trials to patients with rare CNS tumors. This allows patients to access cutting-edge therapies at a center closer to their home.