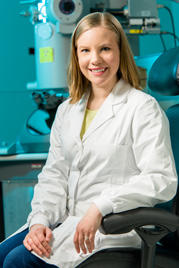 Alison Vermilya, M.S.
Research Associate I, Physicochemical Characterization
Mrs. Vermilya assists in the physicochemical characterization of nanoparticles that are studied at the Nanotechnology Characterization Laboratory (NCL), including transmission electron microscopy imaging and size analysis, dynamic light scattering, and zeta potential measurements.
Mrs. Vermilya received a B.S. in chemistry from Hillsdale College in 2010 and a M.S. in chemistry from The Pennsylvania State University in 2014. Her research at Penn State focused on using electrical field flow fractionation to separate and purify sub-20 nanometer aqueous particles with a miniaturized self-built flow chamber. Prior to joining the NCL, she worked as a quality assurance associate for a contract research organization, where she performed in vitro bioassays on cosmetics and personal care products.