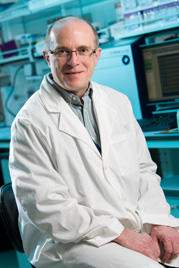 Edward Cedrone, B.S.
Research Associate, Immunology
Mr. Cedrone's main role at the Nanotechnology Characterization Laboratory is assessing nanoparticle effects on immune cell function by conducting in vitro and in vivo cell-based immune assays.
Mr. Cedrone brings a wealth of experience in cell and tissue culture from his previous employment at the cell biology program of the American Type Culture Collection in Manassas, Virginia. His duties included cell line authentication for the cell biology collection and production of cell line banks and DNA products for various contracts. He was also responsible for providing flow cytometry services for different product development and research projects.
Prior to that, he was at the University of Rochester Medical Center where he was involved with cytogenetic and molecular biology studies on various forms of cancer. Mr. Cedrone received his B.S. in biology from the Rochester Institute of Technology.