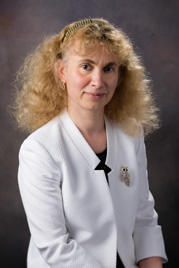 Marina A. Dobrovolskaia, Ph.D., M.B.A., P.M.P.
Laboratory Co-Director, Director of Operations
Dr. Dobrovolskaia is Laboratory co-Director, Director of Operations and the Head of immunology section at the Nanotechnology Characterization Laboratory (NCL). In her role as the Director of Operations, Dr. Dobrovolskaia leads the NCL operations to provide preclinical nanoparticle characterization services to the nanotechnology research community, advance the translation of promising nanotechnology concepts from bench to the clinic, and contribute to the education of the next generation of scientists in the field of preclinical development of nanotechnology-based products, the activities emphasized in the NCL mission. She also directs the performance of immunology, client relations and administrative sections of the NCL. Closely integrated functioning of these sections plays a critical role in advancing the NCL's key strategic goals, and in supporting the missions of the Frederick National Laboratory for Cancer Research.
In her role as the Head of the immunology section, Dr. Dobrovolskaia leads a team conducting preclinical studies to monitor nanoparticles' toxicity to the immune system both in vitro and in vivo using variety of immune function animal models.
Prior to joining the NCL, Dr. Dobrovolskaia worked as a Research Scientist in a good laboratory practice (GLP) laboratory at PPD Development, Inc. in Richmond, VA, where she was responsible for the design, development and validation of bioanalytical ligand-binding assays to support pharmacokinetic and toxicity studies in a variety of drug development projects. She received her M.S. degree from the Kazan State University in Russia; Ph.D. from the N.N. Blokhin Cancer Russian Research Center of the Russian Academy of Medical Sciences in Moscow, Russia, and M.B.A. from the Hood College in Frederick, MD. Since 2016, she is also a member of the Project Management Institute and a certified Project Management Professional.