The Cancer Information Service (CIS)
Our Services
The Cancer Information Service (CIS), NCI's contact center, is a federally funded cancer education program that was established in 1975 as an essential part of NCI's mission and information efforts.
We provide accurate, up-to-date, and reliable information on cancer that is easy to understand. Our trained information specialists provide personalized responses to a range of cancer questions, including:
cancer research and clinical trials
how to find cancer treatment centers
cancer prevention
risk factors
symptoms
early detection
diagnosis and treatment
living with cancer
tissue donation
quitting smoking
Our information specialists have access to trustworthy information on a range of cancer topics, including the most recent advances in cancer treatment. They are knowledgeable, caring, and experienced at explaining medical information. The service is confidential, and we spend as much time as needed for thorough and personalized answers.
Who Should Use the CIS
CIS can help you whether you are a patient or cancer survivor, a concerned family member or friend, a health care provider, or someone who has been touched in some way by cancer.
Patients, Family Members, Friends, and the General Public
Our information specialists can answer your questions about cancer. If you aren't sure what materials may be right for you, we can help you choose ones that address your situation, and e-mail or send them to you at no charge. We can also help you navigate the NCI website, www.cancer.gov, to help you find what you are looking for.
While we can provide answers to many questions and help you understand more about cancer, please understand that CIS information specialists do not take the place of a doctor and cannot provide medical advice.
We can help you find quality cancer care including how to get a second opinion, find cancer treatment centers, mammography facilities, other cancer organizations, and cancer related services. We can also tell you about clinical trials (research studies) and provide tailored clinical trial searches for those who are interested in participating in one.
Health Care Providers
CIS can be a valuable resource for doctors and other health care providers by supplementing information that patients receive during their office visits. We are also a great place to direct your patients who are interested in quitting smoking. Our information specialists are knowledgeable and caring, and our service is free of charge.
In addition to providing general cancer information, and treatment and side effect information, we can talk to patients about other needs, too, including coping and life after cancer treatment. Our information specialists can also conduct tailored clinical trials searches for patients interested in participating in clinical studies.
We can also help direct you to NCI's peer reviewed cancer treatment and supportive care summaries, NCI news releases, patient education booklets and brochures, and other sources of cancer information that are of interest.
Tell Others About the CIS
Web Tile
To use the following web tile, copy and paste the code into your Web site or blog's source code.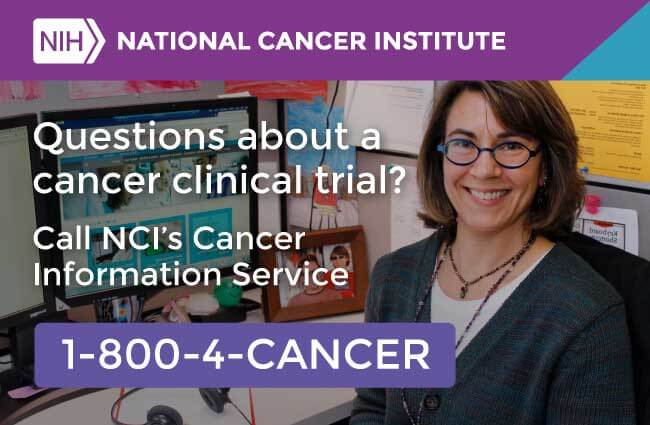 HTML Code:
<a href="https://www.cancer.gov/contact">
<img src="https://www.cancer.gov/PublishedContent/Images/
images/design-elements/headers/cis-tile-option-1-utility.jpg" />
</a>