Inspiring Messages from the Brain Tumor Community
, by Kristin Odom, NCI-CONNECT Communications Editor
If you have been newly diagnosed or are living with a brain tumor, you are a brain tumor survivor. And as a brain tumor survivor or caregiver, it can be hard to continue to remain positive. You may be living with physical or cognitive changes, unable to return to work or live life as you did before your brain tumor. Caregivers may struggle to find support and manage daily activities.
To help motivate you through your journey as a brain tumor survivor or caregiver, others in the brain tumor community share some words of encouragement. Use these words and resources listed to help you positively cope with your brain tumor experience. 
Choose to be Positive and Grateful  
"I live my life everyday happy. I try to stay positive during bad situations. When negative things happen around me, I fight it with positive thinking. I don't let negative situations ruin my day. I work around my problems and do things to occupy my mind to relieve the stress, like volunteering to speak to others." – Anonymous PXA survivor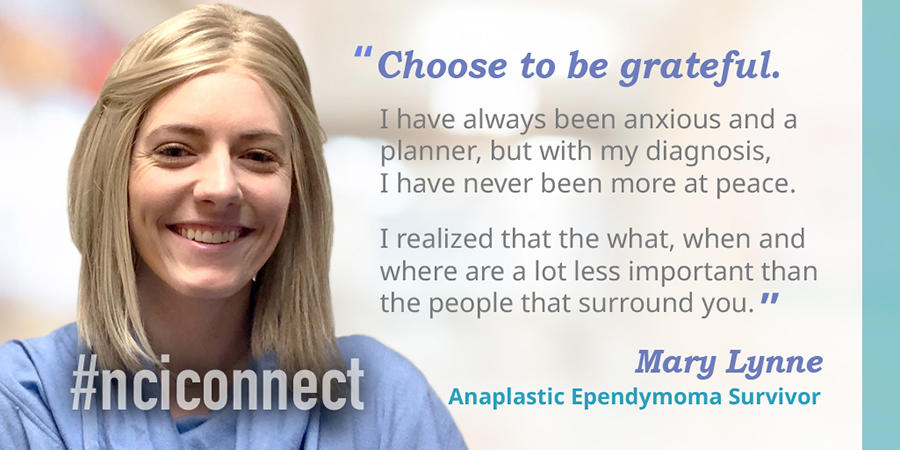 "I know that we are lucky. Being grateful for what we have is more powerful than grieving over what we have lost." – Brock, caregiver and founder of Oligo Nation
Resource: Use this NCI guide to learn helpful relaxation skills.
Maintain Hope
"It is crucial to maintain hope despite the substantial and numerous challenges of this devastating disease." - Kathy, caregiver and founder of the International Brain Tumour Alliance
"Don't ever quit and don't ever give up hope. Don't ever ask yourself, "Why is this happening to me?" – Jered, oligodendroglioma survivor
"Don't panic! Procedures are evolving. Be positive and never give up hope. It's also important to do your research, seek a second opinion and find an expert care team so you can continue to live life to the fullest." – Lawrence, pineal region tumor survivor
Resource: Use this NCI guide to learn ways you can build your sense of hope.
Find Your New Day-to-Day Life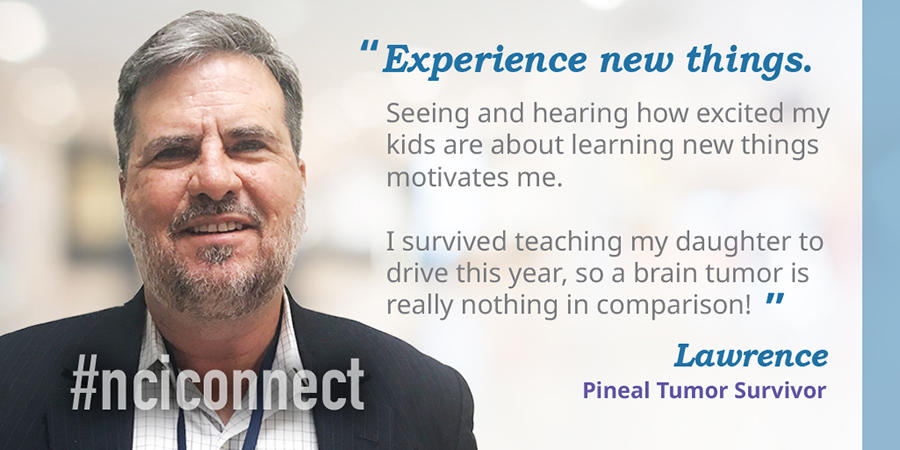 "To live as well as I can with this disease, I find it helpful to be able to turn toward pain and difficulties rather than away." – Gretel, ependymoma survivor
"Early on in my cancer journey, I adopted a fighter mindset. I knew I had a choice when I was diagnosed. I could choose to feel sorry for myself or I could choose to live my life." – Darien, PXA Tumor survivor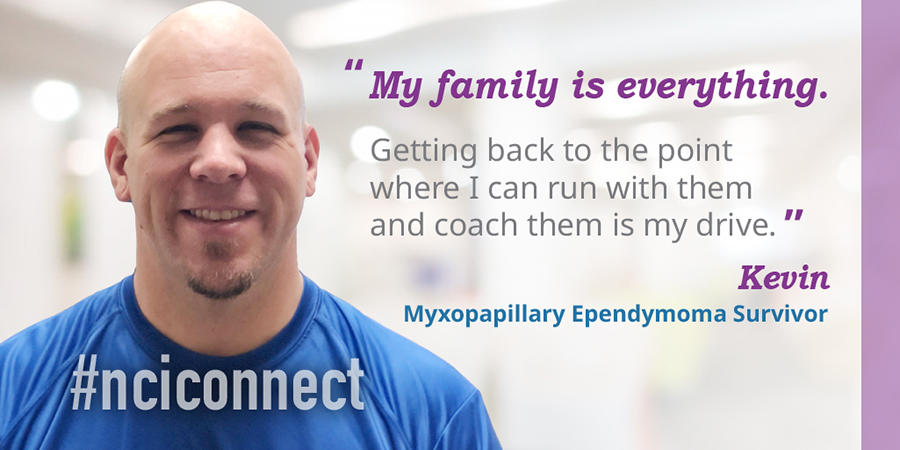 Resource: Use this NCI guide on managing day-to-day life while dealing with cancer.
Surround Yourself with Support
"We appreciate the amazing people in our lives who have helped us and how our journey has brought our family closer. Who knows where we would be without my determined friend and the optimism and resources at NIH." – Heather, medulloblastoma caregiver
"We all have a role in this journey. No role is too small or insignificant. Each interaction is meaningful, and collectively we will change the future outcome." – Kimberly Wallgren, caregiver and president of the CERN Foundation
"We all know dealing with a brain tumor can be devastating and isolating, so ultimately through all our work, we seek to provide hope, connection, and support to patients and their families." – David Arons, caregiver and chief executive officer of the National Brain Tumor Society 
Resource: Use this NCI guide on support for caregivers of cancer patients.
If you're inspired by these messages, you can read stories with advice and tips from patients and caregivers. You can also join our private Facebook community to share and connect.