Program Spotlight: PACHE Partners Discuss Better Ways to Advance Cancer Health Equity
, by CRCHD staff
The NCI's Center to Reduce Cancer Health Disparities (CRCHD) held an investigators workshop for the Partnerships to Advance Cancer Health Equity (PACHE) program in late July at the NIH Neuroscience Center in Rockville, MD.
The goal of the meeting was to discuss the future of the program and continue dialogue on how best to further build research and training capacities at underrepresented-serving institutions, as well as enhance outreach to racially and ethnically diverse communities.
PACHE was initiated in 2001 to build cancer health disparities (CHD) research and training capacity at underrepresented-serving institutions (in partnership with NCI-designated Cancer Centers), and to improve the effectiveness of reaching racially and ethnically diverse communities with life-saving cancer information and resources.

At the meeting, participants discussed ways to improve training opportunities through cancer and CHD research, as well as enhance professional development and increase networking among partnership-supported researchers, trainees, and program staff to help secure future scientific collaborations. Sessions also focused on the impact of PACHE on advancing health equity, research and scientific discoveries, as well as an evaluation of the program. Additional concurrent sessions focused on training and education, communication, and outreach.
In all, the 2014 PACHE meeting and workshop included more than 30 presentations and panel discussions, and was attended by more than 125 participants from major universities, cancer centers, and minority-serving institutions from across the country.

As part of the PACHE workshop, CRCHD invited participants to contribute to a competitive, interactive poster session—providing an opportunity for PACHE researchers to display and present their research findings and intent for future research. Approximately 25 scientific posters were submitted. Winners were selected in categories of Behavioral Research, Basic Research, and Translational Research.
Behaviorial Research
Marvella E. Ford, Ph.D., Professor, Medical University of South Carolina
"BMI and physical activity rates in diverse breast cancer survivors"
Findings: Dr. Ford investigated the racial and ethnic biomarkers in breast cancer survival by specifically studying if the impact of physical activity had an association with a woman's body mass index (BMI) and breast cancer survival in African Americans (AA) and European Americans (EA). From her study, Dr. Ford discovered that there were no significant racial/ethnic differences between physical activity and BMI. For her investigation, she recruited women within 18 months of breast cancer diagnosis and interviewed them to obtain data pertaining to race, age, education, height, weight, and physical activity. The majority of study participants (77%) were overweight/obese (with AA women as having a somewhat higher mean BMI than EA women). Additionally, while EAs reported having more physical activity, only 38% of study participants reported meeting CDC physical activity guidelines (at least 150 minutes per week of moderate physical activity). Higher rates of physical activity were associated with lower BMI, but there were no significant differences in this association by race or ethnicity.
These findings have implications for the impact of physical activity on the association between BMI and breast cancer survival in all racial/ethnic groups. Dr. Ford is currently testing a 12-week, evidence-based intervention that includes a customized program of exercise and education to reduce BMI and BMI-associated inflammatory biomarkers which may be linked to breast cancer recurrence. The overall goal of the intervention is to improve breast cancer survival rates. 
Basic Research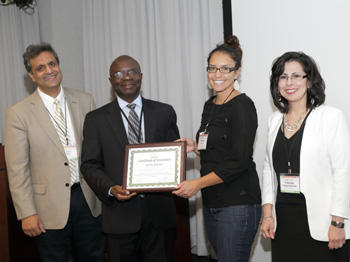 Jessica P. Houston, Ph.D., M.S. Assistant Professor, New Mexico State University
"Developing time-resolved flow cytometry for fluorescence decay-dependent high throughput cancer cell counting and sorting"
Findings: Dr. Houston has been developing a new flow cytometry technology to isolate populations of cancer cells either for diagnostic or therapeutic cancer-fighting applications. Flow cytometry is a widespread tool for single cell analysis and works by measuring fluorescent light emitted from individual cells as they rapidly flow through a focused laser source. Houston is greatly expanding the capabilities of flow cytometry by introducing new parameters that are dependent on the decay-kinetics of fluorescent species within cells. Houston applies this emerging technology using yeast cell cultures expressing fluorescence proteins, engineered by the laboratory of Dr. Brent. The long-term impact of this work is the ability to separate heterogeneous populations of cancer cells for cancer immunotherapy. 
Translational Research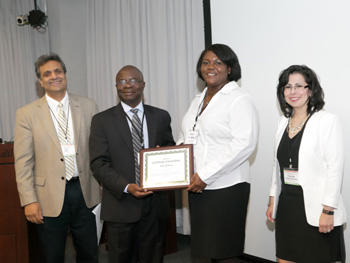 Anne M. Ramsey, Ph.D., Student, Morehouse School of Medicine
"Emodin mediates caspase dependent apoptosis in breast cancer cells by downregulating survivin"
Findings: Breast cancer progresses despite the aggressive multi-modal therapies offered in the clinics. Chemotherapy is often used to treat advanced breast cancer, but it has severe side effects. The study's aim is to develop a less toxic treatment option and improve therapeutic outcomes of breast cancer using Emodin. Emodin is an extract isolated from the root of the rhubarb plant. Ramsey's data showed that Emodin has the ability to inhibit breast cancer cell growth by downregulating the protein survivin. The inhibition of this protein induces a caspase cascade that leads to a form of cancer cell death called apoptosis.