Education and Outreach Staff and Contact Information
For information on activities in the Bethesda area and surrounding Montgomery County contact ncistemeducation@nih.gov.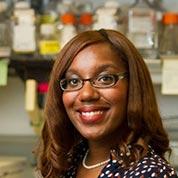 Chanelle Case Borden, Ph.D., NCI Education and Outreach Program Manager
Dr. Case Borden is a Lead Scientific Program Analyst in the Center for Cancer Training (CCT). She received her Ph.D. in Molecular Oncology from George Washington University in 2012, in partnership with the National Institutes of Health Graduate Partnership Program (GPP).   She joined the Center for Cancer Training in 2016 to pursue her passions in science education, improving the training education, and increasing diversity in biomedical sciences.  Chanelle founded the NCI Education and Outreach Program (formerly NCI Scientists in the Community) in 2017 to enhance STEM experiences by connecting scientists with the local community.
Britney Hardy, PhD., NCI Education and Outreach Program (Bethesda)
Britney Hardy is currently a NIGMS PRAT Postdoctoral Fellow at the National Cancer Institute.  She received her Ph.D. in Emerging Infectious Disease from the Uniformed Services University of the Health Sciences.
Cathleen Cullen, NCI Education andOutreach Program (Frederick)
Cathy is an Education Program Specialist at NCI Frederick and manager of the Frederick Elementary Outreach Program.  Prior to joining the NCI, she was the administrator for the Homeless Education Program (2014 – 2018) and an elementary school teacher for Frederick County Public Schools.
For information on activities in Frederick County contact Cathleen Cullen at eop@mail.nih.gov.
Past Team Members
Patricia A. Wiley, Ph.D. (former Assistant Program Manager) was awarded a AAAS Fellowship and transitioned to the National Institute of Biomedical Imaging and Bioengineering (NIBIB). 
Cora Hersh (former Volunteer Coordinator) transitioned to a Research Assistant position at Woods Hole Oceanographic Institution following the completion of her postbaccalaureate fellowship.