NCI Social Media Events
A large part of the mission of the National Cancer Institute is to share information and updates with the public and cancer research community. Social media is an ideal platform for connecting with people, and we often participate in live social media events like Facebook Live, YouTube Live and Twitter chats. Listed below are past and upcoming social media events involving NCI and our partners.
If you are interested in more information about NCI and our events, please follow us on our social media channels.
Upcoming 2018 Social Media Events
Live From the NIH GIST Clinic
Facebook Live
Tuesday, June 19, 2018, 3:30 p.m. ET
Please join us for a Facebook Live from the NIH Pediatric or wildtype GIST Clinic. Dr. Fernanda Arnaldez of the National Cancer Institute and Dr. Margaret von Mehren of Fox Chase Cancer Center will be joined by moderator Becky Owens of GIST Support International. Together they will discuss the GIST Clinic and its contributions to advancing GIST research. Participants are encouraged to ask questions during the event in the comments section of the video.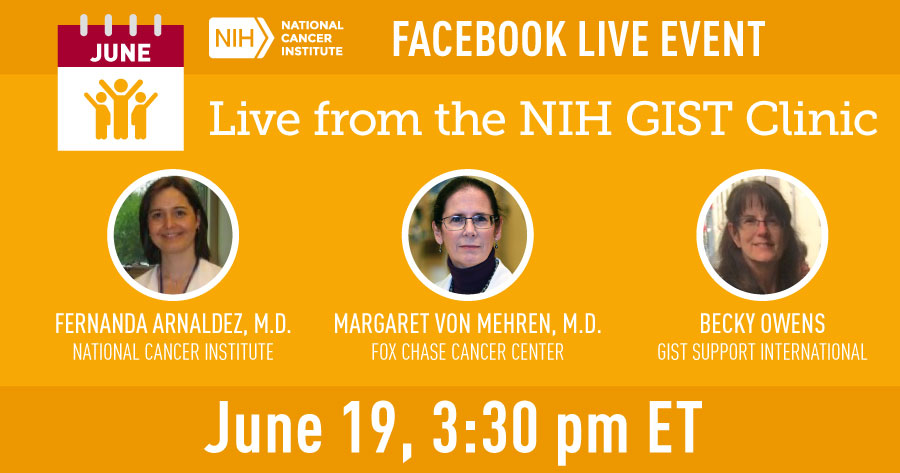 Previous 2018 Social Media Events
Adult Brain and Spine Tumor Research and Treatment
Facebook Live
Friday, May 25, 2018, 11:00 a.m. ET
On May 25 at 11:00 a.m. ET the National Cancer Institute hosted a Facebook Live to discuss adult brain and spine tumor research and treatment. The conversation focused on primary central nervous system (CNS) tumors, meaning the tumor begins in the brain or spinal cord. Chief, Dr. Mark Gilbert and Senior Investigator, Dr. Terri Armstrong, of the NCI Center for Cancer Research, Neuro-Oncology Branch, joined by moderator and Chief Executive Officer, David Arons, of the National Brain Tumor Society. Together they discussed how brain and spine tumors are diagnosed and treated, available clinical trials and the latest research, how tumors impact patient quality of life and the NCI-CONNECT Rare CNS Tumor Project.
Rectal Cancer: Treatment, Research and Quality of Life
Facebook Live
Thursday, March 29, 2018, 2:00 p.m. ET
On March 29 at 2:00 p.m. ET the National Cancer Institute hosted a Facebook Live to discuss rectal cancer treatment, research, and quality of life. The event featured subject matter experts Carmen Allegra, MD, of the National Cancer Institute and University of Florida Health, Deborah Schrag, MD, MPH, of Dana-Farber Cancer Institute and moderator Andrea Denicoff, RN, MS, ANP, of the National Cancer Institute.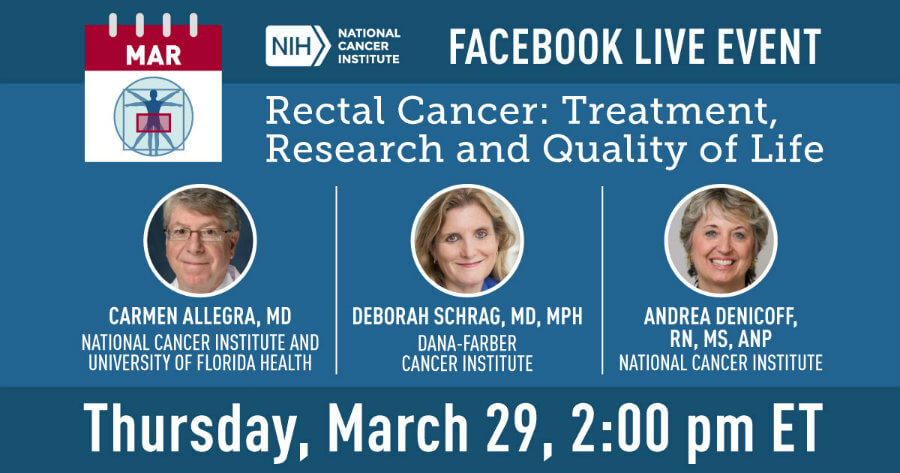 NCI Social Media Events from Previous Years