NCI Social Media Events
A large part of the mission of the National Cancer Institute is to share information and updates with the public and cancer research community. Social media is an ideal platform for connecting with people, and we often participate in live social media events like Facebook Live, YouTube Live and Twitter chats. Listed below are past and upcoming social media events involving NCI and our partners.
If you are interested in more information about NCI and our events, please follow us on our social media channels.
Upcoming Social Media Events
Genomics: How DNA Can Inform Cancer Diagnosis and Treatment
Facebook Live
February 14, at 3:00 p.m. ET
The National Cancer Institute will host a Facebook Live on February 14, at 3 p.m. ET. The event will feature NCI subject matter experts Kenneth Aldape, M.D., of the Center for Cancer Research, Megan Frone, M.S., CGC., of the Division of Cancer Epidemiology and Genetics, and Lyndsay Harris, M.D., of the Cancer Diagnosis Program. They will discuss the role of genetics in cancer diagnosis and treatment. Participants are encouraged to ask questions to our experts during the event in the comments section.
To participate in the event, please visit NCI Facebook Page on February 14, at 3 p.m. ET.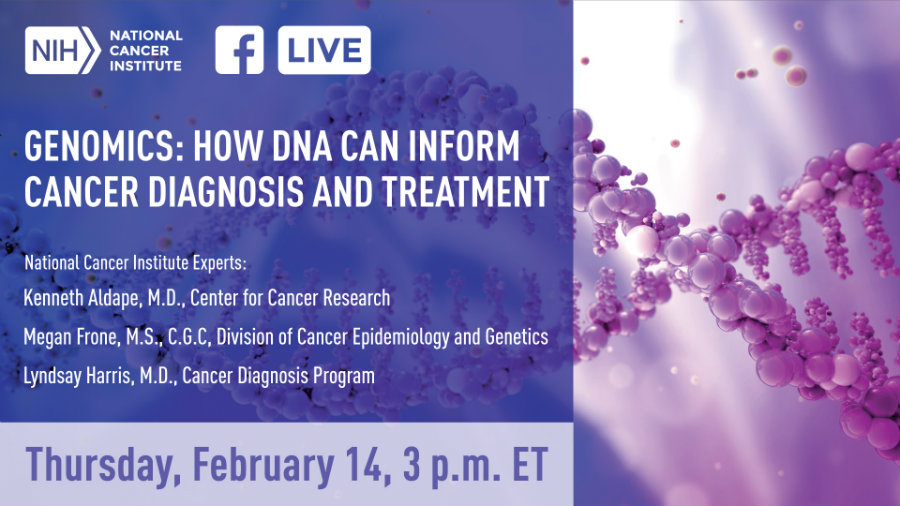 Previous Social Media Events
NCI's 2019 Plans: Conversation with the NCI Director
Facebook Live and Twitter Live
January 25, at 12:00 p.m. ET
At this live social media event, NCI Director Ned Sharpless, M.D., provided an overview of NCI's budget and plans as well as what's on the horizon for Fiscal Year 2019, building off his recent blog post. Elizabeth Jaffee, M.D., Deputy Director, The Sidney Kimmel Comprehensive Cancer Center at Johns Hopkins University, and Dafna Bar-Sagi, Ph.D., Senior Vice President and Vice Dean for Science, Chief Scientific Officer, NYU Langone Health, moderated the conversation. For the second half of the event, Dr. Sharpless answered live questions from viewers.
NCI Social Media Events from Previous Years