About the Blue Ribbon Panel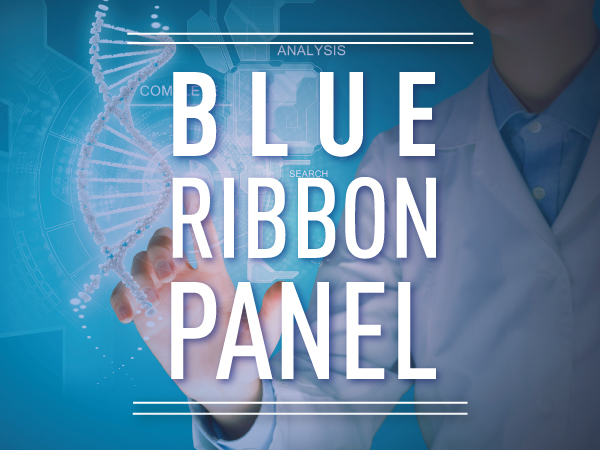 The Cancer MoonshotSM Task Force was directed to consult with external experts from relevant scientific sectors, including the presidentially appointed National Cancer Advisory Board (NCAB). A Blue Ribbon Panel of scientific experts was created to advise the NCAB.
Blue Ribbon Panel Process and Timeline
The BRP members were announced on April 4, 2016, and the first (virtual) meeting took place on April 11. At this meeting the members agreed to establish seven working groups to focus on major topic areas. The working group members were announced on May 2, and the groups met frequently until mid-July. In addition, the BRP met several more times—in person on April 18 and July 20, and virtually on July 13.
The working groups began with broad discussions of the state of the field for their respective topics and considered ideas from the members and the community at large. The panel considered more than 1,600 ideas submitted by the broader cancer community through a dedicated website, email, and other routes. Some working groups created subgroups with focused expertise in particular areas to carefully craft their recommendations. As the working groups narrowed in on their specific recommendations, the chairs of multiple groups also met to discuss cross-cutting themes and to merge similar topics into joint recommendations.
The BRP reviewed the working groups' draft recommendations at its June 13 meeting and reviewed their final recommendations at its July 20 (in-person) meeting.
The image below shows the timeline for the BRP and working group activities. The vertical shaded areas indicate the months, and the numbered circles indicate the dates of each month at which meetings or other activities occurred.
Panel Members
The Blue Ribbon Panel is composed of leading experts from a broad range of scientific areas, including biology, immunology, genomics, diagnostics, bioinformatics, and cancer prevention and treatment. Members also include investigators with expertise in clinical trials and cancer health disparities, as well as representatives of cancer advocacy groups and pharmaceutical and biotechnology companies.
The members of the Blue Ribbon Panel are:
Tyler Jacks, Ph.D. (Co-Chair)
Chair, National Cancer Advisory Board
Director, Koch Institute for Integrative Cancer Research, Massachusetts Institute of Technology
Elizabeth Jaffee, M.D. (Co-Chair)
Professor and Deputy Director for Translational Research, Sidney Kimmel Comprehensive Cancer Center, Johns Hopkins University School of Medicine
Dinah Singer, Ph.D. (Co-Chair and Designated Federal Official)
Acting Deputy Director, National Cancer Institute
Director, Division of Cancer Biology, National Cancer Institute
Peter Adamson, M.D.
Professor and Director, Experimental Therapeutics in Oncology, The Children's Hospital of Philadelphia
James Allison, Ph.D.
Professor and Chair of Immunology, University of Texas MD Anderson Cancer Center
David Arons, J.D.
Chief Executive Officer, National Brain Tumor Society
Mary Beckerle, Ph.D.
Chief Executive Officer and Director, Huntsman Cancer Institute, University of Utah
Mitch Berger, M.D.
Professor and Chair, Department of Neurological Surgery, University of California, San Francisco
Jeff Bluestone, Ph.D.
A.W. and Mary Margaret Clausen Distinguished Professor of Metabolism and Endocrinology, University of California, San Francisco
Chi Van Dang, M.D., Ph.D.
Professor of Medicine and Director, Abramson Cancer Center, University of Pennsylvania
Mikael Dolsten, M.D., Ph.D.
President, Pfizer Worldwide Research and Development
Executive Vice President, Pfizer, Inc.
James Downing, M.D.
President and Chief Executive Officer, St. Jude Children's Research Hospital
Levi Garraway, M.D., Ph.D.
Associate Professor of Medicine, Harvard Medical School
Assistant Professor of Medicine, Dana-Farber Cancer Institute
Gad Getz, Ph.D.
Director of Cancer Genome Computational Analysis Group and Institute Member, Broad Institute of MIT and Harvard
Director, Bioinformatics Program, Massachusetts General Hospital Cancer Center and Department of Pathology
Associate Professor of Pathology, Harvard Medical School
Paul C. Zamecnik Chair in Oncology, MGH Cancer Center
Laurie Glimcher, M.D.
Professor of Medicine and Stephen and Suzanne Weiss Dean, Weill Cornell Medical College
Incoming President and Chief Executive Officer, Dana-Farber Cancer Institute
Lifang Hou, M.D., Ph.D.
Associate Professor of Preventive Medicine, Robert H. Lurie Comprehensive Cancer Center, Northwestern University Feinberg School of Medicine
Neal Kassell, M.D.
Chairman, Focused Ultrasound Foundation
Professor of Neurosurgery, University of Virginia
María Elena Martínez, Ph.D.
Sam M. Walton Endowed Chair for Cancer Research, Professor of Family Medicine and Public Health, and Co-director of the Reducing Cancer Disparities Program, UC San Diego Moores Cancer Center
Deborah Mayer, Ph.D., R.N.
Professor of Adult and Geriatric Health, University of North Carolina School of Nursing
Director of Cancer Survivorship, UNC Lineberger Comprehensive Cancer Center
Edith Mitchell, M.D., F.A.C.P
Professor of Medical Oncology and Associate Director for Diversity Services, Sidney Kimmel Cancer Center at Thomas Jefferson University
Augusto Ochoa, M.D.
Professor of Pediatrics and Director, Stanley S. Scott Cancer Center, Louisiana State University
Jennifer Pietenpol, Ph.D.
Benjamin F. Byrd, Jr. Professor of Oncology, Professor of Biochemistry, and Director, Vanderbilt-Ingram Cancer Center
Angel Pizarro, M.S.E.
Technical Business Development Manager, Amazon Web Services Scientific Computing and Research Computing
Barbara Rimer, Dr.P.H.
Alumni Distinguished Professor and Dean, University of North Carolina Gillings School of Global Public Health
Charles Sawyers, M.D.
Chair, Human Oncology and Pathogenesis Program, Memorial Sloan Kettering Cancer Center
Investigator, Howard Hughes Medical Institute
Ellen Sigal, Ph.D.
Founder and Chair, Friends of Cancer Research
Patrick Soon-Shiong, M.D., FRCS (C), FACS
Founder, Chair, and CEO, NantWorks LLC
Wai-Kwan Alfred Yung, M.D.
Professor of Neuro-Oncology and Chair of Clinical Cancer Care, University of Texas MD Anderson Cancer Center
Ex Officio members of the Blue Ribbon Panel are:
David Atkins, M.D., M.P.H.
Acting Chief Research and Development Officer, Department of Veterans Affairs
Robert Califf, M.D.
Commissioner, U.S. Food and Drug Administration
Karen Guice, M.D., M.P.P.
Acting Assistant Secretary of Defense for Health Affairs, Department of Defense
Jason Paragas, Ph.D.
Director of Innovation, Lawrence Livermore National Laboratory
Lawrence Tabak, D.D.S., Ph.D.
Principal Deputy Director, National Institutes of Health