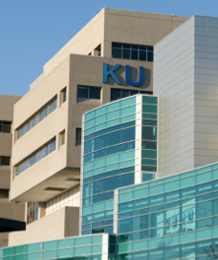 The University of Kansas Cancer Center
University of Kansas
Cancer Center
Roy A Jensen, M.D. , Director
3901 Rainbow Boulevard
Kansas City, Kansas 66160

Main: (913) 588-1227
Toll Free: 844-323-1227
The University of Kansas Cancer Center was founded in 2002 and became the state's only NCI-designated cancer center in 2012. The Center's mission, through its innovative approach to drug discovery, delivery, and development, is to transform cancer research and clinical care delivered in Kansas and Missouri.
KU Cancer Center operates as a matrix organization that includes: the University of Kansas Medical Center campuses in Kansas City, Wichita and Salina, the University of Kansas in Lawrence and its highly ranked School of Pharmacy (per NIH funding), The University of Kansas Health System, the Stowers Institute for Medical Research and Children's Mercy Kansas City (via consortium agreements).
KU Cancer Center membership includes more than 180 faculty researchers representing 48 departments from all campuses. KU Cancer Center has four research programs that focus on different aspects of cancer: Cancer Biology; Cancer Control & Population Health; Cancer Prevention & Survivorship; and Drug Discovery, Delivery & Experimental Therapeutics. These interdisciplinary research programs leverage outstanding scientific depth and breadth provided by nationally recognized scientists.
KU Cancer Center places great emphasis on advancing discoveries in the laboratory to the patients' bedside. From 2009 to 2017, the center, with industry, academia, government and philanthropic partners, advanced 19 new cancer therapies into the clinic. KU Cancer Center patients have access to the latest cutting-edge technology and therapies, including clinical trials. The center's researchers also pay special attention to the unique needs of its diverse catchment area, which includes elderly rural individuals, African-Americans, American Indians and Latinos. Moreover, with the Children's Mercy consortium partnership, KU Cancer Center has access to more than 95 percent of childhood cancer cases in the catchment area.
As the only academically based clinical and basic cancer research center in the region, KU Cancer Center receives tremendous institutional, community and state support. This includes more than $202 million in funding from KU Endowment, $72 million from the University of Kansas, $47 million from the Kansas Bioscience Authority, $54 million from the State of Kansas, $5 million per year from the Johnson County Education and Research Triangle tax and $2 million per year from The University of Kansas Health System. KU Cancer Center maintains a collegial environment that encourages transdisciplinary collaboration with new and renovated space, including the state-of-the-art Cambridge Tower, which houses the surgical oncology units, the unique 82,000 square-foot KU Clinical Research Center and the 170,000 square-foot Kansas Masonic Cancer Research Institute. KU Cancer Center has five shared resources—Lead Development and Optimization, Biospecimen, Biostatistics & Informatics, Transgenic and Gene-Targeting and Clinical Pharmacology.
* This profile was provided by the University of Kansas Cancer Center.