Shared Decision Making to Improve Cancer Screening Choices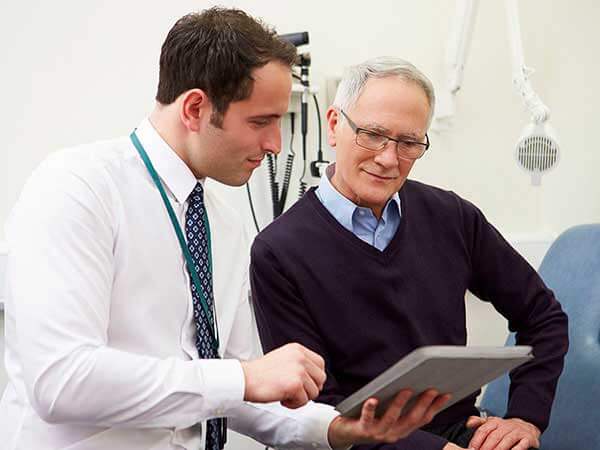 When people in this country reach middle age, they usually have to grapple with an array of cancer screening options. Often those choices are presented in the form of frequently conflicting guidelines from the U.S. Preventive Services Task Force (USPSTF), the American Cancer Society, professional medical societies, advocacy organizations, and other sources. But screening tests may have harms as well as benefits, and patients often receive little guidance from their primary care physicians to help them weigh the risks and benefits.
In an effort to help patients make informed decisions that better reflect their own values and preferences and involve them more directly in critical medical decisions, including those related to cancer screening, more and more experts are turning to shared decision making. Indeed, the 2010 Affordable Care Act mandated the creation of "a program that develops, tests, and disseminates certificated patient decision aids." This mandate included the development of shared decision making tools to "help patients and caregivers better understand and communicate their preferences about reasonable treatment options."
Shared Decision Making for Mammography
One area in which shared decision making is beginning to be implemented is in breast cancer screening. Results from randomized clinical trials and other studies show that screening mammography can help reduce the number of deaths from breast cancer among women ages 40 to 74, especially for those over age 50. But as more has been learned about the potential harms of screening mammography, including overdiagnosis and resulting overtreatment, recommendations from expert groups continue to evolve. Many groups that develop mammography guidelines recommend that women talk with their doctors about the benefits and harms of mammography, when to start screening, and how often to be screened.
Jolyn Hersch, Ph.D., a senior research officer at the Sydney School of Public Health at the University of Sydney has spent several years gathering evidence on the effects of shared decision making for mammography in Australia. Dr. Hersch and her colleagues have examined whether the use of decision tools—text and infographics that explain the benefits and harms of screening mammography—can help women make more informed decisions about breast cancer screening.
In a recent study, Dr. Hersch and her colleagues compared the experiences of an intervention group that received a decision tool that explained overdiagnosis, as well as the harms of false-positive test results and the benefits from screening, with those of a control group that received a decision tool that omitted a description of overdiagnosis.
"We found that including information on overdiagnosis in our decision tools can make a difference," said Dr. Hersch. "The intervention group made more informed decisions and was also less worried about breast cancer. However, the intervention group had reduced confidence in their decision because their choice was no longer as clear as it was pre-intervention."
Understanding the tradeoffs between the risks and benefits of screening mammography becomes more complex later in life, in part, because trials that showed the benefits of mammography did not include women ages 75 and older. These women, therefore, have limited solid evidence with which to make a decision about continued screening. Yet many women in this age group still have regular mammograms, even if they have other significant health conditions which need to be addressed more urgently.
Mara Schonberg, M.D., M.P.H., assistant professor of medicine at Harvard Medical School, recently conducted a pilot trial testing a mammography decision aid in women ages 75 and older because 56 percent of women over age 74 are still screened in the United States despite the virtual absence of direct evidence of a mortality benefit.
In her study, the investigators gave participants a decision aid that described the benefits and harms of having mammograms and helped women consider whether or not they were in good enough health for mammography. The decision aid also helped them consider whether they would benefit more from interventions addressing their risk for other conditions, such as heart disease, that might be more likely to kill them than breast cancer.
"We found that the decision aid improved knowledge of the benefits and harms of screening and led to more informed decision making," said Dr. Schonberg. Seventy-six percent of the women who used the decision aid found the information to be just right, but 16 percent thought it was too much information. Nearly all of the women preferred to use the tool on paper rather than electronically, she concluded. Dr. Schonberg is currently testing this tool in a large NCI-funded randomized controlled trial.
Screening Choices for Prostate, Colorectal, and Breast Cancer
The decision tool that is most effective and most applicable to distinct demographic groups is not always obvious. And mammography is not the only screening tool that could be improved with shared decision making, according to many experts.
Stacey Sheridan, M.D., M.P.H., of the Division of General Medicine and Clinical Epidemiology at the University of North Carolina School of Medicine, and her colleagues carried out a randomized trial that included 775 participants ages 50 to 85 to examine whether providing people with information about the harms of certain screening tests (including PSA testing for men of any age; colorectal cancer screening for men ages 76 to 85; and osteoporosis screening in women ages 50 to 64) would affect their plans to be screened. She discussed her preliminary findings at a recent meeting on overdiagnosis. The final findings were published in JAMA Internal Medicine in late 2015.
"What we found, unlike some others [studying this issue], was that a one page written decision support sheet in four formats did not change the intent to screen," she said. "We concluded that reasoning with patients about overuse may not be enough, and stronger interventions may be needed, such as changing social norms and perhaps persuading more than informing, especially for services that don't appear to reduce mortality, such as PSA [testing]."
Thyroid Cancer Overdiagnosis and Implications
One type of cancer that doesn't come up often in discussions about screening in the United States is thyroid cancer. But, as Juan P. Brito, M.D., of the Mayo Clinic in Rochester, MN, noted, the incidence of thyroid cancer has been increasing markedly in this country but mortality rates have remained essentially unchanged since the 1970s. Over the last decade, Dr. Brito and his colleagues found, asymptomatic thyroid cancer patients represented more than half of all diagnosed cases of thyroid cancer seen at the Mayo Clinic.
Such "occult" cancers were often identified through diagnostic neck imaging of patients who had symptoms or palpable nodules that were not clearly associated with thyroid cancer (about a quarter of all cases), through neck imaging for other reasons (about a fifth of all cases), and through review of thyroid specimens obtained during surgery for a benign condition (14 percent of cases).
Small papillary tumors are the main type of lesion currently found in patients with screen-detected thyroid cancer. These tumors are unlikely to cause harm—95 percent of small papillary tumors do not grow or progress 10 years after diagnosis. Nevertheless, they are sometimes removed surgically, which can be debilitating and without benefit. Indeed, long-term prospective studies suggest that, for patients with small papillary thyroid cancers, active monitoring, instead of surgery, is a safe option. Also, the risk of metastasis is the same in patients treated with or without thyroid surgery.
"I would therefore suggest that thyroid surgery offers little or no benefit for these patients," said Dr. Brito. "Nevertheless, clinicians taking care of these patients rarely mention active monitoring as a valid treatment alternative." Dr. Brito concluded that patients with a small thyroid cancer would benefit from shared decision making with well-informed physicians so that they can better understand the low likelihood of their cancer progressing. He is currently leading the development and testing of a decision aid to facilitate conversations about treatment options with these patients.
After the National Lung Screening Trial
The NCI-supported National Lung Screening Trial (NLST) showed that people ages 55 to 74 with a history of heavy smoking (defined as a 30-or-more pack-year smoking history) are 16 to 20 percent less likely to die from lung cancer if they are screened with low-dose helical CT (LDCT) than if they are screened with standard chest x-rays. However, the people screened with low-dose helical CT also had more false-positive results (that is, findings that appeared to be abnormal even though no cancer was present), more false-positive results that led to an invasive procedure (such as bronchoscopy or biopsy), and were more likely to have serious complications from an invasive procedure than those screened with standard x-rays.
Experts generally agree that it is important for people considering LDCT screening for lung cancer to make informed decisions based on the benefits and potential harms that apply to their own situation.
The smoking habits of military veterans have been more closely studied than those of perhaps any other group. Therefore, a team of researchers at the Veterans Administration (VA) in Minneapolis, MN, led by Sarah Lillie, Ph.D., M.P.H., surveyed more than 1,000 veterans regarding their decision about having lung cancer screening and how it was affected by factors such as their perceived lung cancer risk, fear of getting lung cancer, convenience of screening, chance of a false-positive result, anxiety while waiting for a result, and knowledge about screening and CT scan health risks. She also presented her findings at the meeting on overdiagnosis.
Overall, the factor rated most important to decision making by the participants was their perceived lung cancer risk and least important was the potential health risk of a CT scan. The fear of getting lung cancer was more important than all other factors (such as a false-positive result) to current smokers. The takeaway from this study, the authors noted, was that, as lung cancer screening becomes more widely implemented, there will be a growing need to inform patients of potential screening harms and to support the development of targeted decision tools.
Minimalists versus Maximalists
It seems likely that differences among screening preferences could, in part, reflect whether people self-identify as minimalists, who prefer to do as little as possible when it comes to medicine, or maximalists, who prefer to aggressively pursue medical tests and treatments.
An ongoing study led by Tanner J. Caverly, M.D., M.P.H., at the VA Center for Clinical Management Research at the University of Michigan Medical School, is investigating whether minimalist–maximalist preferences can predict lung cancer screening preferences.
In a randomized survey of adults ages 18 or older who reported smoking daily or almost daily, the researchers are asking participants to imagine that they are 60 years old and eligible for lung cancer screening, then imagine their likelihood of benefit and harm from lung cancer screening. Interim findings presented at the overdiagnosis meeting showed that strong minimalists were substantially less likely than strong maximalists to rate lung cancer screening as a good choice (50 percent versus 79 percent) and less likely to rate screening as effective in reducing lung cancer mortality (42 percent versus 75 percent). Minimalists would also worry less about dying from lung cancer if not screened (35 percent versus 69 percent) and be less likely to get screened even if it were free (63 percent versus 92 percent).
The researchers concluded that a single screening item assessing minimalist–maximalist preferences was a reliable predictor of risk perception and self-reported decision making about lung cancer screening.
Next Steps
Because not all shared decision making tools are effective or embraced, research into which decision tools are best and how to implement them in diverse communities is an ongoing effort. And as part of the overall work being done to mitigate overdiagnosis of many types of cancer, shared decision making continues to be an active field of investigation.