November Spotlight: Native American Heritage Month and Cancer Awareness Highlights
November 1, 2014, by CRCHD staff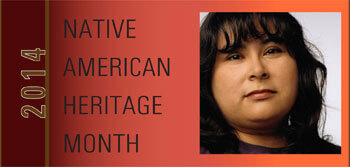 In November, CRCHD joins the rest of the nation in recognizing Lung Cancer Awareness Month, as well as celebrating Native American Heritage Month.
Lung cancer is the second most common type of cancer found in men and women and the leading cause of cancer death. In fact, according to the American Cancer Society, more people die from lung cancer than of colon, breast, and prostate cancers combined. Though the gap is starting to close, there continues to be lung cancer disparities in the U.S. among undeserved population groups. For example:
Older people are more likely to develop lung cancer than other population groups.
Lung cancer is the leading cause of cancer death in African Americans.
Native American men and women have the third highest incidence and mortality rates for lung cancer.
Read about investigator Dr. Marvella Ford, who is conducting an intervention to reduce barriers to surgical cancer care among African Americans with Stage I-II non-small cell lung cancer (NSCLC).
Native American and Alaska Natives living in the U.S. continue to experience significant cancer health disparities compared to the general population.
Members of this racial/ethnic group have the poorest survival rate from all cancers combined than any other racial group.
One of the biggest challenges in finding solutions to reduce cancer health disparities among Native people is that cancer rates vary dramatically from one geographic region to another: (e.g., colon and lung cancer among Alaska Natives; lung, cervical, breast, and prostate cancer among Northern Plains tribes; and stomach and gallbladder cancer among southwestern tribes).
Native American women have the third-highest cancer death rates compared to the general U.S. population.
Adult smoking among Native peoples is the highest of five racial and ethnic groups.
Native Americans are the second largest racial group in the U.S. who lack health insurance, second only to Hispanics and Latinos.
Here are some examples of CRCHD-funded research and projects that aim to reduce cancer disparities in Native American and Alaska Native populations:
Read about the NCI's Arizona's Partnership for Native American Cancer Prevention that is helping Native American students cultivate careers in cancer-related research and health care through training and mentorship.
CRCHD R01 grantee Daniel Petereit, M.D. is working with American Indian tribal leaders on a smoking cessation study to understand the smoking behaviors of American Indians living in the Northern Great Plains and to identify effective interventions for smoking cessation success in this population.
Read about a CRCHD Partnerships to Advance Cancer Health Equity (PACHE) project that brought cancer research training to Navajo students at New Mexico State University.
Resources: