Grantee Spotlight: Daniel Petereit, M.D. - A "Frontier" Oncologist Studying Smoking Cessation in American Indians
May 5, 2014, by CRCHD staff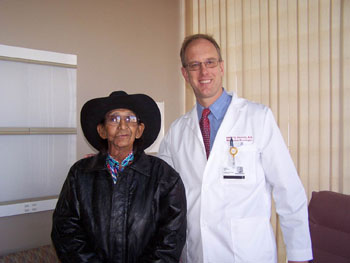 As a "frontier doctor," Daniel G. Petereit, M.D. often travels as far as 200 miles to care for cancer patients and work with American Indian (AI) tribal leaders on a smoking cessation study.
Petereit is a radiation oncologist at Rapid City Regional Hospital where he is the principal investigator of several cancer disparities grants. Rapid City serves about 70,000 AIs from the surrounding communities and the reservations of Pine Ridge, Cheyenne River, and Rosebud. Four of the 10 poorest counties in the U.S. are located on these reservations in the Northern Great Plains of South Dakota.
The smoking cessation study, conducted by Petereit and his co-investigators Drs. Linda Burhansstipanov (NACR-Native American Cancer Research Corporation), Linda Krebs (NACR), Sheikh Iqbal Ahamed (Marquette University), Mark Dignan (NACR), and Stevens Smith (University of Wisconsin-Madison), aims at understanding why Northern Great Plains AIs continue to use tobacco despite knowing that smoking increases the risk of cancer.
Funded by an NCI R01 grant, the project was submitted in response to question number four of NCI's Provocative Questions Initiative— a list of 20 important and perplexing questions identified by the research community to stimulate especially effective and imaginative ways to answer the questions. The questions are categorized into five themes: Cancer Prevention and Risk; Mechanisms of Tumor Development or Recurrence; Tumor Detection, Diagnosis, and Prognosis; Cancer Therapy and Outcomes; and Clinical Effectiveness.
Petereit and his colleagues designed the American Indian Health Smoking Dependence Study to not only understand continued tobacco use, but also to identify potential interventions for smoking cessation success in this population. The four interventions being tested are pre-cessation and post-cessation counseling by AI staff who live in each community, nicotine replacement therapy (patch and gum), and customized text messages on smartphones that were given to participants. The team focused on AIs aged 18 and older from the Rosebud and Pine Ridge reservations, as well as from the AI urban community in Rapid City. About 256 Americans will be enrolled.
Petereit has a long history of working with AIs. In 2002, he started the "Walking Forward (WF) Research Program" with the help of NCI funds. His years of "patiently and gently educating AIs about healthy behaviors" have definitely paid off. Since 2002, some of the positive outcomes include participation by more than 3,700 AIs in various WF research studies—the highest percentage of AIs to take part in clinical trials in the U.S. His research efforts have also led to identification of barriers to cancer screening, higher completion rates and patient satisfaction for patients undergoing cancer treatment, creation of research infrastructure, and the establishment of new research partners. Recent analysis suggests that AI cancer patients with screen detectable cancers are now presenting with earlier stages of disease and higher cure rates.
"This was quite an accomplishment because when we first began working with the AI tribes of the area, it took time to gain their trust," he says. "You can't expect to just walk in and gain access." Much of the distrust stems from sterilization of AI women without consent in Indian Health Service (IHS) clinics that took place in the 1970s. More recent events that led to "bad blood" was based on misuse of AI blood samples and DNA originally collected for research on diabetes that were later used for research on schizophrenia, inbreeding, and population migration.
Northern Plains AIs have some of the highest cancer morbidity and mortality rates in the nation. Unlike other population groups, rates among AIs vary significantly from one geographic region in the U.S. to another. Northern Plains AIs have the highest tobacco use (48%) compared to other AIs and non-Hispanic Whites, according to Petereit. In addition, Northern Plains AI patients with cancer continue to smoke despite knowing that this behavior is related to cancer recurrence, new cancers and other chronic illnesses.
Petereit remains optimistic about his work with AIs. "Even though Northern Plains AIs face very difficult issues in addition to high cancer rates, such as poverty and unemployment, I believe there are many reasons to be hopeful," he says. "There are a number of positive developments, including the elders teaching the younger generation the importance of their heritage and cultural roots—which includes a healthier diet, daily exercise, and reserving tobacco for use only in ceremonies." According to Petereit, many AIs are attending college and coming back to solve these complex issues.
Resources: