The Continuing Umbrella of Research Experiences (CURE)
The Center to Reduce Cancer Health Disparities (CRCHD) CURE program offers unique training and career development opportunities to enhance and increase diversity in the cancer and cancer health disparities research workforce. The CURE program supports promising candidates from middle school through junior investigator levels, and provides them with a continuum of competitive funding opportunities.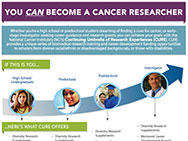 The CURE Infographic
Discover more about the details of who is eligible for the CURE program and the amazing benefits it provides. Download the PDF.