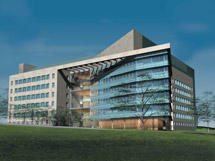 Albert Einstein Cancer Center
Albert Einstein College of Medicine
Cancer Center
Edward Chu, M.D., M.M.S., Director
Bronx, New York
Main: 718-862-8840

The Albert Einstein Cancer Center (AECC) of Albert Einstein College of Medicine was established in 1971 and obtained NCI designation and its first Cancer Center Support Grant in 1972. The college's clinical partner and companion organization is the Montefiore Health System, both corporate entities within Montefiore Medicine. Together, they provide primary, tertiary, and quaternary care to one of the largest ethnically diverse populations in the United States. The mission of the AECC is to foster basic, clinical, population, and translational research in order to contribute to the understanding of the origins of cancer, to advance its prevention and treatment; and to address the cancer burden and health disparities that impact the Bronx population through research, outreach and education. AECC builds on the strong traditions of basic research excellence at the College of Medicine and the long-standing program in social medicine at Montefiore and Einstein that has uniquely addressed training and delivery of care to minority and underserved populations.
Research at Albert Einstein Cancer Center
Research at AECC is conducted within the context of five established programs that address a broad spectrum of elements intrinsic to the cancer problem.
The program in Tumor Microenvironment and Metastasis applies advanced optical technologies and molecular and cellular biological tools to explore the mechanisms by which cancers leave their primary site to enter the vascular system and disseminate to distant sites and how these processes can be interrupted—with an emphasis on breast and pancreatic cancers. This research is supported by the development of novel technologies for imaging at the cellular level in animals and humans at the Gruss Lipper Biophotonics Center.
The Stem Cell, Differentiation and Cancer Program explores changes in the cells of origin of human tissues that result in cancer in order to identify vulnerabilities that are targets for treatment—with an emphasis on the hematological malignancies. This program draws on extensive collaborations with comembers of Einstein's Ruth L. and David S. Gottesman Institute for Stem Cell Biology and Regenerative Medicine.
The focus of the Experimental Therapeutics Program is on two main areas: the development of small molecules that inhibit targets that drive the proliferation of cancer cells and therapeutics that activate the immune system to target and eliminate cancer cells. There are novel drugs in the developmental pipeline and in clinical trials based upon both therapeutic strategies. The translation of basic research into clinical initiatives at AECC is realized in the Experimental Therapeutics Program, where the most advanced therapeutics are provided including bone marrow transplantation and CAR T-cell therapeutics within the context of phase 1, 2, and 3 clinical trials.
The Cancer Epidemiology, Prevention and Control Program focuses on cancer risk factors. These include: viral (HPV, HIV, HCV); hormonal, obesity, and inflammation; and genetic/epigenetic factors. Other research encompasses prevention, health care delivery, health disparities, and survivorship/outcomes research.
The Biology of Colon Cancer Program focuses on how genetic and dietary factors contribute to normal colonic mucosal biology, the changes that lead to the development of colorectal cancer and its progression, and how this knowledge can be used to identify new approaches for the prevention and treatment of this disease. There is an increasing focus on understanding the roles of aging and autophagy in the development and treatment of colorectal and other malignancies in collaboration with comembers of the Einstein Institute for Aging Research and the Nathan Shock Centers of Excellence.
Select Scientific Initiatives at Albert Einstein Cancer Center
Studies on 9/11 firefighters found that environmental exposure to the World Trade Center disaster site was associated with an increased incidence of monoclonal gammopathy of undetermined significance that may be a risk factor for the development of multiple myeloma at an earlier age.
Tissues have the ability to activate death mechanisms to eliminate unwanted cells. Some potent cancer drugs activate this mechanism in heart cells, leading to heart damage, and some cancer cells have the unique ability to block death mechanisms to assure their survival. AECC investigators have developed a class of drugs that activate death mechanisms selectively in cancer cells and another class of drugs that block death mechanisms to protect the heart from cancer drug toxicity.  
A major study indicated that myelodysplastic syndrome progresses to acute myelocytic leukemia due to the presence of pre-existing, rare mutated stem cells. This finding may be relevant to the way other cancers that evolve from premalignant conditions progress to cancer.
AECC is internationally recognized for the development of transition-state inhibitors for the treatment of cancer. An inhibitor (Immucillin H) was recently approved for the treatment of T-cell leukemia and lymphoma in Japan. Another transition-state inhibitor has been repurposed for the treatment of COVID-19 and recently entered a clinical trial. A variety of other transition-state inhibitors are being developed that block the chemical changes in cancer cells that inactivate genes that suppress cancer.
New findings from the groundbreaking Trial Assigning Individualized Options for Treatment (Rx), or TAILORx trial, led by Dr. Joseph Sparano, AECC associate director of clinical research, showed that in women with hormone receptor–positive, human epidermal growth factor 2­­–­negative, axillary lymph node-negative breast cancer, treatment with chemotherapy and hormone therapy after surgery is not more beneficial than treatment with hormone therapy alone.
*This profile was provided by the Albert Einstein Cancer Center.