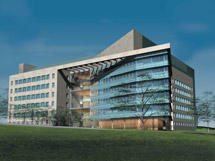 Montefiore Einstein Comprehensive Cancer Center
Albert Einstein College of Medicine
Comprehensive Cancer Center
Edward Chu, M.D., M.M.S., Director
Bronx, New York
Main: 718-862-8840

Montefiore Einstein Comprehensive Cancer Center (MECCC), at the Albert Einstein College of Medicine and Montefiore Medical Center, is a national leader in cancer research and clinical care located in the heart of Bronx, NY, one of the nation's most ethnically diverse areas. Founded in 1971 and designated as an NCI Cancer Center in 1972 (the country's fourth), MECCC combines the exceptional science of the Albert Einstein College of Medicine with the multidisciplinary clinical care of the Montefiore Health System. The mission of MECCC is to serve the unique cancer-related needs of one of the most diverse and socioeconomically disadvantaged populations in the U.S. and to reduce the burden of cancer in the Bronx and the nation through exceptional cancer research, education and training, and community outreach and engagement, as well as through the delivery of compassionate leading-edge care for all -  including historically marginalized communities that face heightened inequities in cancer and social determinants of health.  
Research at Montefiore Einstein Comprehensive Cancer Center 
MECCC works to reduce the burden of cancer in its Bronx catchment area and beyond through novel transdisciplinary research in four distinct research program areas linked by four cross-cutting themes: cancer disparities and inequities in the Bronx; tumor and organ microenvironments; molecular variations as determinants of outcome; and prevention, early detection, and interception of primary and recurrent disease. MECCC has more than 195 members who engage in research in the following scientific areas:  
The Tumor Microenvironment and Metastasis (TMM) Program aims to catalyze basic research at MECCC and elsewhere that addresses the mechanisms by which cancer cell intrinsic and microenvironmental signals conspire to fuel cancer cell dissemination, persistence during dormancy and metastatic outgrowth in target organs. By elucidating each stage of the metastatic process, investigators aim to identify novel therapeutic targets and biomarkers that will help personalize the prevention and treatment of the metastatic process.  
Stem Cell and Cancer Biology (SCCB) Program aims to discover new therapeutic targets in cancer. They are looking for ways to identify novel mechanisms of lineage specification with relevance to cancer stem cell function as well as to understand cancer evolution and therapy resistance—and identify unique vulnerabilities in cancer cells.
The Cancer Therapeutics (CT) Program aims to develop and implement innovative strategies for the discovery, design, and development of novel anticancer agents, combination regimens, and/or therapy-focused technologies. Through intensive collaboration with other MECCC research programs and outside collaborators, CT serves as the hub that integrates and advances preclinical science and discoveries into early-phase clinical trials.  
Scientists in the Cancer Epidemiology, Prevention & Control (CEPC) Program investigate behavioral, environmental, and molecular risk at the root of the development of cancer. In addition to characterizing risk factors that drive or contribute to cancer health disparities in MECCC's catchment area (viral causes such as HPV and HIV, hormonal factors, obesity and inflammation, and genetic/epigenetic factors), CEPC scientists are focused on improving cancer prevention and screening efforts among vulnerable and high-risk groups and developing innovative strategies to reduce health inequities and enhance cancer care delivery, survivorship, and outcomes. CEPC plays a pivotal role in the Cancer Center's public health mission and is tightly integrated with our community outreach and engagement initiatives.  
MECCC's strength in clinical research is underscored by its annual enrollment of more than 1,000 patients in the Cancer Center's 320+ active clinical trials, many of which are focused on investigator-initiated, bench to bedside early-phase clinical trials. 
Select Scientific Initiatives at Montefiore Einstein Comprehensive Cancer Center
MECCC has been a leader in cancer-focused research, with seminal discoveries published in high-impact journals. Its track record of major accomplishments in basic, translational, clinical, and population sciences as well as community outreach and engagement, have been paradigm-shifting, practice-changing, and policy impacting. Select achievements include: 
Discovered the mechanism of action for the microtubule inhibitor paclitaxel, which led to the widespread clinical use of Taxol and its application in cancer therapeutics worldwide.
Developed novel transition state inhibitors by exploring transition state structures for specific enzyme targets. These studies have led to the approval of forodesine (BCX1777) for peripheral T-cell lymphoma (PTCL) in Japan and to the development of transition state inhibitors for MTAP, MAT2A, and MTAN to be used alone or in combination with other agents to treat human cancers.
Identified the critical importance of the TGF-ß pathway in the pathogenesis of MDS, which then provided the rationale for the clinical development of novel TGF-ß inhibitors.  
Developed phosphatase inhibitor menadione (vitamin K3) as a novel agent to protect and/or treat the skin toxicity associated with agents that target the epidermal growth factor receptor (EGFR).  
Chaired the landmark TAILORx clinical trial that used the Oncotype DX Recurrence Score in clinical decision-making for adjuvant therapy of women with early-stage ER-positive, HER2-negative breast cancer. This practice-changing study demonstrated that the recurrence rate with endocrine therapy alone in low-risk patients was sufficiently low so that these patients could be spared systemic chemotherapy. 
Identified potential biomarkers for pinpointing the subset of patients with ER+/HER2- breast cancer who have an increased risk for developing metastatic disease.  
Made key contributions to the development of CAR T-cell programs that led to the clinical trials pivotal for approval of axicabtagene ciloleucel (Yescarta) for mantle cell lymphoma. 
Confirmed that CART-T therapy for various blood cancers is equally effective in Black and Hispanic patients, with no statistical difference in clinical outcomes or side effects, when compared to White non-Hispanic patients.  
Published findings that residual ER-positive breast cancer following preoperative chemotherapy represents a risk factor for worse outcomes in Black women but not in White women—possibly because of biological differences in how the tumor microenvironment responds to chemotherapy. 
Developed a first-in-class BAX activator as a novel paradigm for inducing apoptosis in cancer that can be used alone or in combination with BCL-2/BCL-Xl inhibitors for treating human cancers.
Developed a novel class of immunomodulatory biologics using the synTac platform that provides a unique opportunity for the facile replacement of the antigenic peptide to realize a wide range of biologics that are specifically tuned to a patient's individualized neoantigens.
Described how primary tumor niches termed TMEM doorways composed by specialized tumor cells, macrophages and endothelial cells in the tumor, instruct precursors of breast cancer DCCs to turn on stem and dormancy programs driven by NR2F1 and SOX9. 
Discovered a new human immune checkpoint pathway involving the HHLA2 ligand and the KIR3DL3 receptor, a KIR family member. The HHLA2-KIR3DL3 pathway is expressed in a broad spectrum of human cancers, particularly in PD-L1 negative cancers. As such, disruption of HHLA2-KIR3DL3 is an attractive new approach for PD-L1 negative cancer patients who do not respond to anti-PD-1/PD-L1 therapy.
Identified a higher burden of clonal hematopoiesis and leukemia associated mutations in WTC-exposed firefighters when compared to non-WTC-exposed firefighters. 
Provided compelling evidence for continuing the Medical Monitoring and Treatment (MMTP) and for providing no-cost cancer screening for WTC first responders. This research has contributed to major policy decisions regarding monitoring and care of WTC first responders.
Incorporated web-based tobacco smoking interventions into standard practice as well as in national clinical guidelines for people living with HIV (PLWH).
Demonstrated that primary HPV screening with reflex HVP18/18-genotyping resulted in fewer unnecessary colposcopies. This research supports the use of molecular cervical cancer screening in women living with HIV, and these studies have contributed to national guidelines on cervical cancer screening. 
Research conducted by MECCC population science investigators are informing policy and building capacity in all areas needed to implement comprehensive cervical cancer screening and treatment in Rwanda, Democratic Republic of Congo, and Cameroon.
 
This profile was provided by Montefiore Einstein Comprehensive Cancer Center.