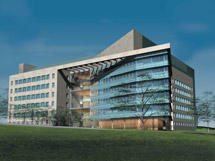 Albert Einstein Cancer Center
Albert Einstein College of Medicine
Cancer Center
I. David Goldman, M.D., Director
1300 Morris Park Avenue
Bronx, New York 10461
Main: (718) 862-8840

The Albert Einstein Cancer Center (AECC) was established in 1971 and obtained NCI-designation and its first Cancer Center Support Grant one year later. A major center at the Albert Einstein College of Medicine, AECC is located in the Bronx, New York and serves one of the largest ethnically diverse populations in the United States. The goals of AECC are to foster basic, clinical, population and translational research in order to contribute to the understanding of the origins of cancer and its prevention, diagnosis, and treatment. Research is conducted by AECC's 150 faculty members in five interdisciplinary research programs: Tumor Microenvironment and Metastasis; Stem Cells, Differentiation and Cancer; Experimental Therapeutics; Cancer Epidemiology; and the Biology of Colon Cancer.
AECC sponsors fourteen shared resources that support its research programs. These include, among others, transgenic and gene-targeted model organisms, supported by histotechnology and comparative pathology services and a barrier facility. The genomics facility provides a variety of services including among others next gen sequencing (exome-seq, whole genome-seq, RNA-seq) supported by bioinformatics and biostatistics facilities. The proteomics facility provides a broad range of mass spectroscopy services. Structural biology provides state-of-the-art infrastructure and expertise for high quality protein production and high resolution structure determination by NMR and X-ray crystallography at Einstein, at the New York Structural Biology Center and the Einstein synchrotron beams at the Brookhaven National Laboratory. Einstein also provides mouse and human MRI, MR spectroscopy, and PET/SPECT/CT facilities dedicated for research. The flow cytometry facility provides fluorescence-based cell analysis and high speed cell sorting configured for enhanced BSL-2 work enabling sorting of primary human cells. The analytical imaging facility provides a variety of light and electron microscopic technologies and quantitative image analysis. Population science research is supported by the epidemiology informatics facility.
The clinical research activities of AECC are conducted at the Montefiore Medical Center which houses the Montefiore-Einstein Center for Cancer Care and encompasses participation from all the clinical oncologic academic disciplines. The AECC clinical trials staff provides services for data management, regulatory affairs, and protocol development. There is a robust program of phase I and II clinical trials. AECC is well represented in the leadership of national cooperative groups, and is funded as a Minority/Underserved NCI Community Oncology Research Program (NCORP-MU) community site.
* This profile was provided by the Albert Einstein Cancer Center.