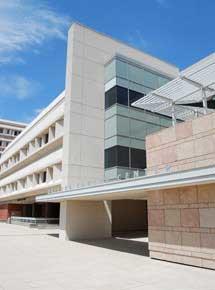 University of Arizona Cancer Center
University of Arizona
Comprehensive Cancer Center
Joann B. Sweasy, Ph.D., Director
1515 North Campbell Avenue
Tucson, Arizona 85724
Administration: (520) 626-2548
Patient Care / Appointments - Tucson: 1-800-524-5928; (520) 694-2873 (694-CURE)
The University of Arizona Cancer Center (UACC) was founded in 1976 as a division of the University of Arizona's College of Medicine and is now a free-standing center of excellence at the University of Arizona Health Sciences Center. It became an NCI-designated cancer center in 1978 and received Comprehensive Cancer Center status in 1990. UACC developed a scientific program in cancer prevention and control in the 1980s, with special emphasis on colon, breast, prostate, and skin cancer. UACC is also a translational center that has developed a range of new cancer treatment and preventive agents and has spun off more than 17 companies.
The Center's basic, translational/clinical, and cancer prevention research is carried out in four scientific programs: cancer prevention and control, cancer biology, cancer imaging, and therapeutic development. Specific research projects include breast and ovarian cancer, lung cancer, prostate cancer, gastrointestinal cancers (colon, pancreas, and liver), lymphoma, and melanoma/skin cancer.
To serve the diverse population of Arizona and the Southwest, UACC established a Cancer Health Disparities Institute to focus on cancers in underserved Hispanic and Native American populations. The Institute provides research and training opportunities for investigators proposing research or planning to work in underserved communities.
UACC hosts a Cancer Biology Graduate Interdisciplinary Program. The program draws faculty from 14 academic departments and five colleges across the University of Arizona.
The Center's research is conducted in Tucson and in Phoenix. There are also more than a dozen research and education offices throughout the state, as well as affiliate sites in Mexico and Colorado. UACC has 73 research laboratories, where 300 physicians and scientists conduct collaborative research.
Using a research-driven and evidence-based approach, patients at UACC are treated in multidisciplinary, disease-site-oriented clinics by teams of physicians and health care professionals. The Center's hospital affiliates are the University of Arizona Medical Center in Tucson, and Dignity Health St. Joseph's Hospital and Medical Center in Phoenix, where a new outpatient facility is opening in mid-2015.
* This profile was provided by the University of Arizona Cancer Center.