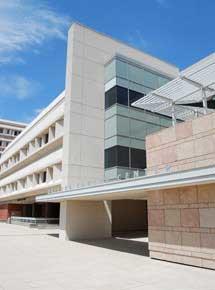 University of Arizona Cancer Center
University of Arizona
Comprehensive Cancer Center
Joann B. Sweasy, Ph.D., Director
Tucson, Arizona
Administration: 520-626-2548

The University of Arizona Cancer Center is the only NCI-Designated Comprehensive Cancer Center headquartered in and serving the entire state of Arizona. It was founded in 1976 by the late Sydney Salmon, M.D., who was the center's director from 1976 to 1999. The University of Arizona Cancer Center received its first NCI Cancer Center Support Grant in 1978 and, in 1990, was designated comprehensive. The cancer center has more than a dozen research and education offices throughout the state. Banner – University Medicine is the cancer center's clinical affiliate in Tucson and operates local outpatient clinics.
Research at the University of Arizona Cancer Center
The University of Arizona Cancer Center has four established scientific research programs that work together to accomplish the center's mission to prevent and cure cancer, including Cancer Biology, Cancer Imaging, Cancer Prevention and Control, and Therapeutic Development. The center is a leader in research on women's cancers (breast, ovarian), men's cancers (prostate), gastrointestinal cancers (colon, pancreas, and liver), head and neck cancers, lymphoma, and skin cancers.
Select Scientific Initiatives at the University of Arizona Cancer Center
The Cancer Prevention and Control Program is a leader in evaluating novel chemopreventive and lifestyle approaches to impact cancer prevention and survivorship. In 2019, the center was awarded $8.6 million by NCI to establish the UArizona Cancer Prevention Clinical Trials Network to identify effective agents that can be advanced to larger phase 3 studies for further clinical development. The Cancer Biology Program is recognized for its basic and fundamental research into mechanisms of cancer development, including the impact of genomic instability and the tumor microenvironment. The Cancer Imaging Program has a unique strength in developing novel cancer imaging technology for magnetic resonance imaging (MRI), computed tomography (CT), single-photon emission computed tomography (SPECT), optical imaging, and ultrasound imaging. The program excels in generating new intellectual property and working with industry to translate their technology to the clinic and marketplace. The Therapeutic Development Program (TDP) is home to innovative peptide and small-molecule development targeting unmet needs in cancer treatment. TDP also fosters clinical trial development in multiple arenas of importance to southern Arizona, including prostate, breast, blood, melanoma, colorectal, and head and neck cancers.
The cancer center's Community Outreach and Engagement office serves as a bridge between the center and diverse communities in Arizona to ensure excellence in multidisciplinary, culturally relevant research, cancer prevention, and treatment through advocacy and communication. The center's catchment area is nearly 40% Latino and includes the border counties of Yuma, Santa Cruz, Cochise, and Pima, as well as Pinal County. Seven Native American tribes are located in this area, and the center's larger impact area includes the full state of Arizona, including all 22 tribes. The cancer center participates in an NCI Cancer Moonshot Initiative-funded three-state consortium project (Arizona, New Mexico and Oklahoma) to improve the colorectal cancer screening rates of Native American populations using evidence-based strategies. Additionally, the center partners with Northern Arizona University to provide outreach, education, and training to Native American communities as part of the Partnership for Native American Cancer Prevention.