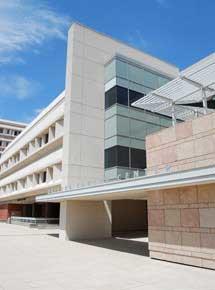 University of Arizona Cancer Center
University of Arizona
Comprehensive Cancer Center
Juanita L. Merchant, M.D., Ph.D., Interim Director
Tucson, Arizona
Administration: 520-626-2548

The University of Arizona Cancer Center (UACC) is the only NCI-Designated Comprehensive Cancer Center headquartered in Arizona. With more than a dozen research and education offices throughout the state, the center's mission is to alleviate the burden of cancer in Arizona, particularly in underserved populations, including people who are Hispanic and Native American.  
UACC is a regional resource and national model for overcoming cancer risks, improving treatments through transdisciplinary discoveries, training talented scientists and providers, and engaging communities though a shared determination to discover, innovate, and improve health equity. The center has Banner – University Medical Center Tucson as its clinical affiliate in Tucson, and it operates local outpatient clinics. Founded by Sydney Salmon, a physician who served as center director from 1976 until 1999, UACC received its first NCI Cancer Center Support Grant in 1978 and was designated a comprehensive cancer center in 1990.  
Research at the University of Arizona Cancer Center
UACC has more than 150 members and three established scientific research programs. 
The Cancer Biology Program discovers and understands how cancer develops and metastasizes at the most fundamental levels. 
The Cancer Prevention and Control Program is comprised of a team focused on early detection, reducing cancer rates, behavioral interventions, and supportive care. 
The Clinical and Translational Oncology Program brings together basic and clinical scientists to translate discoveries into new ways of diagnosing or treating cancer. 
Seven Shared Resources support research at the center including metabolomics/analytical chemistry, behavioral measurement and interventions, biostatistics and bioinformatics, experimental mouse, flow cytometry and human immune monitoring, tissue acquisition and cellular/molecular analysis, and microscopy. 
Members, trainees, and the community also engage with vibrant Community Outreach and Engagement and Cancer Research Training and Education initiatives at the center. 
Select Scientific Initiatives at the University of Arizona Cancer Center
What sets UACC apart from other centers are the specific research and initiatives undertaken in southern Arizona. For example, novel therapies developed at UACC are making bone marrow transplants more accessible with haplo-BMT, a type of transplant that allows for donated marrow to only half-match the patient as opposed to the near-perfect protein match required before. UACC members are also changing policy by improving firefighter health through research, addressing the occupational risks that first responders face as they're routinely exposed to carcinogens. UACC has partnered with the university's College of Engineering for the Cancer Engineering Initiative, with strong support from the state of Arizona. UACC also houses the Ginny L. Clements Breast Cancer Research Institute and the Skin Cancer Institute. 
Additionally, the center's leaders partner with the Cancer Moonshot℠, directing funding toward research that will benefit Native Americans. With 22 federally recognized tribes in Arizona, UACC is in a unique position to serve Indigenous and Hispanic populations that are higher than the national average. The center is also a node on the Cancer Prevention Clinical Trials Network, made possible by funding from NCI. With a similar focus on reducing the burden of cancer in Native Americans, UACC has partnered with Northern Arizona University to help bring cancer screening and support directly to indigenous communities. 
This profile was provided by The University of Arizona Cancer Center.