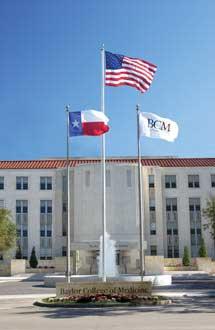 Dan L Duncan Comprehensive Cancer Center
Baylor College of Medicine
Comprehensive Cancer Center
C. Kent Osborne, M.D., Director
One Baylor Place
MS: BCM305
Houston, Texas 77030
Main: (713) 798-1354

The Cancer Center at Baylor College of Medicine was established in 2002. A generous grant from Dan L. Duncan in 2006 ensured its stability and growth. In 2007, the renamed Dan L. Duncan Cancer Center received its NCI designation. The Duncan Cancer Center is located in the heart of Houston's Texas Medical Center. In 2015 it received Comprehensive designation from NCI and the name was changed to reflect this achievement.
The Duncan Cancer Center focuses on cancer research, patient care, community outreach and education. The principal scientific and academic partner of the Center is Baylor, whose departments and programs in the basic sciences—particularly molecular and human genetics and molecular and cellular biology—enhance the work of the Duncan Cancer Center. An additional asset to the Center's work is the Baylor Human Genome Sequencing Center which helps accelerate understanding of the genetic makeup of cancers, advancing the promise of personalized oncological care. The Duncan Cancer Center's clinical partners include Texas Children's Hospital, Michael E. DeBakey Veterans Affairs Medical Center, Ben Taub General Hospital of the Harris Health System, and CHI St. Luke's Health/Baylor St. Luke's Medical Center.
The Center's research is organized around seven collaborative and multi-disciplinary programs, including:  breast cancer, pediatric oncology, cancer biology, cancer cell and gene therapy, cancer prevention and population sciences, nuclear receptor biology, and cancer evolvability. The Duncan Cancer Center also has disease-oriented working groups focused on particular cancer types - Brain, Breast, Gastrointestinal, Gynecological, Head and Neck, Hematologic, Liver, Lung/Thoracic, Pancreatic, Pediatric and Urologic/Prostate. These groups, which may work within or across the formal research programs, bring together clinicians and investigators to translate scientific findings into coordinated patient care. Over 460 members work throughout the Duncan Cancer Center with an emphasis on inter- and intra-programmatic collaborations and interactions between basic scientists and clinicians to expedite the translation of research findings to clinical care.
The Duncan Cancer Center is located in a large metropolitan area with a diverse population. Clinical partners such as the Harris Health System provide opportunities for outreach to a wide range of populations including the medically underserved. To address the inequalities in care, the Duncan Cancer Center has an Office of Outreach and Health Disparities with faculty and staff committed to reducing cancer mortality within these populations. This office creates innovative, research-based techniques to educate underserved communities about cancer risk and prevention. Examples of successful outreach programs include theater productions and telenovelas revolving around cancer topics.
Additionally, the educational strength of Baylor College of Medicine and a robust training program with the Duncan Cancer Center continually enhance cancer research and education.
* This profile was provided by the Dan L. Duncan Cancer Center.