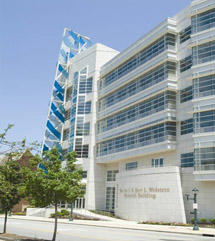 Case Comprehensive Cancer Center
Case Western Reserve University
Comprehensive Cancer Center
Gary K. Schwartz, M.D., Director
Cleveland, Ohio
Main: (216) 368-1122

The Case Comprehensive Cancer Center (Case CCC) at Case Western Reserve University was both founded and became an NCI-designated cancer center in 1987. It was recognized as an NCI-designated comprehensive cancer center 11 years later. In 2004, the institutional and membership base from the founding partnership between Case Western Reserve and Ireland Cancer Center of University Hospitals (UH) expanded to include the Cleveland Clinic. Cancer research and care at these three institutions are now unified under the leadership of the Case CCC. In addition, the freestanding cancer hospital at UH, the Jane and Lee Seidman Cancer Center, open in Spring 2011.
The mission of the Case CCC is fourfold. The first goal is to improve the prevention, diagnosis, and therapy of cancer through discovery, evaluation, and dissemination. The second goal is to stimulate and support innovative, coordinated interdisciplinary clinical research on cancer diagnosis, treatment, prevention, and control. The third objective is to develop clinical applications of discovery and make these available to northern Ohio residents as quickly as possible through the integrated efforts of the major health systems in the region. The fourth goal is to develop cancer prevention and control activities that build on the expertise of the Center and result in a reduction of cancer morbidity and mortality in the northern Ohio region and throughout the nation.
The Case CCC is organized into nine interdisciplinary scientific programs that together include more than 350 members across its affiliated institutions. The programs include: cancer genetics; cell death regulation; cancer cell signaling; genitourinary malignancies; normal and neoplastic stem cells; developmental therapeutics; cancer prevention, control, and population research; and aging-cancer research. Cancer imaging, once part of the developmental therapeutics program, is now a separate program in development. Program members work collaboratively within and across all programs on a broad range of topics. These research initiatives extend to local affiliates such as the MetroHealth Medical Center and the Louis Stokes Cleveland VA Medical Center, as well as to the 13 community medical centers operated by UH and Cleveland Clinic.
Patients benefit from the latest research on understanding and treating cancer. They have access to a full range of services, from basic research information to advanced treatments, psychosocial, and supportive care. Teams of medical professionals design individualized patient care plans. Additionally, patients have access to a wide range of clinical trials.
The Case CCC participates in an active outreach program for clinical practice-based prevention and screening initiatives, educational programs, minority recruitment, and patient referrals. Highlights of the outreach programs include Project Safe Conduct, a collaboration between the Case CCC and the Hospice of the Western Reserve, and Project T.E.M.P.L.E. (Teaching, Educating, Mentoring, Preventing, Learning, and Empowering), a project to assist underserved African American women in greater Cleveland.
The Case CCC offers a full spectrum of training and education programs, ranging from undergraduate programs through medical school to postdoctoral opportunities. Both clinical and research training is offered to residents and clinical fellows.
* This profile was provided by the Case Comprehensive Cancer Center.