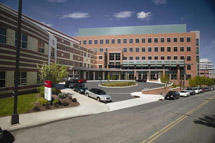 Rutgers Cancer Institute of New Jersey
Rutgers Biomedical and Health Sciences
Comprehensive Cancer Center
Steven Libutti, MD, FACS, Director
195 Little Albany Street
New Brunswick, New Jersey 08903
Main: (732) 235-2465

The Rutgers Cancer Institute of New Jersey was established in 1991 at Rutgers, The State University of New Jersey, and is a matrix/consortium with Princeton University and New Jersey's only NCI-designated Comprehensive Cancer Center. The Rutgers Cancer Institute focuses the strengths and resources of the major research institutions in the state on addressing the cancer burden in its catchment area, the state of New Jersey, where it serves a diverse population of 8.9 million people.  The Rutgers Cancer Institute is an independent institute of Rutgers University, optimizing its potential for growth, transdisciplinary collaboration, and impact across the catchment area. There are 227 members (206 Rutgers, 19 Princeton, and 2 collaborating). Another component of the cancer center is The State Cancer Registry and Surveillance, Epidemiology, and End Results (SEER) Program, which collects cancer statistics, serves as a local and national resource for epidemiologic studies into the causes, treatments and outcomes in patients with cancer in New Jersey.
The Rutgers Cancer Institute of New Jersey is dedicated to improving the prevention, detection, treatment, and care of patients with cancer, through the translation of laboratory discoveries into clinical practice. Its research base spans five Programs: Cancer Metabolism and Growth, Genomic Instability and Cancer Genetics, Cancer Pharmacology, Clinical Investigations and Precision Therapeutics, and Cancer Prevention and Control. These Programs are supported by eight shared resources (Biomedical Informatics, Biometrics, Biorepository and Histopathology Service, Comprehensive Genomics, Flow Cytometry/Cell Sorting, Genome Editing, Metabolomics, and Research Pharmacy), and two developing shared resources (Immune Monitoring, Small Molecule Screening). With this organizational structure, the Rutgers Cancer Institute mobilizes and leverages exceptional scientific and clinical capabilities to reduce the burden of cancer in New Jersey and beyond by advancing cancer research, prevention, screening and education.
Groundbreaking research at the Rutgers Cancer Institute identified novel metabolic and genomic characteristics of tumors and mechanisms of cancer metastasis that are being targeted for anti-cancer drug discovery. Through the practice of precision medicine, molecular characterization of patient tumors through targeted DNA analysis and assessment of the findings by a molecular tumor board guides diagnosis and implementation of the most advanced targeted therapies. Research breakthroughs have established the optimal means to deploy the newest immune therapies to treat and eradicate cancer. Population research illuminated ways that big tobacco companies circumvented increased regulation of cigarettes by marketing alternative products, which led to new State and national regulations to curb tobacco use and the cancers that subsequently arise. In collaboration with the New Jersey Department of Health, the Rutgers Cancer Institute launched enhanced colon and lung cancer screening, ScreenNJ, to reduce cancer incidence and mortality through an effective cancer prevention and screening program, which includes education, navigation, and analysis of the impact of improving cancer screening on patient health.
Comprehensive treatment is provided by multidisciplinary teams of experts including oncologists, hematologists, nurses, pharmacists, social workers, nutritionists and others all under one roof to help educate patients so that they can make informed decisions about their care. Patients have access to clinical trials and other services through a partnership with the RWJBarnabas Health System, the largest in the state. Thus, the Rutgers Cancer Institute provides state-of-the-art cancer care delivery that spans New Jersey.
* This profile was provided by the Cancer Institute of New Jersey.