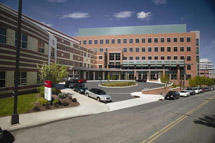 Rutgers Cancer Institute of New Jersey
Rutgers Biomedical and Health Sciences
Comprehensive Cancer Center
Steven Libutti, M.D., FACS, Director
New Brunswick, New Jersey
Main: (732) 235-2465

Rutgers Cancer Institute of New Jersey became New Jersey's first NCI-Designated Cancer Center in 1997 and achieved comprehensive cancer center status in 2002. In collaboration with its clinical partner RWJBarnabas Health, Rutgers Cancer Institute delivers the most advanced cancer treatment options to patients, including clinical trials and novel therapeutics such as immunotherapy and precision medicine. The institute has 259 members from Rutgers University and Princeton University who work together to accelerate cancer research and its translation to patient care.
Research at Rutgers Cancer Institute of New Jersey
Rutgers Cancer Institute's research programs include Cancer Metabolism and Growth, Genomic Instability and Cancer Genetics, Cancer Pharmacology, Clinical Investigations and Precision Therapeutics, and Cancer Prevention and Control. These programs are supported in part by comprehensive shared resources, which include Biomedical Informatics, Genome Editing, and Metabolomics, among others, and an emerging Small Molecule Screening resource.
These cancer-focused programs are key to Rutgers University's strengths in biomedical sciences, which contributed to the NIH Research Evaluation and Commercialization Hubs (REACH) grant to Rutgers Cancer Institute to develop the Rutgers Optimizes Innovation (ROI) Program. Through ROI, Rutgers Cancer Institute is collaborating with other Rutgers clinical, engineering, and scientific units to rapidly translate biomedical discoveries into commercially viable diagnostics, devices, therapeutics, and tools to improve patient care, enhance health, and train the next generation of innovators.
Additional major grants from NIH/NCI, the US Department of Defense, and other agencies, along with private donations, enable cutting-edge scientific investigation resulting in new treatments offered through the Phase I/Investigational Therapeutics Program. Rutgers Cancer Institute further advances these trials through collaborations with cooperative groups, industry, academia, and other NCI-Designated Cancer Centers.
Select Scientific Initiatives at Rutgers Cancer Institute of New Jersey
Rutgers Cancer Institute's multidisciplinary team of clinical specialists and renowned researchers works to advance our understanding of cancer; identify, develop, and provide access to new cancer therapies; and educate the public about cancer prevention and screening. These initiatives include:
The development of a Cancer Immunology and Metabolism Center of Excellence to help scientists better understand the immune response to cancer and how it is regulated. The goal is to develop the foundation for new treatments and make existing therapies more effective.
A partnership with the New Jersey Department of Health in the creation and advancement of ScreenNJ, a statewide cancer prevention program that links clinical and outreach partners to improve awareness, prevention, and screening for colorectal and lung cancers.
Major scientific, clinical, and epidemiological discoveries, including:

Identifying metabolic vulnerabilities in cancer and developing novel lead drug compounds that target metabolic pathways.
Determining that both PARP inhibitors and certain classical chemotherapies can be used to target a cell repair deficiency in triple-negative breast cancer.
Conducting a study which discovered that Black women living in lower-income neighborhoods are at more risk of triple-negative breast cancer. This study also found that supplemental vitamin D is associated with decreased breast cancer risk.
Identifying mechanisms of response to immuno-oncology agents to provide patients with the best treatment possible.
* This profile was provided by Rutgers Cancer Institute of New Jersey.