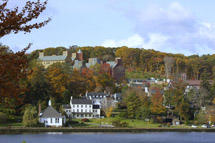 Cold Spring Harbor Laboratory Cancer Center
Basic Laboratory Cancer Center
David Tuveson, M.D., Ph.D, Director
Cold Spring Harbor, New York
Main: (516) 367-8800

The Cold Spring Harbor Laboratory (CSHL) Cancer Center is a basic research facility committed to exploring the fundamental biology of human cancer. As an NCI-Designated Cancer Center since 1987, CSHL researchers have used a focused, multidisciplinary approach to break new ground in basic tumor biology and develop innovative, advanced technologies.
The cancer center is expanding translational research through strong collaborations with clinical partners, including Northwell Health and SWOG. The CSHL Cancer Center is making discoveries in cancer biology that are leading to the development of treatments and diagnostics for cancer patients.
Research at CSHL Cancer Center
Research at the CSHL Cancer Center is focused on basic discovery science that reveals underlying principles of how cells grow and divide. The center's strengths in molecular biology and biochemistry are combined with the latest in genomic technologies, quantitative biology, and cancer model development to identify new paths to cancer treatment and diagnostics. CSHL researchers are supported by nine shared resources that offer access to equipment and expertise, accelerating the pace of science. The center is committed to thoughtful and creative collaborations that enable the innovative application of basic scientific discoveries to clinical problems.
Select Scientific Initiatives at CSHL Cancer Center
Researchers at the CSHL Cancer Center are using cutting-edge technology in collaborative studies to explore the basic biology underlying the disease. Broadly, research at the center falls into the following programs:
Members of the Cancer Genetics program are focused on revealing the structure and landscape of cancer genomes. These discoveries provide insights into how cancer develops, progresses, and responds to therapy. There is also an emphasis on inventing new technologies that can be developed as potential cancer diagnostics. The program currently has three main focus areas: experimental technology, data science, and cancer progression.
The interdisciplinary efforts of the Gene Regulation and Cell Proliferation program are focused on understanding the molecular biological mechanisms that: 1) play fundamental roles in normal cell biology, and 2) drive cancer progression and tumor maintenance. Using a combination of sophisticated experimental, computational, and structural methods, researchers in this program are gaining significant insights into DNA replication, epigenetics, and RNA biology.
The Signal Transduction program is focused on discovering and characterizing the biochemical and metabolic processes that distinguish normal physiology from malignancy. Deploying bespoke animal models and three-dimensional cell culture systems, researchers in this program are revealing new cancer cell pathways, tumor immune cell and stromal cell interactions, and whole-body physiological alterations that promote cancer and represent avenues for therapeutic development.
In addition, CSHL enhances productivity by using nine Shared Resources that offer greater access to technologies, services, and expertise. These resources contribute to a strong collaborative environment and open communication that translate into progress in cancer diagnostics and treatment.
This profile was provided by Cold Spring Harbor Laboratory Cancer Center.