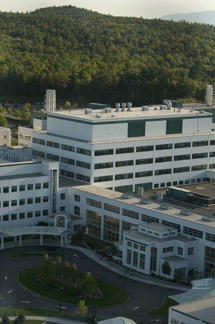 Norris Cotton Cancer Center at Dartmouth
Dartmouth-Hitchcock Medical Center
Comprehensive Cancer Center
Steven D. Leach, M.D., Director
One Medical Center Drive
Lebanon, New Hampshire 03756
Administration: (603) 653-9000
Cancer Help Line: 1-800-639-6918
Founded in 1972, Norris Cotton Cancer Center (NCCC)'s comprehensive NCI designation was renewed through peer review in 2014. The Center integrates cancer research at the College, and in particular its Geisel School of Medicine and Thayer School of Engineering, with patient-centered cancer care provided at Dartmouth-Hitchcock Medical Center in Lebanon, NH, and at 16 regional locations and partner hospitals in New Hampshire and Vermont. NCCC is the only NCI-designated clinical center based in this Northern New England catchment area. NCCC is committed to providing access to research-based care, advanced technologies, and clinical trials for patients throughout northern New England. We are an active partner with the CDC-funded New Hampshire Comprehensive Cancer Collaboration and Dartmouth's CDC-funded Prevention Research Center.
The Center's 150 member investigators advance cancer science in six program areas: cancer control, cancer mechanisms, cancer epidemiology, cancer imaging and radiobiology, immunology and cancer immunotherapy, and molecular therapeutics. Cancer research represents a majority ($60 million annually) of all peer-reviewed research in the Geisel School of Medicine, and a majority of the clinical trial enrollment at Dartmouth-Hitchcock. In partnership with The Dartmouth Institute for Health Policy and Clinical Practice (TDI), NCCC has developed important NCI-funded cancer registries in breast and colon cancer screening, and is shaping new work in health delivery, outcomes, and comparative effectiveness research. NCCC's Rubin Building on the Dartmouth-Hitchcock campus provides facilities to foster these collaborations, with expansion into the adjacent Williamson Translational Research Building scheduled for 2015.
Physicians and scientists collaborate to speed the translation of research advances into novel treatments for cancer patients through interdisciplinary clinical programs to 3,000 new and 33,000 current patients annually. More than 200 cancer specialists work in teams, meeting in weekly interdisciplinary tumor boards, to treat patients with all types of cancer using the latest technologies in diagnostics and imaging; medical, radiation, and surgical oncology; bone marrow transplantation; and immunotherapy. NCCC is one of 30 NCI-designated Lead Academic Participants in the National Cancer Trial Network. The newly opened Center for Surgical Innovation integrates intra-operative imaging into clinical care and research.
Community education and care are of great importance to NCCC. Research on behavioral risk factors (such as smoking, obesity, and sun exposure) and on environmental risk factors (such as arsenic) is translated into community education and prevention programs targeted to the region's rural, underserved populations.
The Center has developed innovative approaches to delivering advanced cancer care and technologies to remote patients throughout its rural region. Web- and computer-based media enable patients to provide important medical and psychosocial input to their care team. Interdisciplinary clinics coordinate visits to several providers in a single day, allowing patients to meet with the specialists who together will design their personalized treatment plan. Once a plan is developed, patients may receive much of their care close to home through a regional center or affiliated hospital, partnering with the American Cancer Society patient navigation program.
* This profile was provided by the Norris Cotton Cancer Center at Dartmouth.