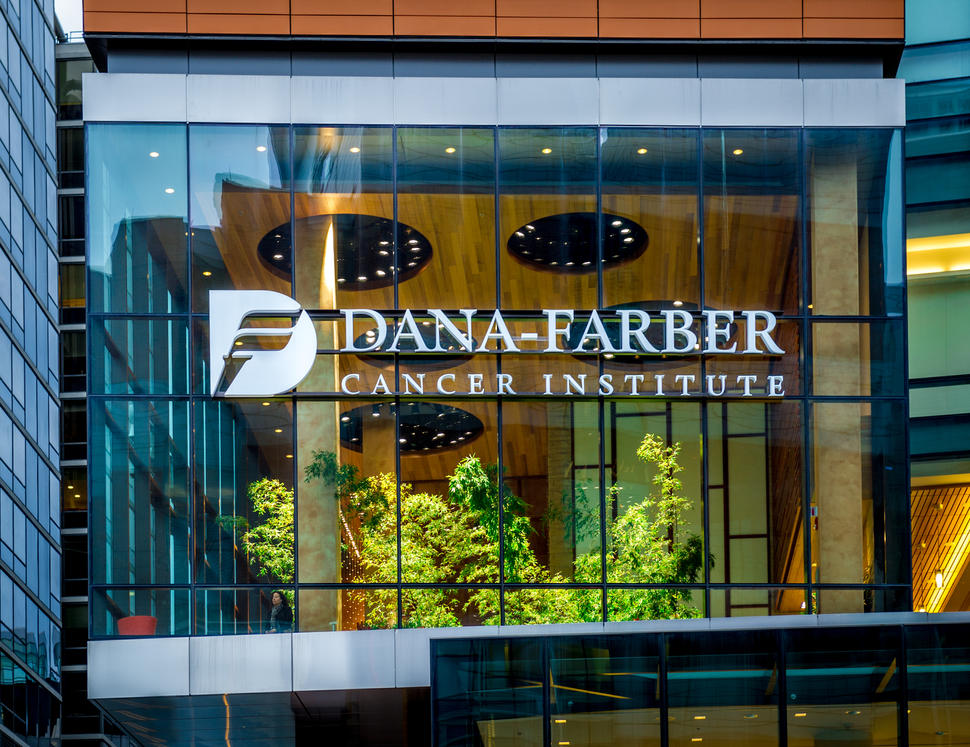 Dana-Farber/Harvard Cancer Center (DF/HCC)
Comprehensive Cancer Center
Laurie H. Glimcher, M.D., President & CEO
Boston, Massachusetts
Main: (617) 632-3000
Spanish Speakers: (617) 632-3673
Dana-Farber/Harvard Cancer Center (DF/HCC) is a collaboration between academic institutions, world-renowned for its leadership in adult and pediatric cancer treatment and research. Dana-Farber Cancer Institute is a founding member of DF/HCC, established in Boston in 1947 under the leadership of Dr. Sidney Farber, the father of modern chemotherapy, and one of the first to become an NCI-Designated Comprehensive Cancer Center in 1973.
Focused equally on cancer research and care, DF/HCC's mission is to provide expert, compassionate care to children and adults with cancer, while advancing the understanding, diagnosis, treatment, cure, and prevention of cancer and related diseases, and training the next generation of clinical and scientific leaders.
In addition to Dana-Farber Cancer Institute, the DF/HCC consortium includes six other Harvard-affiliated institutions, including Beth Israel Deaconess Medical Center, Boston Children's Hospital, Brigham and Women's Hospital, Harvard Medical School, Harvard T.H. Chan School of Public Health, and Massachusetts General Hospital. The member institutions combine their scientific strengths to accelerate research findings from the laboratory, clinical research trials, and studies of populations, enhancing patient care and the understanding of underlying causes of cancer.
Research at Dana-Farber/Harvard Cancer Center
Through strategic investment in research, DF/HCC supports scientific leaders and young investigators, acquires technology at the leading edge of cancer research, develops new therapies, and ensures a spirit of collaboration and innovation. DF/HCC clinical trials were instrumental in 14 of 29 FDA cancer treatment approvals in 2017 and 2018, and 45 of 114 FDA cancer treatment approvals since 2011.
Today, DF/HCC scientists are addressing cancer at every level: unraveling the most basic mechanisms in cells and tissues, discovering molecular targets for new "smart" drug therapies, harnessing the immune system to combat cancer, and seeking to identify disparities in cancer incidence in diverse populations.
Select Scientific Initiatives at Dana-Farber/Harvard Cancer Center
DF/HCC is home to some of the latest and most innovative technologies to deepen our scientific understanding of cancer and provide the best possible care, including two signature initiatives:
DF/HCC is the only major academic medical center with its own fully developed and implemented Clinical Pathways program, an evidence-based decision tree built by the center's faculty for managing patient care.
DF/HCC offers genetic profiling to every patient through Profile, one of the largest and most comprehensive cancer precision medicine initiatives in the world. Profile allows DF/HCC researchers to genetically analyze patients' tumors and enter their DNA profile into a database with data from more than 30,000 tumor samples. Through this effort, center researchers are finding more ways to treat more patients with drugs that match the genetic profile of their tumor.
This profile was provided by Dana-Farber Cancer Institute.