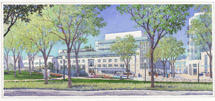 Duke Cancer Institute
Duke University Medical Center
Comprehensive Cancer Center
Michael B. Kastan, M.D., Ph.D., Executive Director
Durham, North Carolina
Consultation and Referral Service: 1-866-385-3123 ( 1-866-DUKE-123)

The Duke Cancer Institute (DCI) integrates all cancer-related activities at Duke Health and has been recognized as an NCI-Designated Comprehensive Cancer Center since 1972. DCI's leadership team oversees all aspects of cancer care, cancer-related research, and cancer-related education across Duke University and the Duke University Health System.
The institute consists of more than 300 experts who conduct basic, clinical, translational, and population sciences research across 11 disease sites.
DCI partners with numerous internal and external centers and institutes, including the Duke-National University of Singapore Medical School, North Carolina State University, and University of Michigan Rogel Cancer Center, among others.
Research at DCI
DCI coordinates cancer-related research activities across all departments and schools at Duke University. DCI's structure facilitates basic and translational research, clinical investigation and population-based studies, patient care, community outreach and engagement, regional and national strategies, and global cancer efforts. DCI also facilitates critical training and education for the next generation of cancer investigators and practitioners.
DCI completed an extensive 5-year strategic planning process, identifying goals and priorities that further the institute's mission to "discover, develop, and deliver the future of cancer care…now." This guide provides recommendations for determining current and future resource allocation, recruiting priorities, and infrastructure changes.
Select Scientific Initiatives at DCI
The Duke Center for Brain and Spine Metastasis is a top comprehensive program in the country for people with cancer that has spread to the brain or spine. DCI offers rapid access to the latest and most advanced treatment options for patients, including those for whom care may not be possible at other centers. The Center for Brain and Spine Metastasis brings together top experts from neurosurgery, the Preston Robert Tisch Brain Tumor Center, medical oncology, medicine, radiation oncology, and orthopedic surgery.
The development of cancer immunotherapies is a critical area of cancer therapeutics. The DCI Center for Cancer Immunotherapy coordinates laboratory and clinical research on cancer immunotherapy across all disease groups at DCI, and develops and tests novel immunotherapeutic approaches. DCI's expertise spans cancer vaccine development, oncolytic viruses developed in the Preston Robert Tisch Brain Tumor Center, and novel approaches to modulating the immune system.
In 2015, DCI collaborated with the College of Veterinary Medicine at North Carolina State University to facilitate preclinical and clinical research of tumors that are found in dogs and humans and to facilitate novel drug testing and development. This effort integrates basic science investigation, particularly genomics, pharmacology studies, and clinical research across several different disease groups. This consortium, founded by DCI in partnership with the V Foundation for Cancer Research, includes five NCI-Designated Cancer Centers in conjunction with five partner academic veterinary schools. It is known as the the Comparative Oncology Research Consortium.
The Duke Center for Onco-Primary Care's mission is to deliver evidence-based, patient-centered health care by enhancing the interface between cancer specialists and primary care clinicians, conduct innovative research with cutting-edge technology that can be translated to the community setting, and develop health policy to stimulate a population-based practice redesign across the cancer continuum.
Integral to this mission is reducing cancer disparities by increasing cancer screening rates, managing comorbidities during cancer therapy, and facilitating a risk-stratified approach to survivorship. In addition to leading cancer screening efforts throughout the region, the center also leads the American Cancer Society-funded Project ECHO (Extension for Community Healthcare Outcomes), delivering a lung cancer education program across five states (North and South Carolina, Mississippi, Georgia, and Kentucky) to serve rural, community-based oncology centers and affiliated health centers. Modules include lung cancer screening, tobacco use cessation, lung cancer treatment, survivorship, and end-of-life care.
* This profile was provided by the Duke Cancer Institute at Duke University.