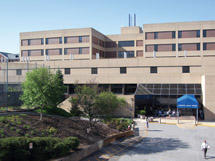 Georgetown Lombardi Comprehensive Cancer Center
Georgetown University
Comprehensive Cancer Center
Louis M. Weiner, M.D., Director
Washington, District of Columbia
CancerLine: (202) 444-4000

Georgetown Lombardi Comprehensive Cancer Center, the District of Columbia's only NCI-Designated Comprehensive Cancer Center, was first awarded its NCI designation in 1970. Guided by the principle of ​cura personalis​, "care for the whole person," Georgetown Lombardi links scientific discovery, expert, and compassionate patient care, quality education, and partnership with the community.
Georgetown Lombardi is an NCI-recognized research consortium with John Theurer Cancer Center at Hackensack University Medical Center in Bergen County, NJ, and is the research engine for the MedStar Georgetown Cancer Institute at clinical entities across the Baltimore/Washington, DC, region.
Research at Georgetown Lombardi
The 114 members of Georgetown Lombardi are organized into four integrated and specialized research programs:
The Breast Cancer Program consists of an interdisciplinary group of basic scientists, translational scientists, and clinicians who are involved in studies ranging from preclinical models to treatment and outcomes. The program supports the development of novel investigator-initiated clinical trials across the consortium with correlative studies; outreach and research initiatives in the black and Hispanic communities within the center's catchment areas; and an active breast cancer patient advocacy group.
The Cancer Prevention and Control (CPC) Program is the nexus for population sciences-focused research at Georgetown Lombardi. Its mission is to conduct innovative and effective population sciences research across the translational continuum, from discovery to intervention to policy, to help alleviate the burden of cancer. The CPC Program is also an active contributor to many center-wide initiatives, including cancer survivorship, and provides leadership to MedStar Georgetown University Hospital's Smoking Treatment and Recovery (STAR) and Cancer Survivorship programs. Georgetown Lombardi's educational efforts take place across Georgetown University, including the epidemiology and tumor biology graduate training programs.
The Experimental Therapeutics Program works to reduce the cancer burden through preclinical and early clinical drug development, determine optimal treatment approaches, combinations, and sequences, and identify prognostic, predictive, and surrogate markers of efficacy and resistance for active agents. The program is organized into groups by cancer type and treatment method to focus clinical research activities and prioritize clinical trials.
The Molecular Oncology Program specifically investigates those aspects of cancer that clearly differentiate cancer from noncancer cells. The goal is to validate targets, identify the most critical cell-signaling pathways, and create novel probes that will lead to a transition for clinical trials with either established or novel agents. Key accomplishments in this program include the discovery of a novel small molecule that targets an oncogenic fusion protein, the finding of STAG2 as a regulator of chromosomal integrity that is deleted in many cancers, and a novel method to chemically reprogram cancer cells.
Georgetown Lombardi is home to the National Capital Area Minority/Underserved NCORP, a member of the NCI Community Oncology Research Program (NCORP), a national network that brings cancer clinical trials and cancer care delivery studies to people in the Washington, DC area.
Select Scientific Initiatives at Georgetown Lombardi
Georgetown Lombardi has identified five cross-cutting initiatives to guide its work as an NCI-Designated Comprehensive Cancer Center.
Data Science - Recognizing the critical role of large, complex data sets to the cancer center's research progress, Georgetown Lombardi launched the Innovation Center for Biomedical Informatics as an academic hub for innovative research in this field.
Immunotherapy - Because of the increasing role of immunotherapy in cancer treatment and the need to further develop this treatment approach, the center's leadership expanded this research focus by creating a joint collaboration between Lombardi and John Theurer Cancer Center.
Minority Health and Health Disparities - Through the work of the Office of Minority Health and Health Disparities Research, Georgetown Lombardi has developed research programs addressing many of the challenges that racial and ethnic minority populations face in its DC service area, and has extended clinical trial offerings to fully engage underserved communities.
Precision Medicine - Precision medicine brings theory to practice, from mathematical modeling and cellular and in vivo models to the creation of clinical interventions and the assessment of those interventions on patient outcomes. The Innovation Center for Biomedical Informatics drives precision medicine research at Georgetown Lombardi.
Survivorship - Research efforts include interventions to improve the health of survivors and wellbeing of caregivers, as well as survivorship following the use of innovative therapies. Georgetown Lombardi is expanding survivorship research efforts in the DC area and in New Jersey with its consortium member John Theurer Cancer Center. Georgetown Lombardi has also established clinical cancer survivorship programs at MedStar Georgetown University Hospital and MedStar Washington Hospital Center, its designated clinical affiliates.
Education - The center's Education and Training Program recruits, educates, and trains the next generation of basic and clinical cancer researchers through a range of programs and initiatives designed to attract and engage individuals of all backgrounds and training levels, from high school students through established basic scientists and clinicians. Bringing the best and brightest minds into the fight against cancer is the best way to defeat this disease.
This profile was provided by Georgetown Lombardi Comprehensive Cancer Center.