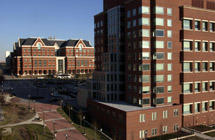 Sidney Kimmel Comprehensive Cancer Center
Comprehensive Cancer Center
William G. Nelson, M.D., Ph.D., Director
Baltimore, Maryland
Main: 410-955-5222

Since its opening in 1973, the Sidney Kimmel Comprehensive Cancer Center at Johns Hopkins University has led the world in deciphering the mechanisms of cancer and new ways to treat it. The strength of the center's research and treatment programs was recognized early by NCI, who designated it as one of the first comprehensive cancer centers and recognizes it as a Center of Excellence.
The center partnered with Allegheny Health Network in 2014. This collaboration fosters clinical accomplishments, medical education, and a broad range of cancer research initiatives. 
The Kimmel Cancer Center's goals are to:
decrease cancer incidence and deaths and improve the quality of life for those who have cancer,
excel in cutting-edge basic, translational, and clinical research and in the application of fundamental knowledge to prevent and cure cancer and to improve the diagnosis and treatment of cancer,
safely and compassionately provide the full range of evidence-based, preventive, diagnostic, therapeutic, supportive, and patient-focused services to cancer patients and their families, and
lead cancer education of health professionals, scientists, patients and their families, and the community at large.
Research at the Kimmel Cancer Center
The Kimmel Cancer Center spans 35 departments and five schools across Johns Hopkins University. At the center of that growth is the center's research component. How its investigators conduct research and translate those results aims directly at the core of the center's mission: improved patient care.
Select Scientific Initiatives at the Kimmel Cancer Center
Investigators at the Kimmel Cancer Center focus on understanding how cancers grow and spread, new drug development, novel quantitative approaches to studying cancer and improving patient care, and dedicated research initiatives connected to proton therapy for adults and children. The center has established a Convergence Institute that unites the immense talent across Johns Hopkins to advance research for all cancers, with a specific focus on ensuring that these discoveries reach minorities and other underserved populations.
Bloomberg~Kimmel Institute for Cancer Immunotherapy: In 1989, researchers at the Bloomberg~Kimmel Institute developed GVAX, the first therapeutic cancer vaccine. The institute has gone on to pioneer other leading therapies saving lives today and is working on the most promising therapies of tomorrow.
Blood and Bone Marrow Cancers: The Kimmel Cancer Center is a leader in the field of blood and bone marrow cancer treatment. In 1968, Johns Hopkins performed one of the first successful bone marrow transplants using an HLA-matched sibling donor. About a decade later, researchers at the center developed 4-HC, a drug that made self-donated bone marrow transplants possible. 
Community Engagement: Kimmel Cancer Center's Community Outreach and Engagement program works with community partners to ensure that all Maryland citizens have equal access to cancer prevention, treatment, and survivorship services. These partners help the center identify research priorities and help link communities to the Kimmel Cancer Center's education and outreach efforts.
*This profile was provided by the Sidney Kimmel Comprehensive Cancer Center.