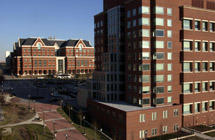 Sidney Kimmel Comprehensive Cancer Center
Johns Hopkins University
Comprehensive Cancer Center
William G. Nelson, M.D., Ph.D., Director
401 North Broadway
Baltimore, Maryland 21231
Main: (410) 955-5222
Appointments & Referral: (410) 955-8964
Founded in 1973, the Sidney Kimmel Comprehensive Cancer Center at Johns Hopkins University received its NCI designation that same year. The mission of the Kimmel Cancer Center is to go beyond the cutting edge in science and medicine to perform the most advanced research and offer patients the very best therapies for their disease.
The faculty at the Center are drawn from leaders at the Johns Hopkins University in a wide range of disciplines, from medicine and science to engineering, physics, and other scientific fields.  Active programs in basic, clinical, and population science research include organ site-specific programs in breast, prostate, gastrointestinal, upper aerodigestive, brain, hematologic, and female reproductive cancers. Laboratory research includes discovery in cancer biology, cancer immunology, viral oncology, chemical therapeutics, and cancer imaging.
Research scientists at Kimmel Cancer Center work closely with the clinicians to offer the latest diagnostic and therapeutic services to patients who come to Hopkins from around the world. A wide spectrum of specialty programs for both adults and children include bone marrow transplantation and new drug development. Much of the research on cancer takes place in the Bunting Blaustein Cancer Research Building, a cancer research and teaching facility, and in the Koch Cancer Research Building connected to the Bunting Blaustein Building.
Based on a history of effective research in cancer genetics and epigenetics, the Center also offers comprehensive genetics services to those at high risk for breast, ovarian, colon and other cancers. The Cancer Counseling Center, located in the Hackerman-Patz Patient and Family Pavilion, offers information about early detection and prevention, palliative care, and programs for survivors.
Patient care is the focus of the Harry and Jeanette Weinberg Building, a clinical care cancer facility in the Hopkins medical complex. Patients are offered advanced therapies resulting from the latest research findings. Patients are also provided the opportunity to participate in clinical trials that test new drugs and other therapeutic options.
The faculty at Hopkins are also actively involved in training the next generation of cancer experts through a variety of clinical and laboratory programs including the hematology/medical oncology, neuro-oncology, and pediatric hematology/oncology fellowship programs. Other training programs for future cancer experts include the anti-cancer drug development program, a training program in the pathobiology of cancer, and fellowships in epidemiology, molecular biology, and genetics.
* This profile was provided by the Sidney Kimmel Comprehensive Cancer Center.