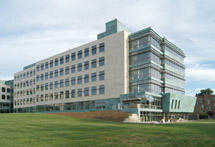 Holden Comprehensive Cancer Center
University of Iowa
Comprehensive Cancer Center
Michael Henry, PhD , Interim Director
Iowa City, Iowa
Cancer Information Service: 1-800-237-1225

The University of Iowa Holden Comprehensive Cancer Center is the state's only NCI-Designated Comprehensive Cancer Center. Holden received its NCI cancer center designation in 2000 and was named as a comprehensive cancer center in 2001. The center is committed to decreasing the pain and suffering caused by cancer in Iowa, surrounding communities, and beyond. Its interdependent missions, based on research, clinical care, and education, are aimed at improving cancer prevention and treatment services.
Holden draws on the expertise of `170 investigators from 41 departments at the University of Iowa. Clinical care, including cancer care, is provided by experts in more than 200 medical specialties at the University of Iowa Hospitals & Clinics and University of Iowa Stead Family Children's Hospital. The center's robust portfolio of clinical trials makes it the regional leader in cutting-edge care. For example, Holden is the only center in Iowa equipped to conduct phase 1 trials of new cancer therapies or cellular therapies for cancer. 
Research at Holden
Holden is known for its highly collaborative approach to cancer research. Its labs share findings cooperatively, and researchers work closely across disciplines with clinical care teams to help solve real-world problems. It emphasizes the importance of converting discoveries in the lab into therapies for the patients it serves and ensuring that the center serves patients with cancer, both locally and statewide. Many of Holden's cancer researchers choose to work at the University of Iowa because they are driven by a passion to see their studies improve the lives of patients.
Notable Holden research achievements include a visionary, long-term commitment to the development of immunotherapy treatments and unparalleled expertise in the study of neuroendocrine tumors.
Select Scientific Initiatives at Holden
Holden researchers are testing intravenously injected vitamin C (known as high-dose pharmacologic ascorbate) to support the treatment of pancreatic cancer, non-small cell lung cancer, glioblastoma multiforme, sarcoma, and other cancers. Their work has demonstrated over many years that vitamin C can make cancer cells more susceptible to the effects of chemotherapy and radiation, and clinical trials are translating those findings into new therapies.
Holden investigators are at the forefront of basic research into a class of molecules known as toll-like receptor 9 (TLR9) agonists which stimulate the immune system. People with PD-1 resistant metastatic melanoma who participated in a Holden-led phase 1b clinical trial combining a TLR9 agonist with pembrolizumab (Keytruda) had lasting responses. This research was spurred by earlier Holden discoveries that described the role of TLR9 agonists and demonstrated their anticancer effects.
Holden is committed to studying the challenges residents of rural communities face with respect to cancer control. Research at Holden includes investigations into the rural disparities related to cancer care, such as the availability of treatments and health care providers, access to clinical trials, and transportation barriers. The center is identifying strategies that allow Critical Access Hospitals in rural areas to collect cancer surveillance data. This, in turn, allows Holden researchers to support the development of more effective cancer prevention and control initiatives.
*This profile was provided by the University of Iowa Holden Comprehensive Cancer Center.