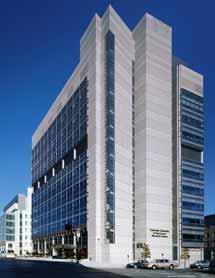 Herbert Irving Comprehensive Cancer Center
Columbia University
Comprehensive Cancer Center
Anil Rustgi, M.D., Director
New York, New York
Main: (212) 305-2500

The Herbert Irving Comprehensive Cancer Center (HICCC) at Columbia University Medical Center was founded in 1911 as the Institute for Cancer Research. In 1972, it became an NCI-designated cancer center, and it was awarded comprehensive status in 1979. The HICCC is the University's organizational component for the conduct of basic, clinical, and population-based cancer research and patient care.
The Center's mission is to understand the biology of cancer and apply that knowledge to the design of cancer therapies and prevention strategies that reduce its incidence and progression. HICCC's more than 240 members are drawn from six schools at Columbia and, joined with the cancer-related patient services provided at New York Presbyterian Hospital, form an extensive collaborative group of researchers and clinicians working to provide the best approaches for prevention, diagnosis, and treatment of all types of cancer.
Research at HICCC is organized into eight research programs within three divisions. The Basic Science Division includes programs in Cancer Regulatory Networks and Cancer Genetics and Epigenetics. Programs in the Disease-Specific Division focus on Breast Cancer, Lymphoid Development and Malignancy, Prostate Cancer, and Neuro-Oncology. The Population Science Division's programs include Cancer Epidemiology as well as Prevention, Control, and Disparities. These programs focus on different aspects of cancer from its molecular and cellular mechanisms through its unique behavior in different tissues to statistical aspects of its occurrence and treatment in large populations. The members of each program share a commitment to reduce cancer incidence and tumor progression and to improve the quality of life of those affected by cancer.
The Center offers training programs in affiliation with the University in the areas of basic laboratory research, epidemiology and public health, and clinical science, with special emphases on cancer biology, environmental health/epidemiology, and adult and pediatric hematology/oncology.
HICCC is located in the Washington Heights neighborhood, one of the most ethnically and racially diverse populations in New York City. The Center has created a range of patient care and clinical research programs to bring its services to every group in the neighborhood. To that end, HICCC has developed two specific activities: Research Recruitment and Minority Outreach to bring underrepresented people into clinical trials; and the Columbia University Cancer Screening Center to provide free mammography and other screening services to our local community.
* This profile was provided by the Herbert Irving Comprehensive Cancer Center.