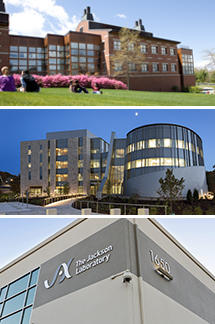 The Jackson Laboratory Cancer Center
Basic Laboratory Cancer Center
Edison T. Liu, M.D., President & CEO
600 Main Street
Bar Harbor, Maine 04609
Main: (207) 288-6000
Public Information: (207) 288-6051
The Jackson Laboratory was founded in 1929 and in 1983 earned an NCI Cancer Center designation. The Jackson Laboratory Cancer Center (JAXCC) comprises three campuses. The approximately 50 JAXCC members have complementary expertise and are united in research aimed at understanding and targeting the genomic complexity of cancer. The Bar Harbor faculty have deep expertise in mouse biology, complex genetics, and computational biology that informs new experimental platforms including genetically defined mouse models bearing humanized disease alleles; improved mouse hosts for patient derived xenografted (PDX) primary human cancers; and novel mouse populations that model the genetic variation of human populations. The Farmington faculty are experts in human cancer genomics; genome biology; quantitative cell biology; computational biology and analytics, all centered on developing approaches to precision medicine. The Sacramento campus has established a large, collaborative resource of PDX models as a major preclinical platform.
The JAXCC has one research program entitled Genetic models for precision cancer medicine. The program's three overlapping themes collectively drive research towards identifying precise interventions to prevent cancer from progressing to an untreatable state. The cancer cell robustness theme identifies genome alterations at a systems level that render cancer cells resistant to new therapies. The genetic and genomic complexity theme explores the overall genome architecture of cancer cells and how deviations from normal cells drive cancer biology and can be exploited for novel therapeutic interventions. The progenitor cell biology theme addresses the molecular and cellular mechanisms that drive progenitor cell transformation and progression. Work in all three themes requires collaboration with innovators in genomic technologies and computational analyses, cell biology, and mouse model development.
The scale of these converging resources and expertise position the JAXCC and its collaborators to generate and validate improved preclinical models; extract from them meaningful molecular indicators of tumor response or resistance to therapy; and move these indicators toward incorporation in clinical trials. The JAXCC, together with SWOG and Cold Spring Harbor Laboratory, have engaged with the NCI's National Clinical Trials Network to form an Integrated Translational Science Center that supports incorporation of molecular indicators into clinical trials. Collaborations with a growing number of NCI-designated as well as regional cancer care centers also fuel this translational pipeline.

Educational programs include a post-doctoral program, cooperative PhD programs with the University of Maine and with Tufts University, and a summer residential internship program. Annually, 20 courses and conferences are held on the JAXCC campuses. Cyberlearning programs, with a priority on physician continuing education in cancer genetics and genomics, expand the outreach potential of the JAXCC.
* This cancer center is one of seven cancer centers that only conduct laboratory research and do not provide patient care.
* This profile was provided by the Jackson Laboratory Cancer Center.