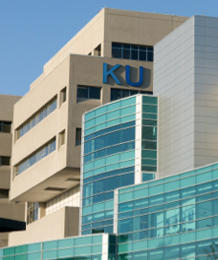 The University of Kansas Cancer Center
The University of Kansas
Comprehensive Cancer Center
Roy Jensen, M.D., Director
Kansas City, Kansas
Main: 844-323-1227

The University of Kansas Cancer Center became the state's only NCI-Designated Cancer Center in 2012. The center's mission, through its innovative approach to drug discovery, delivery, and development, is to transform cancer research and clinical care delivered in Kansas and western Missouri.
KU Cancer Center operates as a matrix organization that includes: the University of Kansas Medical Center campuses in Kansas City, Wichita, and Salina; the University of Kansas in Lawrence and its highly ranked School of Pharmacy (per NIH funding); The University of Kansas Health System; the Stowers Institute for Medical Research; and Children's Mercy Kansas City (via NCI consortium agreements).
Research at The University of Kansas Cancer Center
KU Cancer Center places great emphasis on advancing discoveries in the laboratory to the patients' bedside. From 2009 to 2017, the center, with industry, academia, government, and philanthropic partners, advanced 19 new cancer therapies into the clinic. Two recent discoveries include Ciclopirox Prodrug for the treatment of bladder cancer, as well as a novel method to treat patients with acute graft-versus-host disease.
The center's researchers also pay special attention to the unique needs of its diverse catchment area, which includes elderly rural individuals, African Americans, American Indians, and Latinos. Moreover, with the Children's Mercy consortium partnership, KU Cancer Center has access to more than 95% of childhood cancer cases in the catchment area. The center's outreach arm, the Masonic Cancer Alliance, connects community hospital clinicians throughout the catchment area to cancer clinical trials available at KU Cancer Center.
Select Scientific Initiatives
KU Cancer Center has four research programs that focus on different aspects of cancer and leverage scientific depth and breadth provided by nationally recognized scientists:
Cancer Biology aims to enhance interdisciplinary collaboration among basic and clinical scientists and facilitate translational research involving the etiology, treatment, and prevention of cancer.
Cancer Control & Population Health was developed explicitly to identify better ways to bring cancer control efforts into high-risk and underserved communities. This includes identifying new strategies to improve smoking cessation and advancing the science of translating cancer control into communities and clinical practice, with a particular emphasis on addressing the needs of our catchment area.
Cancer Prevention & Survivorship centers on the discovery of processes and biomarker changes important early in cancer development and use of these biomarkers as response indicators in early-phase translational trials of new prevention interventions. Research on natural compounds is one area of emphasis.
Drug Discovery, Delivery & Experimental Therapeutics aims to discover novel anticancer drugs active against novel drug targets and find new indications for currently marketed drugs. The Institute for Advancing Medical Innovations (IAMI), which includes pharmaceutical industry experts, expands the program's capacity to support drug discovery efforts across the entire Cancer Center.
* This profile was provided by The University of Kansas Cancer Center.