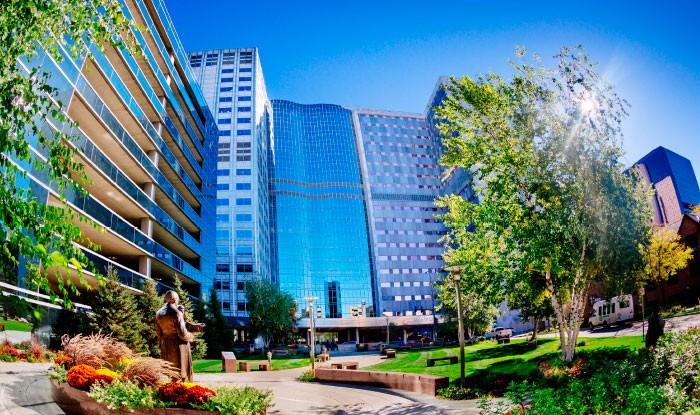 Mayo Clinic Cancer Center
Comprehensive Cancer Center
Cheryl L. Willman, M.D., Director
Rochester, Minnesota
Main: (507) 284-2511

Mayo Clinic Cancer Center was one of the first cancer centers to receive the NCI designation, in 1973. It became the only NCI-Designated Comprehensive Cancer Center with three geographic sites in 2003, with facilities in Arizona, Florida, and Minnesota.
Mayo Clinic's culture of collaboration and teamwork speeds the transformation of promising laboratory discoveries into lifesaving treatments for patients with cancer. Because of this research, more than 100,000 cancer patients come to Mayo Clinic Cancer Center each year seeking medical answers.
Research at Mayo Clinic Cancer Center
Mayo Clinic Cancer Center has a number of cancer-focused research programs: Cancer Immunology and Immunotherapy, Cancer Prevention and Control, Cell Biology, Experimental Therapeutics, Gastrointestinal Cancer, Gene and Virus Therapy, Genetic Epidemiology and Risk Assessment, Hematologic Malignancies, Neuro-Oncology, and Women's Cancer.
These research programs include six NCI Specialized Programs of Research Excellence (SPORE) grants in breast cancer, hepatobiliary cancer, multiple myeloma, ovarian cancer, pancreatic cancer, and a lymphoma SPORE grant that is shared with the Holden Comprehensive Cancer Center at the University of Iowa.
These programs and grants help give patients access to hundreds of clinical trials of all phases led by Mayo Clinic scientists. More trials are available through cooperative research agreements with NCI and clinical trial study groups. Mayo Clinic's research success stories include:
Developing Cologuard®, the DNA stool test co-developed by Mayo Clinic and Exact Sciences Corporation and now a colorectal cancer screening tool recommended by the US Preventive Services Task Force.
Leading the International Duration Evaluation of Adjuvant Chemotherapy (IDEA) collaboration study, which showed that for patients with low-risk stage III colon cancer, a shortened course of oxaliplatin-based chemotherapy after surgery is just as effective as and is associated with fewer side effects compared with the traditional course of chemotherapy.
Demonstrating through the Breast Cancer Genome Guided Therapy (BEAUTY) Study that the most common genetic changes were not more commonly observed in chemotherapy-resistant breast tumors compared with chemotherapy-sensitive breast tumors.
Creating a new approach to classifying gliomas, which led to the development of a test that helps oncologists determine which patients need to be treated more aggressively and which might be able to avoid certain therapies.
Select Scientific Initiatives at Mayo Clinic Cancer Center
Mayo Clinic's team-based, patient-centered research brings together renowned physicians, researchers, and scientists to develop the latest technologies and treatments to address unmet patient needs. Some of our latest initiatives include:
Launching the Early Cancer Therapeutics Group, which is making early-phase cancer clinical trials (phase 1) widely and easily accessible to patients whose cancers haven't responded to standard chemotherapy or other treatments.
Advancing chimeric antigen receptor (CAR) T-cell therapy, a cancer immunotherapy that involves genetically modifying T cells to activate the immune system to recognize and destroy certain cancers. Mayo Clinic was one of the first centers in the United States to offer CAR T-cell therapy as a clinical treatment.
Driving research behind proton beam therapy at Mayo Clinic, which exclusively features intensity-modulated proton beam therapy with pencil beam scanning, allowing Mayo radiation oncologists to destroy cancer while sparing healthy tissue.
* This profile was provided by the Mayo Clinic Cancer Center.