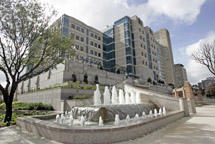 The University of Texas MD Anderson Cancer Center
Comprehensive Cancer Center
Peter WT Pisters, M.D., President
Houston, Texas
Main: (713) 792-6161

The University of Texas MD Anderson Cancer Center (MD Anderson) was established by the Texas State Legislature in 1941and is a free-standing, degree-granting health institution within The University of Texas System. Mission areas include patient care, research, education, and prevention.  In 1971 MD Anderson became one of the nation's first NCI-designated comprehensive cancer centers. MD Anderson's strength lies in its ability to rapidly translate scientific knowledge into improved cancer therapies and prevention strategies.
MD Anderson houses one of the largest, most developed cancer prevention programs in the nation, conducting research to assess and manage cancer risk through early detection, genetic counseling and clinical interventions, and implementing prevention programs that include genetic testing, chemoprevention, behavioral and nutritional counseling. Translational goals are to develop and deliver comprehensive evidence-based strategies to achieve a measurable lasting reduction in the cancer burden, especially among the underserved.
Cancer is the singular focus for MD Anderson's workforce of more than 19,000 employees with over 1,600 full-time faculty scholars who lead the largest number of NCI-funded grant programs and clinical trials of any institution in the nation.  More than 6,500 trainees take part each year in educational programs, including advanced degrees at the Graduate School of Biomedical Science covering training from Cancer Biology to Clinical and Translational Science and bachelor's degrees in allied health disciplines. MD Anderson invested approximately $700 million in research (FY14) which is anticipated to increase with our cancer Moon Shots Program.
The multidisciplinary approach to treating cancer pioneered at MD Anderson brings together teams of experts across disciplines to collaborate on the best treatment plan for patients. A major focus is to increase access to quality cancer care worldwide. This mission is reflected by more than 122,000 patients annually from across the nation and the world who receive care in Houston and 114,000 patients receiving care through our local, national and international affiliations.  The global outreach to drive science and improve care also includes academic collaborations with 30 sister institutions in 23 countries as well as the development of a decision support platform known as the MD Anderson Oncology Expert Advisor powered by cognitive computing. Advancing care for patients is also enabled by 800 interventional clinical trial protocols involving more than 12,000 patients each year, engaged in testing approximately one-third of all new FDA-approved cancer drugs. The Institute for Personalized Cancer Therapy and the immune therapy platform provide profiling for more precise patient care and innovative clinical trials.
A goal-oriented Moon Shots Program was launched in 2012 to dramatically accelerate the pace of converting scientific discoveries into clinical advances that would significantly reduce cancer deaths. The program brings together large multi-disciplinary teams focused on high-impact projects that are enabled by professionally-driven technology platforms and resources.
* This profile was provided by the University of Texas MD Anderson Cancer Center.