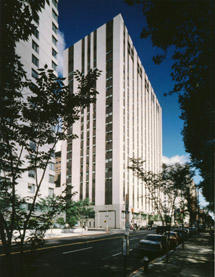 Memorial Sloan Kettering Cancer Center (MSK)
Comprehensive Cancer Center
Selwyn M. Vickers, M.D., FACS, President & CEO
New York, New York
General: (212) 639-2000
Pediatric Appointments: (212) 639-5954
Memorial Sloan Kettering Cancer Center (MSK) was one of the first cancer centers to receive the Comprehensive Cancer Center designation from NCI, in 1971. Doctors and scientists at MSK work together closely to fulfill the institution's commitment to patient care, research, and education. MSK's experts have established standards of care and treatment protocols for each type and stage of cancer. The center's high degree of specialization means that MSK's doctors treat hundreds of cancer subtypes.
MSK offers a full range of programs to help people with cancer and their families throughout all phases of treatment, including support groups, genetic counseling, help in managing pain and symptoms, rehabilitation, integrative medical services, and assistance in navigating life after treatment. At the same time, a series of training programs prepares the next generation of doctors, scientists, and health care professionals for leadership roles in the life sciences and medicine. MSK's Gerstner Sloan Kettering Graduate School of Biomedical Sciences was established in 2004 and offers a Ph.D. degree in cancer biology.
Research at Memorial Sloan Kettering
MSK is a leader in understanding cancer and developing new ways to diagnose and treat it. Our doctors are currently leading hundreds of clinical trials for pediatric and adult cancers. Our scientists are making progress in understanding the biology of cancer through research programs in cancer biology and genetics, cell biology, computational biology, developmental biology, immunology, molecular biology, molecular pharmacology, chemical biology, and structural biology. Physician‒scientists in the Human Oncology and Pathogenesis Program pursue translational research aimed at bridging the divide between the laboratory and the clinic.
MSK has pioneered many treatment advances over the years, including radiation therapy, chemotherapy, immunotherapy, and precision medicine. Two prominent recent successes include the development of the immunotherapy drugs called checkpoint inhibitors and "living drugs" called CAR T cells.
Ipilimumab (Yervoy), the first FDA-approved checkpoint inhibitor, was developed and tested by scientists at MSK. It ushered in a new approach to treating cancer by "taking the brakes off" the immune system.
Chimeric antigen receptor (CAR) T cells, which were approved by FDA in 2017, were first developed by MSK researchers. These "living drugs" use genetically engineered versions of a person's own immune cells to find and fight cancer.
Select Scientific Initiatives at Memorial Sloan Kettering
MSK's research programs span basic, translational, and clinical research. The programs are designed to optimize the use of a large patient population and an extensive, multidisciplinary staff of clinical and laboratory-based investigators. MSK seeks to encourage the application of scientific discoveries in a way that advances the prevention, detection, diagnosis, and treatment of the many forms of cancer that are relevant to the population in our catchment area. Three programs are highlighted below:
The Cancer Biology and Experimental Pathology Program is organized around three primary themes: identifying molecular and genetic determinants of cancer initiation; targeting cancer-specific molecular vulnerabilities; and understanding the biological basis of tumor formation. These themes share the common objective of discovering more about the biology of cancer in order to reveal new therapeutic strategies.
The Immunology and Transplantation Program employs multidisciplinary approaches to understand the body's defenses against infection and cancer. Program members study the differentiation of cells of the innate and adaptive immune systems, as well the development and function of lymphoid organs. The program also encompasses allogeneic organ transplantation research and the study of autoimmunity.
The Clinical Research Program brings together investigators from across MSK's 18 multidisciplinary disease management teams that are clinically organized by cancer type. This single collaborative research program is focused on bringing forward innovative cancer diagnostics and therapies. This organizational structure fosters interdisciplinary collaboration and rapid adoption of these tools across the spectrum of cancer specialties.
This profile was provided by Memorial Sloan Kettering Cancer Center.