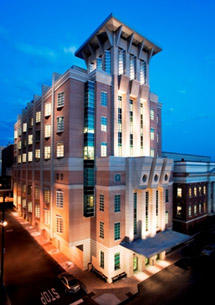 Hollings Cancer Center
Medical University of South Carolina
Cancer Center
Raymond N. DuBois, M.D., Ph.D., Director
Charleston, South Carolina
Main: 843-792-0700

The MUSC Hollings Cancer Center, founded in 1993, became an NCI-Designated Cancer Center in 2009 and is the state's only designated cancer center. It is located within the Medical University of South Carolina (MUSC), serving a population that is 75% rural and which includes some of the most medically underserved regions within the country. The center's mission is to reduce the cancer burden in South Carolina and beyond through high-quality cancer care, clinical research, professional education, and community outreach programs.
Hollings has a robust interdisciplinary research base that includes more than 110 physicians and basic and population scientists from five MUSC colleges across 20 academic departments. Since its opening, the cancer center has had significant growth in clinical and research facilities, patient care volume, and research funding, and has a clinical trial portfolio featuring more than 200 studies.
Hollings uses the resources of MUSC, which is the largest academic medical center in South Carolina; the MUSC Health System, which owns and operates eight hospitals and 100 outreach sites across the state; the recently opened MUSC Shawn Jenkins Children's Hospital, which has a dedicated pediatric oncology floor; and the Ralph H. Johnson VA Medical Center.
Research at Hollings
Hollings creates a collaborative environment which fosters research from basic concepts to clinical/community interventions. It supports interdisciplinary, innovative research through its four research programs: cancer biology, cancer immunology, developmental cancer therapeutics, and cancer control.
The center also trains the next generation of basic, clinical, and prevention researchers through an array of graduate and postdoctoral training educational programs for MUSC students and health care providers.
Additionally, Hollings has made many important contributions to cancer prevention, care, and clinical research:
Making cancer clinical trials available to underserved populations through the Minority/Underserved NCI Community Oncology Research Program.
Collaborating with faculty at South Carolina State University, an historically black public university in Orangeburg, to form the NCI-supported South Carolina Cancer Disparities Research Center. This center focuses on translational cancer research to improve disparities in cancer treatment outcomes and educational opportunities to nurture diversity in the next generation of cancer researchers.
Pioneering the use of the IL-15 superagonist in combination with standard checkpoint inhibitors to improve immunotherapy treatment in lung cancer patients. This work led to a stage 3 clinical trial available at multiple cancer centers on a state and national level.
Leading an international team through an NCI-supported program project grant with the goal of shaping policy on the regulation of e-cigarettes.
Select Scientific Initiatives at Hollings
Hollings Cancer Center is dedicated to a team-based, multidisciplinary approach to developing the latest technologies and best treatments for people with cancer. The center's community outreach and engagement initiatives include providing educational outreach to local rural communities and a mobile health unit that provides digital mammography and other cancer screening services.
Some of Hollings's other services and initiatives include:
Developing and piloting a program to encourage smoking cessation in people receiving inpatient cancer care to hospitals across South Carolina. After this program was implemented within the MUSC health system, significantly fewer patients receiving cancer treatment required inpatient readmittance for additional care.
Sponsoring a statewide, multipronged effort to increase South Carolina's low HPV vaccination rates.
Supporting immunotherapy clinical trial efforts. MUSC Health pioneered CAR T-cell therapy in the state and is the only center in South Carolina with an adult and pediatric CAR T-cell immunotherapy program.
Advancing pioneering research in many types of blood and marrow transplants and serving as South Carolina's primary facility for hematological cancer treatment.
Administering the state's only pediatric blood and marrow transplant program.
*This profile was provided by the Hollings Cancer Center.