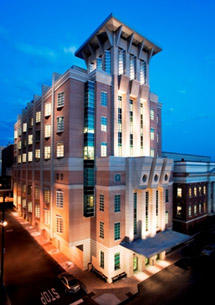 Hollings Cancer Center
Medical University of South Carolina
Cancer Center
Raymond N. DuBois, MD, PhD, Director
86 Jonathan Lucas Street
Charleston, South Carolina 29425
Main: (843) 792-0700
Health Connection Line: 1-800-424-6872 (1-800-424-MUSC)
The Hollings Cancer Center (HCC) was founded in 1993 and became an NCI-designated cancer center in 2009. Located at the Medical University of South Carolina (MUSC), the HCC has a robust, interdisciplinary base that now includes 122 cancer scientists from five MUSC colleges and 20 academic departments. The mission of the Center is to reduce the cancer burden in South Carolina through the highest quality patient care, research, professional education, and cancer control programs with a focus on reaching underserved populations.
The Center seeks to create an environment where research is fostered from a basic concept to a clinical/community intervention. Interdisciplinary, innovative research is supported by the organization of the HCC into four programs: Cancer Genes & Molecular Regulation, Cancer Immunology, Developmental Cancer Therapeutics, and Cancer Control. Research and clinical care are conducted in the seven-story Hollings building and other places across the MUSC campus, as well as at the Ralph H. Johnson VA Medical Center. HCC researchers are also located in the Drug Discovery and Bioengineering Buildings, two new state-of-the-art research facilities completed in 2011.
Cancer treatment at HCC is offered through programs on blood and lymph node cancer, bone marrow and stem cell transplant, brain and spine cancer, breast cancer care, children's cancer, gastrointestinal cancer, genitourinary cancer, gynecologic cancer, head and neck cancer, lung cancer, melanoma and skin cancer, and sarcoma. Teams of specialists from a variety of clinical disciplines come together to create an individualized treatment plan for each patient in one location, ensuring coordination of care and increased convenience.
Support services are offered to patients both during and after treatment at the Center. Patient support ranges from genetic counseling through psychological support services and the patient/family resource center. Survivorship programs address the physical and emotional needs of survivors and their loved ones.
Outreach to the community also occurs through education. HCC emphasizes the importance of cancer control, early detection, and timely treatment. The Center has a mobile health unit that provides digital mammography and other cancer screening opportunities to rural counties along the coast.
HCC is also helping to train the next generation of basic, clinical, and prevention researchers through an array of graduate and post-doctoral training educational programs for MUSC students and health care providers.
* This profile was provided by the Hollings Cancer Center.