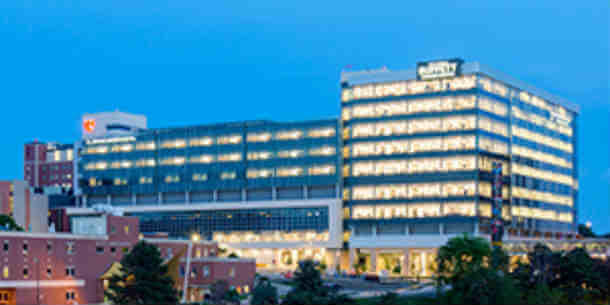 Fred and Pamela Buffett Cancer Center
Nebraska Medicine and the University of Nebraska Medical Center (UNMC)
Cancer Center
Joann B. Sweasy, Ph.D., Director
Omaha, Nebraska
Care Center: (402) 559-6500

In 1983, the Eppley Cancer Center was founded, and in 1999 became a National Cancer Institute (NCI)-designated cancer center in Omaha, Nebraska. In 2015, based on a generous lead donation—along with a public-private partnership—a new flagship cancer center was established as the Fred & Pamela Buffett Cancer Center, part of the Nebraska Medicine Cancer Network and the University of Nebraska Medical Center (UNMC). 
The Buffett Cancer Center opened in 2017 and consists of a 10-story cancer research tower and 8-story inpatient hospital and outpatient center that includes medical, surgical and radiation oncology clinics, a 24/7 infusion center, radiology, lab services, radiation therapy and surgical services.
The Buffett Cancer Center coordinates basic and clinical cancer research, patient care, and educational programs, and facilitates the application of new knowledge about the etiology, diagnosis, treatment and prevention of cancer.
Research at the Buffett Cancer Center is conducted in four research programs: 
Other notable programs in research include the center's work on lymphoma and bone marrow transplantation, CAR t-cell therapy, pancreatic cancer and breast cancer.
Clinical care is provided to patients at multiple sites across the Omaha-metro area and into southwest Iowa—the regions for which the Nebraska Medicine Cancer Network serves. 
The Buffett Cancer Center is also a member of the National Comprehensive Cancer Network (NCCN), an alliance that develops standards and sets guidelines for treatment. Multidisciplinary teams conduct research focused on discovering the mechanisms, which cause cancer, to develop and then translate these discoveries into new approaches for early detection and new therapies for cancer treatment and prevention.
The Buffett Cancer Center signed a formal Academic Affiliation Agreement with the UNMC Department of Pediatrics and Children's Hospital & Medical Center, which will provide enhanced access and increased accrual of children with cancer into clinical trials. The Nebraska Medicine Cancer Network has also developed an affiliate network of hospitals and physicians across the state that continues to expand.
The Buffett Cancer Center reaches out to the medical community and the broader public through a variety of education and outreach programs for scientists, clinicians, future scientists, healthcare providers and the public. For example, the Cancer Research Doctoral Program trains students in the latest techniques of cancer research, awarding a Ph.D. upon completion. Community outreach programs are educating the public on the importance of cancer prevention and early detection. At several annual events, the Buffett Cancer Center provides free cancer screening and information to Nebraska's underserved populations.