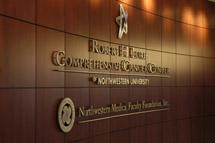 Robert H. Lurie Comprehensive Cancer Center
Northwestern University
Comprehensive Cancer Center
Leonidas C. Platanias, M.D., Ph.D., Director
303 East Superior Street
Chicago, Illinois 60611
Main: (312) 695-0990
Appointments: 1-866-587-4322 (1-866-LURIE-CC)
First established at Northwestern University in 1974, the cancer center was dedicated to Robert H. Lurie in 1991. In 1997, the Robert H. Lurie Comprehensive Cancer Center of Northwestern University received its "comprehensive" designation from the NCI. The Lurie Cancer Center is committed to being an international leader in the battle to overcome cancer. To this end, the Lurie Cancer Center is dedicated to scientific discovery, advancing medical knowledge, providing compassionate, state-of-the-art cancer care, and training the next generation of clinicians and scientists.
The Lurie Cancer Center is a founding member of the National Comprehensive Cancer Network, an alliance of 25 cancer centers devoted to the full spectrum of cancer research, from laboratory to treatment, and seeking to find ways to lessen the burden of cancer on society. In addition, the Lurie Cancer Center is a member of the Big Ten Cancer Research Consortium, created to bring leaders together to conduct highly translational oncology trials that leverage the expertise of Big Ten universities.
The Lurie Cancer Center's 299 members are clinicians and scientists who are organized into nine formal research programs: Cancer Cell Biology, Tumor Invasion, Metastasis and Angiogenesis, Signal Transduction in Cancer, Cancer Prevention, Cancer Control and Survivorship, Women's Cancer Program, Translational Research in Solid Tumors Program and Hematologic Malignancies. Education and training are at the core of the Lurie Cancer Center's mission, spanning all ages from high school students to postdoctoral fellowships to internationally-acclaimed continuing medical education initiatives.
The Lurie Cancer Center's Office of Equity and Minority Health (OEMH) provides the leadership for and coordination of research, education and policy formulation addressing the unique cancer issues of minority and medically underserved populations.
The Lurie Cancer Center's laboratory research space is on both Northwestern University's Evanston and Chicago campuses. The Lurie Cancer Center brings together the cancer programs of four Chicago teaching hospitals: Northwestern Memorial Hospital, Ann & Robert H Lurie Children's Hospital of Chicago, the Rehabilitation Institute of Chicago, and the Jesse Brown Veteran's Affairs Medical Center.
Extensive screening and survivorship initiatives complement the Lurie Cancer Center's full range of medical, surgical, and radiation oncology treatment facilities. Annually, the Lurie Cancer Center sees more than 10,000 new cancer patients. The Northwestern Medicine Developmental Therapeutics Institute (NMDTI), established in 2013, is accelerating the process of bringing the most advanced clinical trial and treatment options available to our patients. Lurie Cancer Center patients have access to over 500 clinical trials. In addition, the Lurie Cancer Center's Stem Cell Transplant Program is the largest in the region, with survival rates that exceed national rates. Other comprehensive programs include: a liver-directed therapies program, the Northwestern Brain Tumor Institute, and fertility preservation services.
* This profile was provided by the Robert H. Lurie Comprehensive Cancer Center.