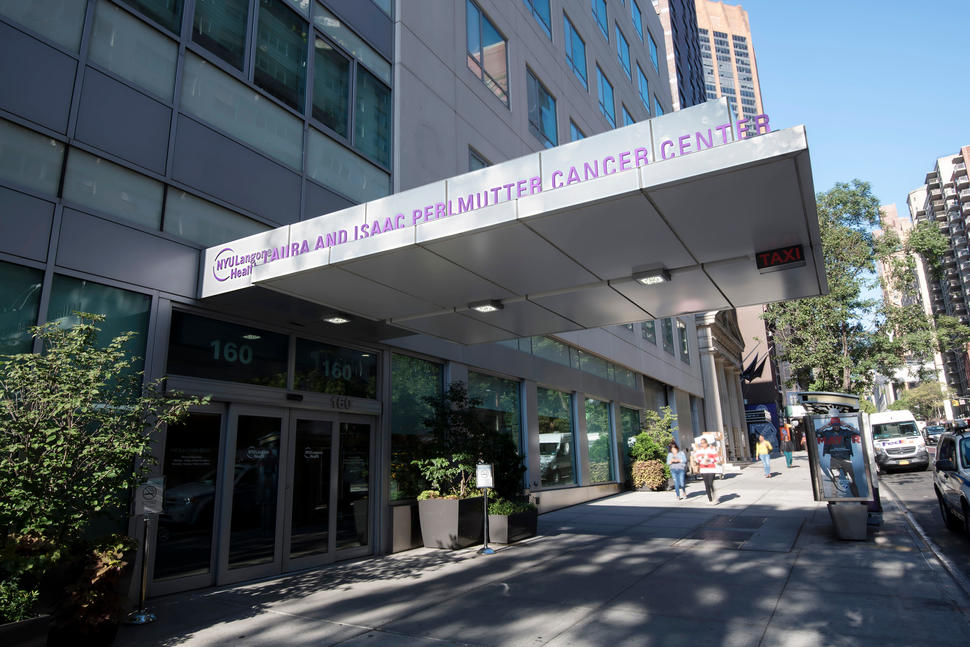 Laura and Isaac Perlmutter Cancer Center at NYU Langone Health
Comprehensive Cancer Center
Benjamin G. Neel, M.D., Ph.D., Director
New York, New York
Main: 212-731-6000

The Laura and Isaac Perlmutter Cancer Center (PCC) is the NCI-Designated Comprehensive Cancer Center at NYU Langone Health, one of the nation's premier academic medical centers. The center was founded and received its NCI designation in 1975. Its mission is to bring visionary thinking and compassionate care to the science of treating cancer and to educate the community and health care professionals about the latest research and information about cancer detection, diagnosis, treatment, and survival.
PCC serves the metropolitan New York City area, and treats patients in facilities located in Manhattan, Brooklyn, Queens, and Long Island. The center conducts cutting-edge basic, translational, clinical, and population research with the aim of enhancing cancer prevention, devising new cancer treatments, and improving patient outcomes and quality of life.
Research at Perlmutter Cancer Center
Members of the Perlmutter Cancer Center pursue innovative research questions across five scientific programs: Cancer Genome Dynamics; Cancer Cell Biology; Tumor Immunology; Melanoma; and Epidemiology and Cancer Control.
Recent programmatic highlights include a new Melanoma SPORE (NCI P50 Specialized Programs of Research Excellence) to discover biomarkers and other tools for predicting whether therapies that help the immune system fight cancer will be effective in treating melanoma. In addition, a new Research Program Project grant (NCI P01) aims to study the impact of changes in chromatic architecture on cancer phenotypes and tumor progression, and a recently renewed P01 grant focuses on bladder cancer pathogenesis.
PCC faculty continue to advance cancer diagnosis and treatment, including new therapeutic breakthroughs in the treatment of intractable lung and triple-negative breast cancers, the identification of oral bacteria tied to esophageal cancer risk, a new laser ablation technique for intractable brain tumors, and the development of a 580-gene diagnostic panel for cancer-associated mutations.
Select Scientific Initiatives at Perlmutter Cancer Center
In addition to the aforementioned research programs, the center has developed robust new initiatives and programs to meet patient needs. They include:
A diverse clinical trial portfolio gives patients access to the newest, most innovative therapies to treat their cancer. Over the last 5 years, Perlmutter Cancer Center has tripled the size of its clinical trials office, doubled its trial accrual, and dramatically increased its phase I trial portfolio, with those accruals increasing fourfold in the last 4 years.
The expanded Blood and Marrow Transplant Program received certification from the Foundation for the Accreditation of Cellular Therapy (FACT) to perform allogenic transplants in 2018. Additional services, a new physical location for the transplant center, cutting-edge discoveries transitioning from bench to bedside on a regular basis, and a comprehensive clinical team are delivering unparalleled care.
Experts at PCC's Pancreatic Cancer Center are aiming to prevent and diagnose pancreatic cancer at the earliest stage possible, with a newly developed screening tool that includes questions about an individual's health and family history that can help them determine if they have genetic risk factors for pancreatic cancer.
This profile was provided by Laura and Isaac Perlmutter Cancer Center.