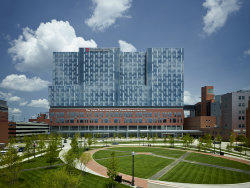 The Ohio State University Comprehensive Cancer Center
James Cancer Hospital and Solove Research Institute
Comprehensive Cancer Center
Raphael Pollock, M.D., Ph.D., Director
Columbus, Ohio
Main: (614) 293-5066

NCI designated The Ohio State University Comprehensive Cancer Center (OSUCCC) in 1976. The adult patient care component of the OSUCCC is the Arthur G. James Cancer Hospital and Richard J. Solove Research Institute, which opened in July 1990. The cancer hospital was replaced in December 2014 by a much larger facility bearing the same name—a 21-story, 1.1 million square foot, 356-bed facility that ranks as the third largest cancer hospital in the nation. The newer OSUCCC – James is a transformational hospital that integrates researchers, clinicians, and educators more closely than ever to enhance cancer care for people throughout Ohio, nationally, and from around the world.
The OSUCCC – James has a number of clinical partners—including The Ohio State University Wexner Medical Center and Nationwide Children's Hospital—who share the OSUCCC – James's vision of creating a cancer-free world, one person and one discovery at a time. Researchers and clinicians at the OSUCCC – James realize there is no routine cancer because each patient's malignancy is biologically unique and must be treated with individualized therapies that target its molecular characteristics: the essence of personalized cancer care.
Research at the OSUCCC – James
The OSUCCC – James has nearly 300 researchers who represent 11 of the 15 colleges at Ohio State University and other academic institutions such as Nationwide Children's Hospital and Cincinnati Children's Hospital Medical Center. Each scientist is a participant in one of five interactive research programs within the comprehensive cancer center: Cancer Biology, Cancer Control, Leukemia Research, Molecular Carcinogenesis and Chemoprevention, and Translational Therapeutics.
The work of these multidisciplinary teams of scientists contributes to the OSUCCC – James's mission of rapidly translating groundbreaking discoveries into innovative patient care via sponsorship of hundreds of clinical trials on the latest therapies—some of which are available nowhere else. The OSUCCC – James is one of only a few comprehensive cancer centers funded by the NCI to conduct phase 1, phase 2, and phase 3 clinical trials of NCI-sponsored novel cancer drugs.
Select Scientific Initiatives at the OSUCCC – James
OSUCCC – James scientists lead several initiatives in basic, clinical, translational, prevention, and population-science research that distinguish the cancer program as a leader in studies that are changing the landscape of cancer care. One example is a 7-year NCI R35 grant for Targeted Therapy in Leukemia awarded to Distinguished University Professor John C. Byrd, M.D. This initiative integrates targeted therapy with immunotherapy to produce curative approaches for patients with chronic lymphocytic leukemia, the most common adult leukemia. Studies by Dr. Byrd and colleagues have led to Food and Drug Administration approval of drugs such as ibrutinib (Imbruvica) and acalabrutinib (Calquence) that are improving survival of patients with chronic lymphocytic leukemia, mantle cell lymphoma, and small lymphocitic lymphoma.
Four statewide initiatives are underway at the OSUCCC – James with funding support from Pelotonia, an annual grassroots cycling event that raises money for cancer research at Ohio State. These include:
Ohio Prevention and Treatment of Endometrial Cancer (OPTEC), with OSUCCC – James and Nationwide Children's Hospital, is recruiting women with endometrial cancer from a network of hospitals across Ohio to screen them for Lynch syndrome and other inherited genetic conditions linked to greater risk of endometrial, colorectal, stomach, and ovarian cancers.
Beating Lung Cancer in Ohio is drawing patients from the same network of Ohio hospitals as OPTEC to assess the impact of advanced gene testing and of expert advice on lung cancer treatment and patient survival, and to improve smoking cessation rates among smokers with lung cancer and their family members.
Turning the PAGE on Breast Cancer in Ohio will use a multilevel approach in 12 Ohio counties to provide breast cancer education and improve access to risk assessment, genetic counseling and testing, appropriate screening/surveillance, follow-up on abnormal test results, and prompt and proper treatment for African-American women, who are at greater risk of breast cancer mortality.
Ohio Colorectal Cancer Prevention Initiative (OCCPI) is a recently completed 5-year project that screened people newly diagnosed with colorectal cancer for Lynch syndrome—an inherited genetic condition that predisposes people to certain cancers. 
* This profile was provided by the OSUCCC – James.