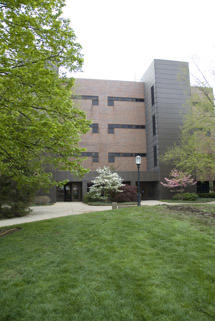 Purdue Institute for Cancer Research
Basic Laboratory Cancer Center
Andrew Mesecar, Ph.D., Director
West Lafayette, Indiana
Main: (765) 494-9129

The Purdue Institute for Cancer Research was established as an NCI basic science cancer center in 1978.
As such, the Center's mission focuses on basic discovery - discovery that is the foundation through which the Center fosters innovative cancer solutions. Notably, the Center not only supports basic discovery but also facilitates discovery application and, where possible, positions discoveries for transfer to the public domain.
Purdue University's strengths in engineering, veterinary medicine, nutrition science, chemistry, medicinal chemistry, pharmacy, structural biology, and biological sciences, form the core foundation upon which the Center facilitates discovery centered on understanding the biology of the cancer cell, developing innovative technology to probe cancer-related phenomena, creating diagnostic and imaging tools, and synthesizing unique therapeutic chemical entities that can be delivered to the cancer cell by novel technology.  To facilitate the mission of discovery, the Center has established a trans-disciplinary environment that focuses Center core strengths on providing novel solutions to cancer problems.
As a matrix center, Center leadership draws on core capabilities through its 93 members from 18 academic departments and 6 colleges across Purdue University, to organize an infrastructure based on four Research Programs: Chemical and Structural Biology, Cell Identity and Signaling, Medicinal Chemistry, and Drug Delivery and Molecular Sensing.
The Center fosters a remarkable breath of cancer research spanning clinical evaluations of dogs with spontaneous malignancies as an evaluative process in drug development and validation of targets and technologies, to the development of molecular probes and technology for application for innovative cancer solutions, and mechanistic biological studies. The collaborations across disciplines in the Center generate knowledge, concentrate efforts on the most promising diagnostics and therapeutics, create new research opportunities, and help train future cancer researchers.
* This cancer center is one of seven cancer centers that only conduct laboratory research and do not provide patient care.
* This profile was provided by the Purdue Institute for Cancer Research.