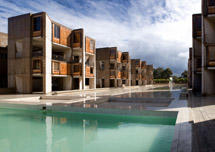 Salk Institute Cancer Center
Basic Laboratory Cancer Center
Reuben Shaw, Ph.D., Director
10010 North Torrey Pines Road
La Jolla, California 92037
Main: (858) 453-4100

The Cancer Center at the Salk Institute for Biological Studies was established in 1970 and received its NCI designation in 1973. Today, the Cancer Center includes 32 faculty members, and more than 500 students, postdoctoral fellows, and technical staff work in Cancer Center labs. The organization and membership of the Salk Cancer Center intentionally promotes interdisciplinary research and offers a unique training environment for cancer researchers due to the diverse backgrounds and interests of the faculty and trainees.
Research at the Center is aimed at understanding fundamental aspects of biology related to cancer with the ultimate goal of reducing cancer incidence, morbidity, and mortality. The work of the Center is based on the philosophy that basic research in molecular, cellular, and developmental biology has the power to illuminate underlying causes of cancer, often in unexpected ways.
The interactive research at Salk often produces significant insights into basic mechanisms of cell growth regulation underlying cancer. Salk's collaborative research is organized under two major programs: Genetic, Epigenetic, and Immune Circuits in Cancer and Animal Models of Cancer and Therapeutics.
The focus of the Genetic, Epigenetic, and Immune Circuits in Cancer Program is to understand the genetic contribution to cancer and how that is further altered by epigenetic controls, as well as the surrounding tumor microenvironment, and in particular the immune system. This Program utilizes a multi-faceted approach that includes mechanistic studies of gene function, dissection of genetic and epigenetic networks, technological development that leads to novel diagnostic markers, and new therapeutic approaches.
The overall goal of the Animal Models of Cancer and Therapeutics Program is to develop and utilize advanced autochthonous mouse models to study distinct facets of tumor biology in its native environment, and to combine the development and application of novel therapeutic approaches to different model systems. This Program pursues three avenues of research. The first is the use of mouse models to explore complex tumor biology in vivo: roles of tissue context, stem cell populations, and differentiation. The second path of research concerns development of novel therapeutic approaches using small molecule and biological- and viral-based methodologies. The third theme of this program looks at understanding metabolic rewiring in distinct tumor types and driver mutations and developing novel metabolism-based diagnostics and therapeutics.
In addition to research, the Center has an active program of graduate and postdoctoral education and training. The Salk Institute and the Division of Biology at the University of California San Diego (UCSD) conduct a joint graduate program. In January 2013, the Salk Institute Cancer Center joined the UCSD Moores and the Sanford Burnham Prebys NCI-designated cancer centers in launching the San Diego NCI Cancer Centers Council (C3). C3 was created to leverage the distinct resources and talents of the three centers and to build a new structure and process that would increase interaction and collaboration between cancer center faculties, leading to a deeper understanding of cancer and, ultimately, development of new and better treatments. Thus, the C3 alliance provides unique opportunities in collaborative and translational cancer research afforded by the close proximity of the 3 NCI-designated centers.
* This cancer center is one of seven cancer centers that only conduct laboratory research and do not provide patient care.
* This profile was provided by the Salk Institute Cancer Center.