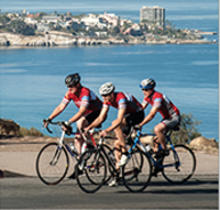 Sanford Burnham Prebys Medical Discovery Institute
Basic Laboratory Cancer Center
Garth Powis, Ph.D., Director
10901 North Torrey Pines Road
La Jolla, California 92037
Main: (858) 646-3100

Founded in 1976 as the La Jolla Cancer Research Foundation, the Cancer Center first received its NCI-designation in 1981. The Center conducts paradigm-shifting, collaborative multidisciplinary basic research into the causes, prevention, and treatment of cancer, leading to new therapies that overcome cancer as a cause of human suffering and disease. Additionally, the Center is committed to educating and training the next generation of cancer scientists. 

The Center is built around three programs that reflect the cancer continuum of initiation, maintenance, survival, death, and metastasis as well as the contributions of the tumor microenvironment. An area of long-standing and exceptional strength of the Cancer Center is basic science discovery in novel cancer gene targets and their mechanisms. Investigators translate their discoveries toward clinical therapies, employing a number of platforms including protein structural studies, small-molecule drug design, chemical library screening, an area of significant technical capability, and early preclinical therapeutic development.
The Cancer Center is poised to achieve its vision by leveraging its scientific strengths through collaborations with academic and private sector investigators, and health care organizations, locally, nationally and internationally.
* This cancer center is one of seven cancer centers that only conduct laboratory research and do not provide patient care.
* This profile was provided by the Sanford-Burnham Medical Research Institute.