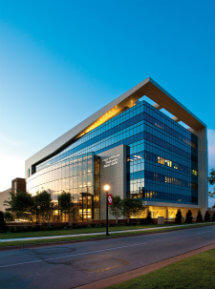 Stephenson Cancer Center
The University of Oklahoma
Cancer Center
Robert S. Mannel, MD, Director
Oklahoma City, Oklahoma
Patient Care: (405) 271-1112

Stephenson Cancer Center was established in 2001 and NCI-Designated in 2018. The center's mission is to improve patient outcomes and reduce the burden of cancer in Oklahoma and the nation through an integrated program of research, clinical care, education and community engagement.
Located on the University of Oklahoma (OU) Health Sciences Center campus in Oklahoma City, Stephenson is the state's only NCI-Designated Cancer Center, providing a critical resource for patients seeking research-driven, patient-centered, multidisciplinary treatment. In addition, it coordinates a statewide network supporting clinical trials and community-engaged research across Oklahoma. Oncology services at Stephenson are part of OU Medicine, Oklahoma's only academic health system with the state's largest and most comprehensive physician network and specialty services.
Research at Stephenson Cancer Center
Stephenson's goals are to: 1) promote transdisciplinary, team-based science, 2) translate ideas from the laboratory to the clinical setting, and 3) stimulate research that impacts Oklahoma and the nation.
More than 130 Stephenson research members are located on the OU Health Sciences Center and OU Norman campuses. Standout areas of research include: cell signaling and the tumor microenvironment; cancer nanomedicine, bioengineering and imaging; cancer chemoprevention; tobacco research; and health disparities. The center is nationally recognized for disease-based research in gynecologic, pancreatic and gastrointestinal cancers.
Stephenson is a national leader in early- and late-phase clinical trials. It is one of 30 Lead Academic Participating Sites (LAPS) in NCI's National Clinical Trials Network (NCTN), and annually ranks among the top LAPS nationally for the number of patients participating in NCTN treatment and precision medicine trials.
The Oklahoma TSET Early-Phase Clinical Research Program at Stephenson provides access to a large portfolio of novel and targeted experimental therapies.
Select Scientific Initiatives at Stephenson Cancer Center
Research activities at Stephenson are organized into the following programs to promote focused, team-based science:
Investigators in Cancer Biology focus on understanding the molecular mechanisms that define normal and neoplastic cell growth, in order to gain new insights into cancer prevention, diagnosis and treatment.
Gynecologic Cancer investigators focus on the molecular mechanisms of carcinogenesis and related resistance and responses to therapy. The program is nationally recognized for its work in early- and late-phase clinical trials related to gynecologic malignancies.
Cancer Prevention and Control investigators work to advance the science and application of cancer prevention, control and survivorship research to reduce the burden of cancer and improve patient outcomes.
Experimental Medicine and Developmental Therapeutics investigators seek to develop novel therapeutic, chemopreventive and biomarker strategies that can be translated into more effective clinical applications through proof-of-principle, early-phase clinical, and correlative science studies.
Stephenson also houses two research centers, the Oklahoma Tobacco Research Center and the Center for Cancer Prevention and Drug Development, that promote inter-programmatic and transdisciplinary collaboration.
Community outreach activities seek to engage Oklahoma's large rural and American Indian communities to address the disproportionately high rates of cancer that affect these populations. These efforts include education, screening, and prevention programs, as well as community-engaged research with underserved and disadvantaged populations across the state.
In addition, Stephenson has an important mission to train the next generation of cancer researchers and oncology health professionals. The center supports a wide array of education, training, and career enhancement programs for students at all levels, with a special focus on enhancing participation of American Indian and other underrepresented populations in biomedical research and health care.
This profile was provided by Stephenson Cancer Center.