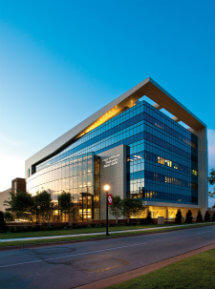 Stephenson Cancer Center
The University of Oklahoma
Cancer Center
Robert S. Mannel, MD, Director
Oklahoma City, Oklahoma
Patient Care: (405) 271-1112

About the Stephenson Cancer Center
The Stephenson Cancer Center at the University of Oklahoma is Oklahoma's only National Cancer Institute (NCI) Designated Cancer Center, a distinction it earned in 2018 and renewed in 2023. This highly competitive designation ensures that cancer patients in Oklahoma and the surrounding region have access to the most advanced treatment options.
Clinical Programs and Services at the Stephenson Cancer Center
The Stephenson Cancer Center houses the state's largest clinical oncology practice, providing a unique resource for patients seeking patient-centered, research-driven, multidisciplinary care. Annually the Stephenson provides treatment for 4,000 newly diagnosed cancer patients at its Oklahoma City and Norman locations. The Stephenson has more than a hundred cancer providers who specialize in the diagnosis and treatment of all types of cancer. Numerous supportive care services are available to help patients and caregivers address the mental, emotional and physical challenges of cancer. This team-based approach ensures that patients receive the highest level of care during their cancer diagnosis and treatment. Oncology services at the Stephenson are part of OU Health, Oklahoma's only academic health system and the state's largest network of physicians and specialty services. 
Research, Outreach and Training at the Stephenson Cancer Center
The Stephenson Cancer Center supports more than 140 members who conduct research in the basic, clinical, behavioral and population sciences at the OU Health Sciences Center and OU Norman campuses. In 2023 these members conducted more than 400 cancer projects, supported by $65 million in annual extramural grant funding, including $37 million annually from the National Institutes of Health (NIH). 
Research at the Stephenson is organized into three scientific programs:
Cancer Biology investigators seek to understand the molecular mechanisms that cause normal cells to become cancer cells, to metastasize, and to develop resistance to cancer drugs.
Cancer Therapeutics investigators are developing new cancer diagnosis and treatment strategies for more effective clinical applications. Through clinical trials, this program brings the latest cancer treatments to Oklahomans.
Cancer Prevention and Control investigators work to address Oklahoma's burden of cancer across the prevention, control and outcomes research spectrum, with a specific emphasis on addressing cancer health disparities in the state's underserved minority populations.
The Stephenson Cancer Center is a nationally recognized leader in early- and late-phase clinical trials research. Nearly 20% of patients treated at the center participate in clinical trials to access promising new therapies. The Stephenson is a Lead Academic Participating Site in the NCI's National Clinical Trials Network (NCTN), the nation's largest oncology clinical trials organization, and it annually ranks among the top of all cancer centers for the number of patients participating in NCTN treatment trials. The center's Oklahoma TSET Phase I Program offers patients access to the newest investigational therapies, and the cancer center is a member of the NCI's Experimental Therapeutics Clinical Trials Network (ETCTN), the nation's premier early-phase clinical trials network for cancer. 
Community Outreach and Engagement
A wide range of community outreach and engagement activities at the Stephenson address Oklahoma's heavy burden of cancer through cancer surveillance, community-based awareness, and prevention and screening initiatives. Specific outreach programs seek to engage underserved minority populations, which suffer disproportionately high cancer incidence and mortality rates. These activities are informed by input from advisory boards representing the American Indian, Black/African American and Hispanic communities. 
Education, Training and Career Enhancement
The Stephenson Cancer Center hosts an array of education and training programs for students at all levels to train the next generation of cancer researchers and health professionals, with a special emphasis on encouraging underrepresented student populations toward careers in biomedical research and healthcare. Junior faculty members at the cancer center benefit from several mentorship programs, helping them establish their research careers and achieve independent grant funding. 
This profile was provided by Stephenson Cancer Center.