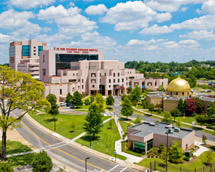 St. Jude Children's Research Hospital
Comprehensive Cancer Center
Charles W. M. Roberts, M.D., Ph.D., Executive Vice President
Memphis, Tennessee
General Information: (901) 595-3300

St. Jude Children's Research Hospital, located in Memphis, Tennessee, was designated as an NCI cancer center in 1977 and named a comprehensive cancer center in 2008. The mission of the St. Jude Comprehensive Cancer Center is to advance cures for pediatric cancer through research and treatment. St. Jude is the only NCI-Designated Comprehensive Cancer Center dedicated solely to children.
Research at St. Jude
The St. Jude Comprehensive Cancer Center brings together physicians and scientists from diverse fields into five multidisciplinary research programs. These programs are designed to drive fundamental scientific discoveries in the biology of pediatric cancer; translate them into treatments and cures for children with brain tumors, solid tumors, and blood cancers; and determine how to help survivors lead longer, healthier lives. Cancer center investigators collaborate extensively across the institution, the United States, and the globe to help children fighting cancer everywhere.
Innovative clinical trials are a cornerstone of cancer research and treatment at St. Jude. Nearly 60% of children with newly diagnosed cancer are enrolled in a treatment trial at the time of diagnosis, and 90% of those enrollments are to studies initiated by St. Jude investigators. Treatments developed at St. Jude have helped increase the overall survival of children with cancer to more than 80%, and for children with the most common childhood cancer, acute lymphoblastic leukemia (ALL), to more than 90%.
Select Scientific Initiatives at St. Jude
The St. Jude Comprehensive Cancer Center oversees the vision, planning, and strategic growth of cancer research at St. Jude Children's Research Hospital and partners with other NCI-Designated Cancer Centers, St. Jude Global, and international collaborators to ensure our discoveries benefit patients and survivors of childhood cancer across the nation and worldwide.
Some of our key initiatives include:
pioneering precision medicine trials for pediatric patients with cancer, supported by cutting-edge transdisciplinary research and the use of next-generation genomic sequencing in the clinic
providing freely available resources, including childhood cancer genomic data through St. Jude Cloud and linked xenografts of solid, brain, and hematological tumors through the Childhood Solid Tumor Network, the Pediatric Brain Tumor Portal, and Public Resource of Patient-derived and Expanded Leukemias (PROPEL)
development of one of the nation's largest immunotherapy research programs for children with cancer
St. Jude-supported national research collaborations that bring together the brightest minds in science to address problems with transformative potential for pediatric cancer and other catastrophic diseases
the Childhood Cancer Survivor Study and St. Jude LIFE study, two of the world's largest and most ambitious research programs in childhood cancer survivorship, which leverage unique data gathered from tens of thousands of cancer survivors
a diverse portfolio of cancer research career enhancement programs, including the Cancer Education and Outreach Program serving K–12 students, the longstanding NCI-funded Pediatric Oncology Education Program for undergraduates and medical students, and NCI-funded T32 fellowship training programs focused on pediatric hematological malignancies and cancer survivorship
* This profile was provided by the Comprehensive Cancer Center at St. Jude Children's Research Hospital.