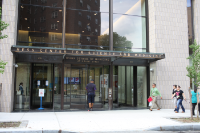 Tisch Cancer Institute
Icahn School of Medicine at Mount Sinai
Cancer Center
Ramon Parsons, M.D., Ph.D., Director
One Gustave L. Levy Place, P.O. Box 1128
Icahn Building, 1st Floor
New York, New York 10029
Administration: (212) 659-5600
Patient Information: (212) 241-6756
The Tisch Cancer Institute (TCI) of Mount Sinai is a vital component of the Icahn School of Medicine at Mount Sinai, which is on the forefront of medical and scientific training, biomedical research, and patient care. The Tisch Cancer Institute was established in 2008, through the generosity of James and Merryl Tisch. Since that time, TCI has recruited more than 55 prominent researchers and physicians whose expertise spans basic, clinical and population science research. Together they have developed innovative and translational research programs that build upon Mount Sinai's history of medical breakthroughs to offer new hope for those at risk or living with cancer. Mount Sinai's commitment to cancer research has allowed TCI to develop the infrastructure, reporting mechanisms, programs, and shared resources critical for the establishment of a 2015 NCI-designated cancer center.
 
The mission of the Institute is to advance the field of cancer research, treatment and prevention and to bring these innovations to cancer patients and their families. To accomplish this mission, TCI has four research programs: Cancer Immunology, which addresses anti-tumor immunity and fosters the development of cancer vaccines; Cancer Mechanisms, which seeks to understand the biology of cancer cell development; Liver Cancer, whose focus is to discover novel approaches to diagnose and treat liver cancer; and Cancer Prevention and Control, which addresses the important aspects of primary and secondary cancer prevention.
 
The Institute supports four shared resources: Flow Cytometry, Mouse Genetics, Microscopy and Biostatistics, as well as a number of research facilities, including the Human Immune Monitoring Core, Vaccine and Cell Therapy Lab, and the Hematological Malignancies Tissue Bank. TCI also supports a robust infrastructure for cancer clinical trials that provides regulatory and study management, as well as a centralized database of protocol-specific data.
 
The 2012 opening of the Leon and Norma Hess Center for Science and Medicine added 116,000 square feet of cancer research and clinical space, facilitating real-time collaboration between physicians, investigators, and specialists across different disciplines. The Hess Center also houses the Derald H. Ruttenberg Treatment Center, as well as Radiation Oncology and Cancer Imaging, creating a comprehensive treatment center for patients. In addition, a generous gift by Eva and Glenn Dubin founded the Dubin Breast Center, creating an impressive clinical footprint.
 
The Institute serves a unique catchment area in New York City including East Harlem, Central Harlem and the Upper East Side, together representing a population of over 500,000. In addition, TCI is the coordinating center for the World Trade Center Health Program, which offers evaluation, monitoring, and treatment to World Trade Center workers and volunteers affected by the 9/11 attacks. TCI's cancer research programs have focused on the needs of its catchment population, and include extensive research in hepatitis and its relationship to liver cancer and population studies in health and healthcare disparities.
 
TCI is part of the Mount Sinai Health System, which encompasses seven member hospital campuses, including Mount Sinai Beth Israel, Mount Sinai Brooklyn, The Mount Sinai Hospital, Mount Sinai Queens, Mount Sinai Roosevelt, Mount Sinai St. Luke's and the New York Eye and Ear Infirmary of Mount Sinai, and a single medical school. The Health System is committed to providing distinguished care, conducting transformative research, and advancing education, and has an extensive ambulatory network and a range of inpatient and outpatient services—from community-based facilities to tertiary and quaternary care.
 
*This profile was provided by The Tisch Cancer Institute at Icahn School of Medicine at Mount Sinai